Flesh-N-Bone :: Blaze of Glory
:: RBC Records
as reviewed by Pete T.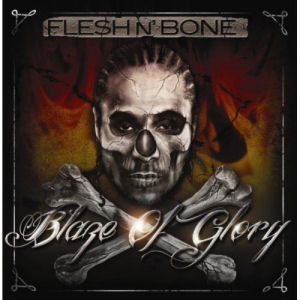 Under most circumstances, when a former platinum-selling artist releases his first album in over a decade it's a landmark event. Then again, Flesh-N-Bone isn't exactly your everyday former platinum-selling artist. Bone Thugs-N-Harmony's "5th Dawg," Stanley Howse finished an eight-year sentence in a federal facility in 2008, and upon his release immediately reunited with the Wasteland Warriors for the heavily anticipated but ultimately underwhelming group effort "Uni5: The World's Enemy," released early last year, and "Blaze of Glory" is his first solo outing since 2000's "5th Dawg Let Loose." While Bone solos are a dime a dozen, Flesh's long incarceration and time away from the game lends his third LP a compelling quality that hasn't been seen since the first round of Bone solos in the late '90s, and for the most part "Blaze of Glory" rises to the occasion.
Listening to "Blaze of Glory," Flesh hardly seems to have aged a day since going behind bars, and if anything his triple-time delivery is refined. Vocally his ghostly cadence sounds as good as ever, and "Blaze of Glory" in fact sports a similar sound to the underrated "5th Dawg Let Loose." If that's to say it sounds dated, it's hardly a disparagement—in fact, it's highly refreshing to hear this voice from the past sounding so hardly changed from his glory days. With 19 tracks spanning a long 75 minutes, most can be categorized as either fast, heavy street bangers, slow R&B-tinged numbers, or posse cuts—each staples of the Bone catalog and sure to please their loyal fans.
Opening with the anthem "How I Roll Up," Flesh flashes vigorous energy over an excellent track aimed straight for the streets. The single "Heartaches" follows, a contemplative ballad in the long tradition of Bone classics, and on the similarly heartfelt "Fortune and Fame" Flesh addresses his "debt to society." The expertly-produced Bone reunions "Fallin'" and "Can't Take It" are the album highlights, both reflective, soulfully inspiring tracks quite feasibly drawn from the "Uni5" sessions with top-notch performances from the entire crew. Strong deep tracks include the smooth, polished "Kick Back," the freeway-ready Stew Deze duet "Picture Me Rollin'," which sounds like a sequel to 2007's "Candy Paint," and the joyful "Paradise."
It won't be too surprising that with such a long tracklist and running time there's significant filler here. After so long an absence, Flesh no doubt feels he has a lot to say, and while his zeal is certainly more than welcome on a Bone Thug solo—his buddies definitely ought to take at least a few notes—the most formulaic tracks can make for a tedious listen. Flesh easily outshines the guests without "Bone" in their stage names, and while not necessarily bad, the posse cuts are consistently uninteresting.
"Blaze of Glory" is a bit of a mixed bag, but it's easily the most compelling Bone solo in recent memory. The production is solid across the board and although many of the concepts are familiar the 5th Dawg is in top form. Flesh's latest is definitely worth your listen.
Music Vibes: 6.5 of 10 Lyric Vibes: 6.5 of 10 TOTAL Vibes: 6.5 of 10
Originally posted: September 27th, 2011
source: www.RapReviews.com