J. Cole :: Cole World: The Sideline Story
:: Roc Nation
as reviewed by Jesal 'Jay Soul' Padania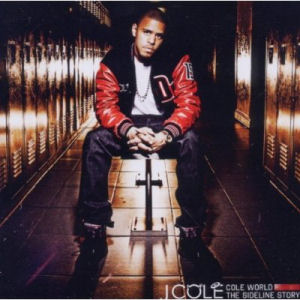 There's a moment in J. Cole's excellent video for "Who Dat" which sums it all up nicely. The song is straight fire, with a superb beat, solid lyrics, incredible visuals and as a fire-starter, it worked pretty much perfectly for Cole. Apart from at precisely 3m13s in. You see, there is a rule when actors are performing around pyrotechnics. Unofficially, it is known as the "Cool Guys Don't Look At Explosions" law. You know what I'm talking about, dear Reader – the big moment in an action film when the hero walks calmly towards the camera, and the most gigantic mama fucking explosion goes off behind them, and the hero doesn't even flinch. In the "Who Dat" video, there is something similar. An explosion goes off, Cole is icy. Another gigantic flame roars into action… Our hero remains as calm as Rakim spitting "As the Rhyme Goes On" and you start to believe! The third and final charge is perilously close and…
Well, let's return to that later on. For J. Cole has finally released his album. A virtual unknown two years ago, he was signed by Roc Nation, nabbed an attention-grabbing feature on the "Blueprint 3" and hey ho, a star is born. He's certainly succeeded in building up a buzz, although the inevitable album delays were starting to become tiresome, despite the free mixtapes he released in the interim. But "Cole World: The Sideline Story" is here. Was it worth the wait? Cole is certainly a divisive artist – not in the overt Drake way, but just purely based on skills, he gets the heads arguing for and against. Being cast as Jay-Z's protégé is both a blessing and a curse, but to be perfectly honest, Cole seems to have recast himself as some sort of modern day Tupac Shakur, to an extent. The resulting album is initially jarring, but after a while the strengths and weaknesses become increasing apparent and, for once, it's relatively easy to get a handle on a newcomer.
There are a few things you should know: the standard cut of the LP is fifteen tracks long, with two interludes, and J. Cole himself produces twelve of them; add in the three bonus tracks shipping with certain versions, and he laced those beats too. So CW kicks off with an intro reminiscent of the one on "Friday Night Lights" and the piano number eventually leads into "Dollar and a Dream III" – a solid enough start with cinematic strings, and some clever lyrics/flows, not to mention the instrumental switch. It stops abruptly, and one of the real standout joints fires up in the form of "Can't Get Enough" – Trey Songz provides the chorus, but it's so understated you'd barely recognise him. The real star, however, is the superlative Brian Kidd instrumental which has a Guinean feel to it – it's truly the classiest of songs for the ladies, even if the lyrics get a touch crude. Next up, the very Lupe-feeling "Lights Please" which seems to have an "open text" feel to it – is it lambasting women who fail to use their brains, or expressing disappointment in the human race, or is it a reimagining of "I Used to Love H.E.R." by Common? Let's leave it up to you.
Another interlude follows, leading into "Sideline Story" – an excellent song, which has (for some reason) been compared with "Dead Presidents II." That's not really a fair match, but Cole's joint can still stand on its own two. The piano sample is lush, and you may recognize the guitar from over the years (for example, Cru made use of it in the mid-90's to wonderful effect). The musical feel up until now has been live instrumentation, with pianos, violins and real drums leading the way. That takes a bizarre pause for the cause as "Mr. Nice Watch" fires up, with a Danja-style almost dubstep type of beat, not to mention a Jay-Z verse. The placement is off, but it's actually a pretty solid number, with Cole sounding incredibly confident and Jigga dropping a pretty clever verse, even if his subliminal shots at Lil Wayne are about as hard as fabric softener (seriously, boys, either have it out properly or not at all). The strange, but eventually enjoyable, title track ("Cole World") follows, as the simplistic flow somehow works. Another guest flies in on "In the Morning" – Drake blesses this gorgeous number with a detailed verse about anything even slightly feminine. Rounding off the second third of the LP is "Lost Ones" – a nod to Lauryn in name only, as Cole expertly details an unexpected pregnancy, the discussion with his partner and the options. It's a perfectly written song.
The final section welcomes back a long lost friend in the form of Missy Elliot (get well soon) and she reminds us of what we've been missing on "Nobody's Perfect" with a pleasant chorus. Bizarrely enough, No I.D. – who rarely misses the target – does exactly that with a beat that just doesn't inspire ("Never Told") but fortunately it's followed up by the barnstorming "Rise and Shine" – imagine a slightly less raucous "You Don't Know" instrumental by Just Blaze, but with a hungry young cat spitting for his life… It straight kills. The last two joints on the album just drag it down, though – "God's Gift" and "Breakdown" just seem, by this point, unnecessary, not really adding anything musically or conceptually. If you factor in the bonus cuts, there's the weird but somehow captivating "Work It Out" plus the aforementioned "Who Dat" – and some versions might have the rather intense "Daddy's Little Girl" and lighter (and melodic) "Nothing Lasts Forever."
There's an awful lot to take in on "Cole World: The Sideline Story." It's a story of rare ambition and missed opportunities, but as an album, how does it fare overall? We must look at the parts: J. Cole is an above average rapper. He's most definitely not yet some sort of legend, not even close. Why? Well, the subject matter throughout the album, for one. Yes, he occasionally hits top gear: on "Sideline Story" and "Lost Ones," or just straight spittin' on "Rise and Shine" the LP is peppered with effective numbers. However, it must be said that more or less HALF of the entire album is aimed directly/indirectly at the ladies. Cole strikes me as a rapper that seems to struggle for subject matter, to a certain extent. The old topics of selling cocaine and jail obviously don't apply to his life, but nowadays artists seem to spit about being famous in a variety of ways. He doesn't really even do that. It's hard to explain but you come away remembering quite a few tracks, but not what he actually said at any point. The lyrics are both impressive and completely throwaway. He just doesn't grab your attention directly enough throughout the album. Then, we come to the sequencing, which does "Cole World" few favours. It's perfectly thought out in certain parts, yet "Mr. Nice Watch" gate crashes the party, and the final third quite literally made me yawn (that's rare for an LP that really only has thirteen proper songs on it).
As for the production, mostly handled by Cole – yes, it's solid throughout, and there are no real clunkers. However, there are three issues: firstly, there's a difference between having a consistent and unified musical feel to an album, and it just getting "samey" – Cole should have brought in even one or two more producers to help diversify the sound, or even beef up certain joints. Secondly, is the world now full of rappers begging for a J. Cole beat? In other words, are there joints on there that make you just want to jump on? Not really. Finally, the bonus tracks at least sound bold: I'd argue that "Who Dat" is superior to virtually everything on the album, as it jumps out at you in every way, and even "Work It Out" has a kind off goofy charm (as did Kanye's entire debut album). Kanye is a great reference point, here. Cole's production is pretty on the ears, but ultimately a bit too safe.
There are, fortunately, good points that save the day. Whilst Cole might be holding back (he's rarely as captivating as that final verse on Kanye's posse cut "Looking For Trouble"), he's certainly an ambitious and talented songwriter, which immediately makes him notable. He's also a talented lyricist, even if his delivery sometimes means you miss the best lines. And most of all, it just seems like his first album was something he needed to get out of the way. I failed my driving test first time round – not through a lack of skill, but the nerves just got to me. I passed it second time round, just six days later. Perhaps that is what the constant hype does to certain artists, making them nearly choke under the pressure… And that was the point in the opening paragraph – that third and final explosion in the "Who Dat" video? Cole flinched. Cool guys don't flinch. But maybe Cole is someone that just needs to progress, perhaps he requires a bit of guidance, a helping hand on production, a wise head in on making marketable singles (there are practically none here) and a more hands-on executive producer. "Cole World" does end up as a good debut, but a hunch tells me that his second album will be vastly superior – and that he won't flinch next time round.
Music Vibes: 7 of 10 Lyric Vibes: 7 of 10 TOTAL Vibes: 7 of 10
Originally posted: September 27th, 2011
source: www.RapReviews.com