Impact All Stars :: Java Java Java Java :: 17th North Parade/VP Records
as reviewed by Patrick Taylor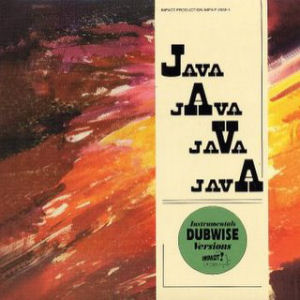 1973's "Java Java Java Java" is not only one of the first dub albums ever released, it also marks one of the foundations of the birth of hip-hop. As I wrote about in my review of Scientists' "Best Dub Album in the World," instrumental dub tracks were what Jamaican DJs toasted over. When Jamaican immigrant DJ Kool Herc started playing records for parties in the South Bronx in the seventies, he brought that tradition of rocking the mic over instrumental tracks.
Not that "Java Java Java Java" is the most obvious ancestor of hip-hop. It is basically instrumental versions of reggae tracks recorded at Randy's Studio, engineered by Errol Thompson and Clive Chin. Being one of the first, it doesn't have many of the studio tricks that became hallmarks of the genre in later years. Much of the revered dub albums of the late seventies and early eighties all offered radical reimaginings of the base track. The same can't be said here. It's all fairly straightforward, without many bells and whistles. The producers use snippets of the vocals, peel everything back to just bass and drums, and slowly filter back in the guitar and keyboards. Legendary reggae saxaphonist Tommy McCook adds his horn on "E.T. Special," and Augustus Pablo gave the public their first taste of his melodica on "Java Dub." There's some reverb, but not the layers upon layers that came to be a trademark of dub.
In 1973, this was a revelation. These dub versions were hard to come by. There were only 500 copies of the original album pressed, and I imagine crate diggers have dropped hundreds of dollars on pristine vinyl copies. By the late seventies, almost every reggae release had a corresponding dub release, similar to how every Houston artist had a screwed and chopped version of their album in the late noughts. And just like people got tired of the syrupy-slow remixes of Texas rap, so reggae fans burnt out on dub versions. I'm a fan of the genre, and I can attest to the fact that there are only so many dub albums you need to own.
"Java Java Java Java" may not be as canonical as "Blackboard Jungle Dub," "Return of the Super Ape," or "King Tubby Meets Rockers Uptown. Those dub albums have heavier riddims and more intense studio tricks. Still, as a historical document that's also a nice listen, "Java Java Java Java" is worth seeking out. I'm fairly certain it hasn't even been available on CD until now, and it is a unique snapshot of the very early stages of dub.
Music Vibes: n/a of 10 Lyric Vibes: 7 of 10 TOTAL Vibes: 7 of 10
Originally posted: September 6th, 2011
source: www.RapReviews.com