Example :: Won't Go Quietly
:: Data Records/Ministry of Sound
as reviewed by Matt Jost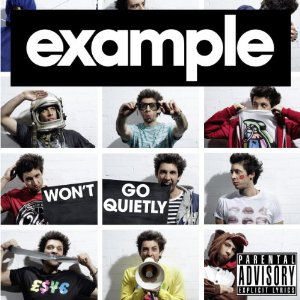 Something astonishing happened one week in July 2011 in Germany. People bought more copies of rapper Casper's new album "XOXO" than they did of any other longplayer, propelling it straight to the top of the charts. Until that day, Casper had a reputation as a multifaceted, slightly left-of-center MC yet never received any attention from the pop establishment. "XOXO" had been a long time coming as a project that aimed for a synthesis of indie rock and pop and hip-hop. Just as vital as the musical foundation, however, was the matching content of the songs, who deal with those uncertain times between adolescence and adulthood. What makes "XOXO" such a success is its evident Lebenshunger, its zest for life. It's a passionate, youthful record from the serious side of life. It is also a credible one, Casper's abrasive voice cutting across melodic tracks, effectively bringing together indie and rap. If it's not totally innovative, it's at least very well done.
In reaction to the sudden success, the German rap press was keen to claim Casper as a hip-hop artist, shielding him against efforts on the part of the rock press and mainstream media to mark him as an trailblazer who single-handedly created a new style. "XOXO" only spent one week at the top of the charts. With Adele's "21" coming in second, however, it was at least a symbolic triumph over pop music's ruling class. The same Adele album also placed second one week in September 2011 when UK rapper/singer Example topped his country's charts with his latest album "Playing in the Shadows" (also his first number one). Although Example has an evident hip-hop background, it's hard to imagine gatekeepers getting behind "Playing in the Shadows" and pronouncing it a success for the artform of rap or some type of hip-hop scene. It's not so much that the album isn't worth claiming for rap/hip-hop, it just would be difficult to lay claim to it. 2011 Example is too far gone, stroking through the - sometimes surprisingly profound - waters of electro pop. The predecessor, 2010's "Won't Go Quietly," shows the way, but still possesses a discernible rap quality.
Ironically, we catch Example explicitly deserting from the rap genre with opener "From Space." "They didn't like me in rap / So what / I didn't like me in rap," he concludes the song's brash rap part before the track switches from a raw set-up of drums, bass, guitars and human roars to spacey synth stabs, catapulting Example into the electronic orbit from where he greets, this time in his singing voice: "And when you see me from space / I can't wait for that look on your face."
Example's "new ting" was solidified with several singles that all charted in '09 and '10. "Watch the Sun Come Up" attempts to preserve the magic of a summer fling with winsome harmonies and grooves in the vein of contemporary emo pop. "Won't Go Quietly" spins the girls/drugs metaphor over powerful house rhythms. "Last Ones Standing" tells a teenage Bonnie & Clyde tale over power pop courtesy of Drake collaborator Bjorn Yttling. "Two Lives" is another emotionally driven pop song, this time about conflicting personalities: "I got one on each shoulder / both sayin', 'I told ya.'" While the highest charting single (#3), "Kickstarts," effectively mirrors an off-on relationship with lyrics and music tracing the ups and downs.
Aware of the rules of the genre he walked into, Example gathers up all his dancefloor stamina to get through the riotous "Hooligans (VIP Mix)" ("A field full of ravers with their ribs broken / bounce up till the shins open, bones pokin'"), or the distorted "Dirty Face" (where Example shows that he can also be mean to girls). With such physical excercise, exhaustion is to be expected, which is the conclusion drawn by "Sick Note," where the night's MC prepares you for calling in sick at the job the morning after.
While "Won't Go Quietly" juggles a number of variations of modern club music, the songwriting owes to pop, funk and, yes, rap. "Millionaires" has been compared to The Streets' "Dry Your Eyes," but is actually more like Bruno Mars f. American Rapper X. The retro-funky "Time Machine" wouldn't be out of place on Lyrics Born's recent "As U Were" album and discusses the prospects of a relationship under the aspect of time travel. More inspired, the rather brilliant "Something in the Water" shows how the proper ingredients can turn a night club into a magical place:
"I see them laugh, I see them cry
Been comin' here since days gone by
Come to fight, here to shout
Or are they here to simply pout?
Lack of passion, only fashion
People glancin' 'cross the room
Pretty soon they'll taste the water
And it ought to change their tune
They take a sip and lick their lips
Start to shake their hips
Dance the night away
The gangsters put their knives away
The water drowns the fights away
I'm really likin' life today
But don't let it confuse you
When they wake they'll all be back to usual"
Having acted out with "Sick Note," "Dirty Face" and "Hooligans," Example ends the album on a reflective note with "See the Sea" and "Won't Believe the Fools," the latter citing the beauty of a woman as proof for a higher power's existence. Which brings us to the initial point of discussion. The cliché goes that successful pop music that's merely swimming along with the mainstream without setting trends often relies on upbeat melodies, uptempo rhythms and romantic lyrics. "Won't Go Quietly" feeds into that cliché. You might say that comes with the territory. But there's no denying that this is an album that thinks it belongs in the charts. Hence its being pop almost overshadows Example's personality and his artistic prowess.
In the end I couldn't tell you which one is the better album, "Won't Go Quietly," or Example's current release "Playing in the Shadows." If you only listen for the raps, this one has more to offer, but you're not going to listen to either one for some 'rap' experience. This is dance, pop and rap rolled up in one, and truthfully a quite cool combination of the three. As for the Casper comparison, "Playing in the Shadows" might actually have more in common with "XOXO" than the more ego-centric, dance-bent "Won't Go Quietly." Still Example is pop where Casper is a bit more soulful and substantial. Ultimately, though, both artists represent a new breed of European rap artists who aren't afraid to try something new.
Music Vibes: 6.5 of 10 Lyric Vibes: 5.5 of 10 TOTAL Vibes: 6 of 10
Originally posted: September 27th, 2011
source: www.RapReviews.com