Ace Hood :: Blood Sweat + Tears
:: We the Best Music Group/Def Jam
as reviewed by Matt Jost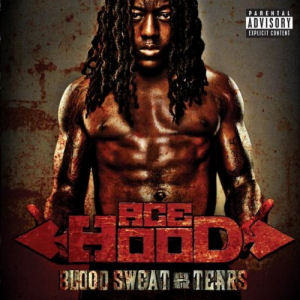 "Hustle Hard" finally did the trick. It made me interested in Ace Hood. It is one of those rap songs that embody the genre's insatiable hunger that so often produces inspirational music and messages. Even if it's hampered by off-topic content, there's a strong undertone of universality to it, visualized by a video that shows the Florida rapper delivering his sermon under rain, heat and snow.
Unfortunately, after gobs of four-minute soundtracks to hustling and grinding, it's also a stereotypical song, even a line like "Baby need some shoes" having wound up a lyrical cliché by now. Under these circumstances it doesn't come as a suprise that you bump into a "Hustle Hard" clone early on on "Blood Sweat + Tears," also produced by Lex Luger, also a single, also about succeeding against all odds - "Go N' Get It." Taken together or individually, these two songs showcase Ace's ability to put his stamp on a track, if not lyrically then at least in terms of diction and intonation. While southern rappers often exude nonchalance, Ace Hood is alert and articulate.
Last time around we criticized that 'Ace Hood's two favorite subjects are himself and his wealth' and suggested he 'spend some more time in the lab writing rhymes before coming back with a third album.' In terms of subject matter the XXL 2009 Freshman definitely stepped his game up, covering a number of issues this time around. However, both "Body 2 Body" and "Beautiful" beg the question why high profile production teams such as J.U.S.T.I.C.E. League and The Runners have to be employed for such cookie-cutter pop fare.
Stronger song material is offered in the mid-section of the album. "Lord Knows" is a humble moment during which Ace bares his soul over guitars and strings. The question whether he will repeat his own father's mistakes when it comes to his newborn daughters occupies both "Lord Knows" and "Bitter World," whose fragile Dinah Washington sample adds a chilling note to the demon-battling. These songs indicate that young rappers like Ace Hood finally learned to handle Tupac Shakur's legacy, by finding their own emotional voice without trying to duplicate the rap icon. That also goes for the lyrically slightly less touching "Spoke to My Momma" and for "Memory Lane," a heartfelt interpretation of the Dead Homies standard. It is also quite a twist after the formulaic opener "King of the Streets" and under the banner of such a cliché album title.
The album's most baffling track is "Letter to My Ex's." Lyrically it's a cut above everything else, but it jacks Kanye West's swagger (and virtually everything else there is to jack) so obviously that it isn't exactly a proud moment for Mr. Hood. Overall, "Blood Sweat + Tears" has potential and personality. But even the Deluxe Edition serves up four more arguments that just don't sway the jury. What they do serve to remind, however, is that there are some rappers who should forward 10% of their royalties to Three 6 Mafia as a matter of principle. In short, while some crucial steps are being taken on "Blood Sweat + Tears," Ace Hood still has some way to go to come into his own.
Music Vibes: 6 of 10 Lyric Vibes: 5 of 10 TOTAL Vibes: 5.5 of 10
Originally posted: October 11th, 2011
source: www.RapReviews.com