Blastah Beatz :: Graduate Studies :: Ascetic Music
as reviewed by Patrick Taylor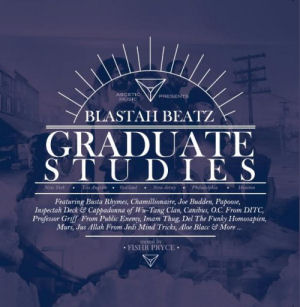 In an interview with Champ Magazine, producer Blastah Beatz said he had an epiphany when he attended the 2008 One Stop Shop beat battle in in Phoenix, Arizona 2008. He had been working with a more commercial sound at that point, using house and trance music to make beats. After hearing what the other producers were doing at the beat battle, Blastah decided to focus on old school sampled boom-bap. Out went the Euro techno, and in its place came crates of vinyl and a sampler.
That's a ballsy decision. Instead of pursing commercial, and thus monetary, success, Blastah decided to make beats that would pay respect to the art form he loves, and earn the respect of rappers he looked up to. The result paid off. "Graduate Studies" contains sixteen cuts he recorded with rappers from all over the U.S., representing New York, the South, the Midwest, and the West.
Blastah may be inspired by 90s boom-bap, but his production doesn't sound creaky or dated. Most of his beats are dramatic and bombastic, not unlike a lot of the commercial rap production he was moving away from. The difference is the dramatic elements in Blastah's music come from samples, not synths, and he grounds his beats in chunky, hard-hitting drums. It's a sound I associate almost exclusively with New York City, so I was surprised to learn that Blastah hails from Portugal.
The rappers on "Graduate Studies" range from commercially successful rappers like Chamillionaire and Busta Rhymes to OGs like OC and Inspectah Deck to leftfield rapper Del. Despite the range of rappers, there is a definite theme to the disc. If Blastah's "Graduate Studies" has a concentration, it is "keeping hip-hop real." A constant theme throughout the album is the sorry state of hip-hop, and the rappers' attempts to keep the art form alive and true to its roots.
This culminates in the album's thesis, a track by Joe Budden called "Who Killed Hip-Hop?" Over sixteen minutes, Budden calls out everything wrong with hip-hop, from Auto-Tune to commercialism to Outkast breaking up to the sorry state of female rappers.
"I can't blame the fans for not knowing a damn thing
When we trained them to be this way
I mean showed them whatever to sell with no limits
Since the early '90's sold them a false image
So when some shit come that don't fit the mold
It's like a mole, nigga you won't even do gold
They watch the videos
See you on the corner with a whole bunch of people and think that you good
They turn on the TV and see these video vixens
And think nigga's girls really look that good
[...]
Or was it when Eminem made 'Stan' I swear some of these fans
They put their whole life on the line
It's like they can't like more than one rapper at a time
Less about the product, more about the digits
It's a business, we got less fans and more critics
[...]
Are we all killing this shit, is it a group effort
Are we alive and well or barely surviving
Is it R&B's fault, them niggas is thrivin
And then a lot of people go and blame Limewire
I don't think it's downloading, dog the lines tired
Did the fans just get tired of the outcome
One dope single and a bullshit album
So they share albums with each other
Was it Master P with them ugly ass album covers"
He ends the track by criticizing himself for complaining, and then admitting that we are all to blame for the state of hip-hop:
"Maybe anyone complaining is deranged
Can you expect something to grow and not change?
Which results in our exceptions, deviated our old route
To simplify the term, we all sold out
I think I figured out who's to blame
We started out Obama ended up McCain
So we Kurt Cobained ourselves when we defeated
So next time they asked you who killed it say WE DID"
"Who Killed Hip-Hop?" has been floating around as a 12" since 2009, and it's nice to see it collected on this disc. It is one of the strongest songs on an album that has several great songs. OC proves his relevance on the remix of "Free Ya Mind." Chamillionaire proves he is just as comfortable rapping over East Coast beats as Southern beats on "Send Me an Angel." Pumkinhead makes two appearances, once with Del on "Hip-Hoop Head," and then with Murs and Aloe Blacc on "Coastal Office." Blastah flips a soul sample like 9th Wonder on Mic King and Supastition's "Move On." He lays down a grimy beat for Cappadonna on "Da Vorzon," just like the RZA used to make. Blastah ends the disc with Budden rapping over a hard rock sample that is so ridiculous it works.
"Graduate Studies" offers a master class in hardcore hip-hop. While Blastah Beatz may be from Europe, his production shows an advanced understanding and appreciation for classic American hip-hop. The MCs he works with are energized by his beats, and the rhymes are consistently strong. Those of you lamenting the demise of real hip-hop just got homework.
Music Vibes: 7.5 of 10 Lyric Vibes: 7.5 of 10 TOTAL Vibes: 7.5 of 10
Originally posted: October 25th, 2011
source: www.RapReviews.com