I-Wayne :: Life Teachings
:: VP Records
as reviewed by Patrick Taylor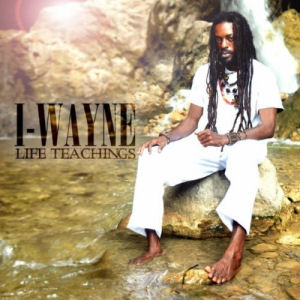 Cliffroy Taylor AKA I-Wayne first got noticed for his 2005 hits "Living in Love" and "Can't Satisfy Her." He released his debut album, "Lava Ground," soon after, and followed that in 2007 with "Book of Life." His third album, "Life Teachings," drops today.
I-Wayne makes reggae that toes the line between roots consciousness and lover's rock. He has a high voice in the same range as Bob Marley, Gregory Isaacs, and Horace Andy, and he follows in the footsteps of those reggae masters as well.
The lyrics touch on well-worn roots concerns: taking down Babylon on "Burn Down Soddom," praising the herb on "Herb Fi Liegalize," criticizing violent drug culture on "Drugs and Rum Vibes," and dropping wisdom on the title track. I-Wayne also gets romantic on "Empress Divine," "Life Joy," and "I Care For You." For whatever reason, reggae's Rastafarianism is one of the few examples of religious messages being accepted by a non-faithful audience. People like myself that don't listen to Christian music have little trouble listening to reggae that openly proclaims Rastafarian beliefs.
Maybe it is the revolutionary nature of the faith, or the patois in which it is delivered, but Rasta messages in reggae go down much easier than mainstream Christian ones do. This despite the fact that, like most faiths, Rastafarian ideas of righteousness aren't totally compatible with liberal values of equality, particularly when it comes to gay rights. Add to this the fact that "Babylon" often means "white people," and listening to roots reggae becomes a complicated prospect. It's hard to imagine hip-hop or rock embracing religion as strongly as reggae does, and making music that delivers a religious message without sacrificing quality. I-Wayne manages to sing about his beliefs, his faith, and romance and make it all convincing.
Patrick Henry handles the bulk of production on the album, offering a contemporary take on roots reggae. Tracks like "Burn Down Soddom" are pure roots, while "Pure As the Nile" and "Life Joy" add elements of R&B. I personally was more into the roots tracks than the love jams, but I-Wayne does justice to both types of songs. I was thankful for the lack of Auto-Tune, and the tastefulness of the production, which lets the songs speak for themselves without being buried under mountains of effects or cheesy instrumentation.
"Life Teachings" is a good album, and one of the better contemporary reggae albums I've heard in a while. I-Wayne does a nice of balancing righteousness and romance, and is backed by solid songwriting and a good backing band. If you are interested in hearing what reggae has to offer in the 21st century, "Life Teaching" is a good place to start.
Music Vibes: 7 of 10 Lyric Vibes: 7 of 10 TOTAL Vibes: 7 of 10
Originally posted: October 11th, 2011
source: www.RapReviews.com