Gregory Isaacs :: The Ruler: 1972-1990
:: VP Records
as reviewed by Patrick Taylor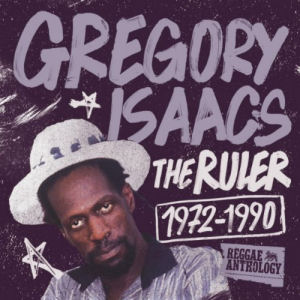 Reggae lost one of its greats last year when Gregory Isaacs died of lung cancer. The Jamaican singer had been one of the most popular reggae artists of the 1980s, producing a string of hits over his thirty-year career. He had a voice as sweet as honey, and his natty dress style and smooth voice earned him the nickname the Cool Ruler. VP Records put out a tribute album to him earlier this year, and now follows with a two-disc and DVD retrospective which covers Isaacs' work from the seventies until 1990.
The album is arranged chronologically. Disc one covers 1972-1978, and disc two covers 1978-1990. A few of the songs are put slightly out of order, but the result is a set that progresses naturally and allows you to adjust to the changing production styles over the years. Isaacs was most famous for his love songs, and there are many fine examples here. The album opens with one of his first hits, "My Only Lover."
"People say I'm not the type of man
To really be your lover
But every day I pray
You'll never leave me for another
'Cause you're my one and only lover
Who means the world to me
And it's plain enough to see"
"All I Have Is Love" is one of the greatest songs ever written, with Isaacs pleading with a lover to accept him despite the fact that he has no money.
"Some of the men will buy you diamonds and pearls
And those are the things that mean a lot to some girls
But all I have is love, darling"
Gregory also managed to make convincing protest songs. He tells a police officer to cool down his temper and let them smoke in peace on "Mr. Cop," and sings about the sufferahs on "Set the Captives Free" and "Victim." While his quiet delivery carries its own power, he lacks the fire of Bob Marley or Peter Tosh, and it's not surprising that he wasn't able to take Bob Marley's place as the global face of reggae after Marley's untimely death.
Production on the album spans early days of roots reggae to the digital revolution of the 80s. While nothing can compare to the analog warmth of the tracks on the first disc, Isaac's smooth voice makes a nice contrast to the digital production that started in the early 1980s. His biggest hit, "Night Nurse," is an irresistible pairing of Isaacs' lovelorn pleading over a slinky digital beat. He managed to repeat the trick with "Private Secretary," "Victim," and "Let Off Sup'm." The four songs from the end of the 80s that round out disc two are the weakest of the collection, with the increasingly cheesy production overshadowing Isaacs. The collection comes with a DVD of a performance Isaacs did in England in 1984. With his three-piece suit and fedora, he is the epitome of cool, and his voice sounds as good live as it does on record.
Gregory Isaacs has released over five hundred albums, so no two-disc set could possibly capture all of his great songs. "The Ruler" does a good job of collecting his biggest hits and most beloved songs, although inevitably paring down Isaacs' output to forty tracks leaves out a lot of excellent music. Still, this is one of the most comprehensive collections that I've seen in print, and a great place for any casual Isaacs fan to start. "The Ruler" is a fitting testament to an important artist.
Music Vibes: 8.5 of 10 Lyric Vibes: 8.5 of 10 TOTAL Vibes: 8.5 of 10
Originally posted: October 25th, 2011
source: www.RapReviews.com