Junkyard Empire :: Acts of Humanity Vol. 1 & 2
:: MediaRoots Music
as reviewed by Mike Baber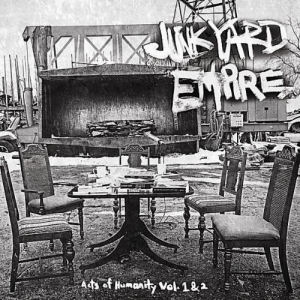 The term "socially conscious rap" is one that is often thrown around too freely. There are hundreds of emcees who claim to represent the views of the people and preach about the inequality of wealth and corruption in the government, but only a small percentage can actually back up their arguments with facts and reasoning. The result is that socially conscious rap is diluted with sweeping statements and irrational accusations that fail to do the subgenre justice. In addition, some artists who are educated and informed enough to deliver accurate social commentary choose to temper their opinions and take a moderate stance on issues rather than risk alienating themselves from the commercial market with an extreme viewpoint. The bottom line is that, while it's easy for rappers today to label themselves as socially conscious, few truly deliver on this promise.
Enter Junkyard Empire, a five-man band from Saint Paul, Minnesota, that isn't afraid to broadcast its political views and call for drastic change. Without even listening to "Acts of Humanity," it's clear that the band has a rather extreme viewpoint on American government and society. The first item listed under "band interests" on Junkyard Empire's Facebook page is "fighting against the most counter-revolutionary force in the world: CAPITALISM, and the inequality, tyranny, theft, racism, sexism, disrespect for the arts, and general malaise that is fostered by its tyrannical reign over the lives of people everywhere." Judging from this statement, it might seem as if Junkyard Empire is no different than any other anti-capitalism group trying to push its socialist agenda, but lead vocalist Brihanu doesn't fit the profile of your average emcee. Having received an undergraduate degree from Cornell and a Masters from the University of Pennsylvania, his intellectualism makes "Acts of Humanity" a thought-provoking listen, even for those who don't exactly buy into to the idea of democratic socialism.
Brihanu wastes no time in making his presence felt, and the album's opening track "Snake in the Grass" offers a harsh criticism of US foreign policy. After spitting a tongue-twisting opening verse over a funky electric guitar riff, Brihanu mockingly proclaims "I pledge allegiance to the overthrow and murder of democratically elected leaders like Guatemala's Arbenz and Iran's Mossadegh" and asks "Do you know the meaning of liberty?" Next up, on the percussion-heavy "We Want," he critiques the political system and delivers a call for action, spitting "We want a liberated land supporting human conditions/ Not free-market propaganda and corrupt politicians/ 'Cause they owned by special interest groups that fund their campaign/ That's why you hear the same old things they claim but change never came." And on "Manifest," with its sorrowful, deliberate guitar chords that make for a smooth but ominous track, Brihanu criticizes the idea that the superiority of the American model of democracy can be used to justify the colonization of foreign nations over the years.
All along, while Brihanu details the pitfalls of capitalism and the misguided efforts by the US government, the rest of the band keeps things interesting with a unique mix of hip-hop, alternative rock, and jazz music that gives the album considerable variety and depth. It's remarkable to compare songs like "Kritikal,' which features a driving, siren-like electric guitar and a heavy bassline, and "Alright," which pits soft guitar chords and piano keys over a steady drum loop and crooning vocals on the chorus from Alicia Steele. This ability to switch back and forth between styles and blend them together can be heard within individual songs, as well. "Rebellion Politik" starts out sounding like something from a Rage Against the Machine album, with aggressive electric guitars and drums, but the band breaks at 1:30 in with a soothing jazzy piano interlude before returning to the heavy metal feel of the rest of the track. A few songs, though, simply have a smooth and laid-back feel from beginning to end, such as "Regla," as the funky bassline and spacy piano keys make for one of the catchiest tracks on the album.
Overall, despite the innovative style that Junkyard Empire brings to the table, hip-hop fans are likely to be split on their opinions of "Acts of Humanity." Some will undoubtedly appreciate Brihanu's straightforward lyricism and confident delivery that allow him to hold nothing back on the mic, as he spits with the hunger of someone looking to shake up America's political system. Others, though, will have a hard time appreciating the music given the band's extreme viewpoints and will find the album to be oversaturated with social commentary. Regardless of one's political views, though, it is important to recognize that Brihanu is never afraid to speak his mind and let his true opinions be heard, something that cannot be said of many other "socially and politically conscious" artists nowadays. And while some may be dissuaded by the controversial nature of the album, those who give "Acts of Humanity" a chance will find that Brihanu's prowess on the mic combined with the band's ability to blend jazz, hip-hop, and rock music makes for a unique sound and a stimulating listen throughout.
Music Vibes: 7 of 10 Lyric Vibes: 7 of 10 TOTAL Vibes: 7 of 10
Originally posted: November 8th, 2011
source: www.RapReviews.com