Evidence :: Cats & Dogs
:: Rhymesayers Entertainment
as reviewed by Steve 'Flash' Juon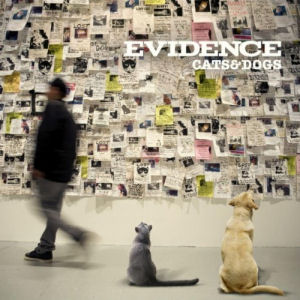 There are many theories as to the origin of the phrase "it's raining cats and dogs out here," but only a few are prevalent and given a significant amount of weight by linguistic scholars. A less likely culprit seems to be the idea that mythology associates dogs with Odin, the Norse God of War, who was also considered to control storms (thunderbolts and lightning, very very frightening). By extension the "cats" in the phrase would be familiars (guides) for witches, who were fantastically believed to be able to fly through windy air with the grace and agility of birds using nothing but a broomstick. As you can see the different sources for the two animals in the phrase makes their being used in combination unlikely. A far less whimsical but more likely explanation is that London floods in the 17th and 18th century carried the corpses of dead "cats and dogs" down dirty and polluted streets, something written about by poets and playwrights of the day, which eventually became a phrase in popular parlance to describe a violent storm. After all if it was "raining cats and dogs" it would explain why the gutters were suddenly full of them.
Popular underground rapper and producer Evidence has long associated himself with meteorological conditions. If you've listened to his tracks for long enough you've no doubt heard a sample of Ev rapping the phrase "rain was on the way because the weatherman predict it" from the Dilated Peoples song "Back Again." Now as much as the hip-hop heads out there might wish they'd do just that, their last group release was back in 2007, and they've all stayed busy with solo projects ever since. It's not that the group formally disbanded, or that there's any beefs whatsoever, it's just that like many group with lots of acclaim and talent the individuals in it want to flex their solo muscles and see how they do on their own. So far the evidence suggests (pun intended) that it's working out well for a third of the group. You don't hear a lot about Rakaa Iriscience solo albums but Ev seems to be maintaining a dedicated cult following on each CD.
Even before Ev's hip-hop career took off, he was out there repping the elements as a graffiti writer. This leads to an interesting conundrum rarely acknowledged in his reviews. The fact he's ethnically Russian and Italian should be completely irrelevant to the fact he's such a dope artist and strong supporter of the arts, but even in 2011 there might be a few people left suspicious of someone who comes from Venice. As L.A. neighborhoods go it's not exactly Compton, Watts or even Long Beach. Venice residents have a median income that's anywhere from double to triple that of their neighbors - you won't need power from the street lights to throw hip-hop parties in that neighborhood. Hip-hop success stories, and in fact the roots of hip-hop itself, involve rising up from poverty to overcome the odds. Michael Perretta had no such obstacles, so either you eye his love with skepticism given he had unlimited choices and didn't need the arts to make it, or you find it more impressive that he feels hip-hop in his heart so deeply given the fact he could EASILY have gone a different route.
"Yes - I'm on another level, I mean another label
Players don't die, we try our luck at other tables
And when I lose, I learn, I'm still winnin major
I jump forward then back and thru the missing stages
A perfect day to make a perfect entrance
A perfect sentence I can't perfect
but I just keep pushin pencils, no fake trace stencils
and do it all by hand so they have respect
(Shit) I know the feelin when you're dealin with accomplishments
Wishin they would diss you, instead they give you compliments
That's what made you who you are, not what you became
Part of bein a star is gettin burned in flames
Kind of ill, the mind's a trip
20/20 when we broke, but blind when rich
I just see it as a sign, but kept rhymin instead
and keep lightin up these pads like Simon Says - WHAT!"
The fans who ride for Ev won't be disappointed by "Cats & Dogs." He continues to show that love for hip-hop on tracks like the DJ Premier produced "You" quoted above. The style which he developed as a member of Dilated Peoples, which originally earned him the second "Mr. Slow Flow" moniker in rap (the original of course being Parrish Smith from EPMD) has grown and matured over the years to the point there's no tempo he feels uncomfortable over. The vocal style has always stood out - it's probably best understood as a Cali version of the late great Guru but not nearly as husky or monotone. You could call it "matter of fact" as a description - his style is frank and direct and his words get right to the point. He's not trying to trick you by leaving syllables hanging, by jumping on and off beats, by moving his punchlines to the middle of bars instead of the end - it's not "clever" per se, and yet it is. By eschewing trickeration he comes with a flow that makes his laid back Cali style more poignant, especially when combined with powerful beats like the harmonious melodies laced by The Alchemist on "The Red Carpet":
"Portions of my proceeds is feedin my homies now
I always shared pretty good for an only child
I was the baby boy, I could do no wrong
Now the role's reversed, I'm puttin people on
They off welfare, and got healthcare
and used to have their priorities elsewhere (It's funny)
I took rims and tires and traded them
For a ticket to an island, that's where I wrote this rhyming
Where I first saw my vision written
Driven by a better living, a place to raise kids in
So I think like I rule the world
On the brink of something bigger, buildin schools for boys and girls
The thought alone gets me out of my bed
I say you got them tools, get them shits up out of the shed
C'mon!"
It may be even more telling that Ev shares the spotlight with acclaimed rappers Raekwon and Ras Kass on "The Red Carpet," and all three stand in the same stature at the end - none outshining or showing up the others. Ev stands strong on any of this hour long album's songs when joined by guests. "Late For the Sky" features his newfound Rhymesayers labelmates Aesop Rock and Slug, and even though their underground cred is just as vaunted as Ev's if not moreso, they are all equals over the Sid Roams symphonics. The same goes for "Fame," featuring both Prodigy and Roc Marciano on a Charli Brown track, and for the posse-all-in song "Where You From" with Lil' Fame, Rakaa and Termanology. The group cuts are all type nice, but solo songs like the Evidence and Khrysis produced "I Don't Need Love" are the nicest. It's another interesting conundrum really - for someone we noted loves hip-hop so much earlier, he professes to need none back in return - he does it for his own benefit.
"And I would say that's when love became an issue
Anybody treated me good, that's when I dissed you
A certain chick who, caught the bad end of the stick
and through thin and thick I still miss you (I do)
I've trashed every girl I've had since (what can I say?)
Warm heart cold, mind is absent, imagine (my God)
I don't need love anymore, I need pressure
Pain, my veins feelin so electric
Blue in the skin, choosin my sin
'Til the same sins doin me in, I don't need love"
Having listened to the entirety of "Cats & Dogs" I can only think that Evidence is right. If he was doing this when he didn't have to, when he could have hung out with the hipsters and skateboarders from Venice and Dogtown he occasionally mentions, then he doesn't need to be loved by hip-hop. If he's still doing this even when sales of Dilated Peoples albums never reflected the critical acclaim said same received, then he doesn't need to be loved by the Billboard charts. If he's still out there making quality hip-hop tracks even in a day and age where people will bootleg albums for free just because they can and blame the bad economy for it, he doesn't need your money. The truth is as much as he might need those things to thrive, he's learned how to thrive without them. He's like the flower that grew up through the cracks in the concrete - time and weather cracked and eroded the stone, then nature and sunlight connected. Evidence may have stormy days but when the "Cats & Dogs" subside those moonlight nights are like the limelight of success, and that's all he needs. With or without this praise he's going to keep making music, which is all the more reason for those of us listening to give it to him. He's a man for all seasons of weather, even a torrential downpour.
Music Vibes: 8 of 10 Lyric Vibes: 8 of 10 TOTAL Vibes: 8 of 10
Originally posted: November 8th, 2011
source: www.RapReviews.com