Ces Cru :: The Playground
:: INnatesounds
as reviewed by Aaron Boyce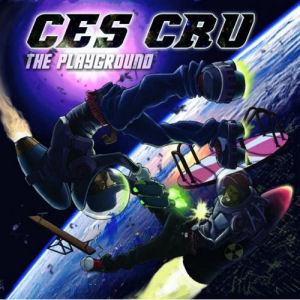 If you plan on making it in this industry then you need to make the most of any opportunity that happens to come your way and Ces Cru have definitely been doing that over the past twelve months. Kansas City inhabitants Ubiquitous and Godemis have been creating a steady local buzz for themselves since the 2004 release of their debut LP, "Capture Enemy Soldiers", with some eye-catching performances at various MC battles. They had also been busy shooting several music videos which have further cemented them as local favourites while not really gaining a huge amount of attention elsewhere.
That all changed at the tail end of 2010 when fellow Kansas City resident Tech N9ne asked Ces Cru for a couple of verses for the track "Livin' Like I'm Dyin'" for the "Bad Season" mixtape and interest in the duo has been growing ever since. Ubiquitous and Godemis followed this up by appearing on "Give It Up", a bonus track on Tech's "All 6's and 7's" album and then co-starring in the stand-out track, "Unfair", from the recent Strange Music collaboration album "Welcome to Strangeland". Oh yeah, they KILLED every verse on those tracks too. With these recent attention-grabbing cameos and exposure to Tecca Nina's dedicated fan base, it looks like Ces Cru could be on the verge of a breakthrough. 2010 heralded the release of the duo's most recent LP, "The Playground", and now seems like a better time than ever to press play and see what all the fuss is about.
"Teeter" is a busy start to the album as Leonard Dstroy's shuffling drums are accompanied by the driving organ, probing bass and a bit of background brass for good measure. The track is also littered with effects that sound like they have been lifted straight out of a 70's science fiction flick as both MCs deliver solid, tongue twisting verses to further add to the chaos. The title track, "The Playground" has a more orthodox feel to it while still sounding hugely atmospheric. A few of the spacey sound effects remain but Dstroy's instrumental would be far more suited to a gladiator's arena. Over the more simplistic backdrop you can really hear the subtly complex flows of the two wordsmiths:
Ubiquitous: "I'm the flyest, philly lighting, filibuster, flow philanthropist
Fill 'em with pheromones while fantasising over cannabis
Calling him Solomon, concubines swallow Klonopins
Follow him down the rabbit hole and hold delights anonymous
My native tongue, dope enough to make your nasal run
The way we come in and kill 'em with butter vocal radiance
Riduculo rhythm original pushing the pinnacle
Pull a centrefold Sally and double digit De Niro-ro"
Godemis: "Pardon my penmanship, my paragraph pin point so
I hog tie 'em, poke 'em and prod 'em and burn the joint slow
Slang so ridiculous I'm speaking in tongues right?
Plus my flesh bubbling when under the sunlight
The demon is in 'em, Dean'll continue to bring 'em the venom
In a verse, don't consider it sinning sinner, sayonara
I serenade with sentences simply
While dancing on the beat like fingers tapping on ten keys"
These two opening verses from the duo on "The Playground" serve to give you a feeling for what Ces Cru are about; delicately woven wordplay. At times it almost seems that Godemis and Ubiquitous are trying to outdo each other on their respective verses while still maintaining that all important chemistry that hip-hop twosomes require. While a large portion of the album's lyricism focuses on the more traditional aspects of hip-hop such as battling, the duo do occasionally shift gears and touch on other topics such as modern society's dependence on television ("Idiot Box").
Guests are few and far between on this album as the two rappers never seem at a loss for words but back-up does appear in the form of Stik Figa, Deep Thinkers, Smoov Confusion and Mac Lethal, the latter of whom destroys his spot on "Guntitled":
Mac Lethal: "It's the king of the king of the... wait a minute, no
It's the prince of the city with the fatal sinning flow
Sadomasochistic rhythm rip an eighty minute show
I'm supernatural, my sacrament is scraping from these dradle spinning holes
Woah! I got an axe to grind, I got an axel in my mind
I wind it 'til I'm binded to the nickels and dimes
I drink until I'm spitting out slime, until I wrinkle like a pickle in brine
I'm on a waterbed with your girl, thirty minutes later that's a rippling time
My guns may stop working but my missiles are fine..."
Production on the whole LP is entirely handled by the aforementioned Leonard Dstroy of Deep Thinkers (not to be confused with The Arsonists' D-Stroy) and he handles the majority of the nineteen tracks capably. There is a wide array of styles on display here from the manic futuristic cyber disco of "Ion Dat" to the cartoonish soundtrack of "Outtabounds" via the more traditional boom-bap of "Changes". There is no doubt that Dstroy is an able producer with a varied arsenal but it would have been nice to just have another producer or two on board to keep things fresh. Both Ubiquitous and Godemis are constantly dropping gems but the carefully crafted rhymes occasionally get lost amongst some of the more frantic production on display here.
I guess that having the same producer for the entire LP does add a certain consistency to the album though and the beats themselves are certainly fresh but Godemis and Ubiquitous run this playground. On this showing it is not surprising that a highly respected lyricist like Tech N9ne has taken the duo under his wing. Both rappers have flows for days with several glimpses at their ability to confidently cover a range of topics. Now with the backing of Strange Music it will be interesting to see if Ces Cru can step out of the playground and start to mix it with some of the big boys, they have certainly earned their chance.
Music Vibes: 7 of 10 Lyric Vibes: 8 of 10 TOTAL Vibes: 7.5 of 10
Originally posted: November 29th, 2011
source: www.RapReviews.com