Drake :: Take Care
:: Cash Money Records
as reviewed by Jesal 'Jay Soul' Padania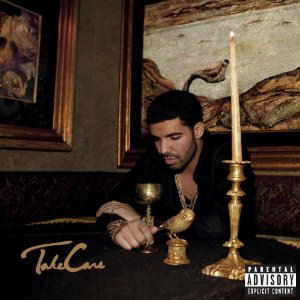 "Name a rapper that I ain't influenced..." Yes, that's what Nas spit exactly a decade ago, and it was absolutely spot on. However, bizarrely enough, a certain Canadian MC could almost say the same thing in 2011. I'm certainly no Drake "Stan" but this year has seen the release of so many rappers that have either displayed a lot of Drizzy in them, or have flat out copied his style. Keep your ear to the streets, and watch out for promising young rappers: what really brings home just how much Drake has influenced the rap game is the sheer volume of artists that clearly idolise the T-Dot singer/rapper. They sound JUST like him. Only not as good. Having everyone from top level MC's to kids biting your style must be somewhat of a headfuck for Drake, and surely the temptation to go left must have crept into his mind when conjuring up "Take Care." However, that was never going to happen, because his debut, last year's "Thank Me Later," wasn't really his grand vision.
On TML, it was startlingly clear that Drake had one goal and his label had another. In the end, they won - obviously - and he had to make numerous concessions. He hasn't gone as far as to disown it, but even a cursory listen highlighted his ambition ("Fireworks"), contrasted with Young Money's goal ("Fancy"). As a result, the waters were muddied and it just didn't work well enough. But, luckily for Drake, it sold healthily and he has since earned the right to put out an album that conforms to his ideology. And put it this way: save for a few songs, if you deleted "Thank Me Later" from your hard drive, and treated "Take Care" as the genuine follow-up to his mega-successful "So Far Gone" mixtape, it would all make perfect sense. He won his battle. This is the real Drake. But you want to know if has he won the war.
Well, that depends entirely on how much you like rapping. You see, on this epic offering, Drake sings a helluva lot. Honestly, if we temporarily changed the name of this site to RnBplusRapReviews.com it would be entirely valid. That wonderful mixtape of his felt brilliantly balanced, but this is certainly more slanted in favour of the female listeners and/or couples. Whilst he doesn't go flat out "Kitten Whisperer" for 75 minutes, his primary ambition is to create a mood, and let it just play out (wow, even that sounds like a #DrakeChatUpLine). It's an album to bump when you feel a certain way, one that seems autumnal, and it (surely) works best at night. He does rap, and - in actual fact - he doesn't drop any dud lines or verses, but it certainly seems to have been adjusted (I'd shy away from the term "downgraded") to fit in to the overall arc. Expect a long album, lengthy songs, playful interludes and virtually no major huge crossover singles.
Doing a song-by-song breakdown for "Take Care" actually makes little sense - the album as a whole works in its own little universe, and you can dip in and out at will. In fact, one could almost press shuffle and the tracklisting would still make almost perfect sense (the album opens up the widescreen "Over My Dead Body" but plenty of tracks could have kicked things off). "Crew Love" combines well with The Weeknd, and it's an effective call to arms with a stop-start reverse-kick. The gorgeous and deeply subversive "Doing It Wrong" features Stevie Wonder, and has that in-house "40" sound down pat, all while Drake just basically fucks with a girls head (this dude has serious game). "Headlines" finds Boi-1da replicating the "Forever" sound, resulting in an excellent album cut - however, it's not really that impressive a single, and certainly doesn't match up to "Over" as radio/club fodder. Again, the title track - featuring a slight chorus from Rihanna - doesn't have the bash you over the head effectiveness of "What's My Name" that the Barbadian's smash hit had. It is, however, absolute gold, with a strange beat that is part house, part breakdown (matching the concept well) and it's the only semi-uptempo moment on the album (bonus cuts aside). A more barnstorming effort comes from Just Blaze, as "Lord Knows" finds Drake straight spitting alongside Rick Ross, with both rappers going hell for leather over a typically powerful and soulful beat.
There are moments on "Take Care" that help carry the album forward, but don't particularly excel. "Cameras/Good Ones Go" is a challenging effort, with Drake almost just accent-fucking about on the mic, thus making it a slightly random song to include. "Underground Kings" features a somewhat play-it-safe beat, even if it fits into the overall ethos, and is only rescued by Drake's spirited delivery. The prerequisite Nicki Minaj feature is solid enough, but one might well have expected a big international single to have come out of the collaboration, so the repetitive chorus is somewhat of a letdown. In fact, I'd argue that the three songs bang in the middle (7, 8 and 9) are probably amongst the least effective numbers. Within the scheme of the album, they function well enough, but take them out of that environment and their effect is dulled. The two tracks featuring his boss are perceptibly better, though - and it's always a pleasure when one of them also features Andre 3000. In fact, Drake doesn't even spit on "The Real Her" - leaving it to Lil Wayne, who drops a nice enough verse, and 3k who (obviously) kills the joint in his inimitable style. The harder-edged "HYFR" has a classic Young Money feels to it, with both Drizzy and Weezy performing well, with each rapper just toying with their prey.
The word to most associate with "Take Care" is "accomplished" - Drake has a vision, and has set out to achieve it. Primarily using in-house production (as is frequently the case nowadays), he's attempt to captain a unified sound, culminating in a consistent album. He's clearly fought his corner admirably, because he's achieved it - it's an album that creates a particular mood, and vehemently sticks to it, even bending the will of the traditional rap joints in the process. His song-writing marks him out as an artist to watch, and is perhaps one of the reasons that he is already so revered - he sees minute details and knows how to depict them cleverly, putting them in a foolproof flow. It's an extremely bold and confident move, and he never really comes across as desperate - something that the majority of his peers simply reek of. "Take Care" is almost an "album-lovers' album" so if you're expecting a slew of street bangers and a couple of joints for the ladies, you're going to be disappointed. It's one to press play on and zone out to, and as such comes as cross as an evolutionary stage in Drake's career, not revolutionary. He's simply blocked much of "Thank Me Later" out of his mind and picked up from where "So Far Gone" left off, in the process tightening up as a formidable artist.
It would be na´ve to think that he has complete creative control over it all, and at times it can come across as a bit of a geofenced Reminders App ("Oh look, we're in Miami: Siri says let's hit the MMG boys up") - but naturally, he has commitments to "take care" of (namely selling records). This is an album that is more about feelings, not punchlines and soaring choruses. It's not an unpredictable thrill-a-minute ride, but after you've listened a few times, it just makes most of the countless Drake clones sound a bit corny, limited and even concessionary. It will probably be more of a slow burner like his beloved The xx (even commercially), but it's certainly one of the most well put-together albums of 2011 and one for the music lovers. Sometimes music can, as Coldplay once said, "Fix You" - and there are enough street rappers out there making club bangers, coke anthems, stripper songs and so on. So, when you've had a really crap day (like I have), you just want to come home, doss on the internet, grab a beer and press play on an album that will alter your mood for the better: "Take Care" most definitely achieves that.
Music Vibes: 8 of 10 Lyric Vibes: 8 of 10 TOTAL Vibes: 8 of 10
Originally posted: November 8th, 2011
source: www.RapReviews.com