Cold Heat :: Raising the Bar :: Soulspazm Digital
as reviewed by Daniel Oh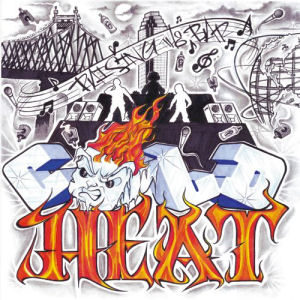 Quiet quality is the bane of most underground rappers. The rap game is saturated with MCs and producers that are so technically gifted, but somehow lack that "it" factor that A&Rs and record labels harp about. Still, figuring out who gets to blow up and who doesn't is an almost arbitrary process. Some artists will never get the capital or marketability needed to get out from under all that obscurity, some will get lost in the YouTube shuffle after blowing their first 15 minutes of fame, and some just aren't ready for the bright lights of recognition and acclaim. It's not an affront to the talent or deserving of any of these artists, it's just the way the game is.
With that said, I can feel for Cold Heat. Their Hip-hop skills are on point from a technical standpoint. Jak D has a fluent understanding of flow and delivery, of how to fit words and rhymes in to highlight the best parts of his verse. He not only knows how to switch up the flow, but he knows when to switch it up. His lyrical skills are on point, he crams enough punches to keep the headphones rocking back and forth at a constant clip. Jay W isn't bad behind the boards, he doesn't push boundaries or get overly creative, but he does know how to make a solid beat to spit behind. Cold Heat is very technically gifted, a Hip-hop duo that will make the purists (like me) swoon. But I don't see them blowing up on the national stage, not yet anyway, because they don't have any differentiator to separate them from any other gifted MC and Producer duo from New York.
The album opens with "Nobodies Leaving Alive", with Jay W staying minimalist with a few horns and a one-two drumline that serves as the perfect instrumental for Jak D to spit with braggadocio. It's a good introduction to the styles and skills of Cold Heat, and it sets the tone for the rest of the album. Jak D has some gems behind the mic with lines like:
"And give yourselves some time for your minds to catch up
I'm from the days when OMG meant One Man Gang
True scholar never ran with a dumbass slang
Blue collar, like discount lunches for two dollars
So illa, gorilla, maniacal flow killa
Godzilla so chilla keep my eyes on the prize
until my angel wings appear and start to rise in the skies
freak in disguise, cover up the secrets and lies
deep in disguise, hidin' from police in disguise
and I will never be defeated
yeah, let me repeat it
I will never be defeated, I WILL NEVER BE DEFEATED"
Jay W ramps up the sound with "Hard to Chill", with some harmonica, keys, guitar strings and bass to construct a relaxed track, which matches with Jak D's less aggressive approach to the microphone in this song. Jak D's opening line had me in stitches for a little, "Why does every MC wanna be a gangsta, and why does every gangsta wanna be an MC?" It's funny because it's true.
The title track "Raising the Bar" features Blacastan and Craig G, and Jay W brings the noise with some sampled vocals, hard staccato snares, and loud synths that make the beat sound like audio carpet bombing. All three MCs keep it muscled and as aggressive as the beat does, with Craig G bringing his haymaker-style to wreck shop in this song. I'm usually not a fan of loud, chaotic production, but it works because the rappers have the muscle to bring credibility to the sound. "Raising the Bar" is definitely a highlight of the album, and deserving of its status as a title track.
"Thinking Out Loud" switches the tempo again, with Jay W laying a slow guitar track and Jak D bringing the introspective verses. Jak D brings a scattershot, stream-of-consciousness theme to the song, but stops himself from going too outside the box, which keeps the song relatable and it gives some food for thought for the listener.
"Spanish Guitars" with Nico the Beast, SR, Neta, Meyhem Lauren has Jay W keeping the guitars, but crafting something a lot more dark and methodical. Layered with some horror soundtrack samples, it sets the table perfectly for everyone to get in on a lyrical murderfest. The punches aren't as fresh, but the production hits its highest peak with this song, so it compensates for some stale lines like "checked more Chins than a Chinese hotel".
Cold Heat operates as a true team. When one doesn't bring the heat, the other overcompensates to make each song heat up. As a result, there isn't any true missteps in this album. "Place Near You" offers some sub-par production from Jay W, but Jak D steps it up and manages to craft the song into a decent blue collar neighborhood anthem.
In all, "Raising the Bar" is a good album. It's one that I would recommend, and it's one that I will endorse and stamp with approval. It's not a great album, it's not the best I've heard from Queens, but Cold Heat definitely showcases their pure talent in making Hip-hop. It's a bit formulaic, and it won't push boundaries, or even "raise the bar" as they say. It won't even be their jump off point to the stardom that their quiet quality deserves. But it is a quality listen, one that I've enjoyed and one that you should be able to as well.
Music Vibes: 7 of 10 Lyric Vibes: 7 of 10 TOTAL Vibes: 7 of 10
Originally posted: November 1st, 2011
source: www.RapReviews.com