50 Cent :: The Big 10 :: DatPiff.com
as reviewed by Steve 'Flash' Juon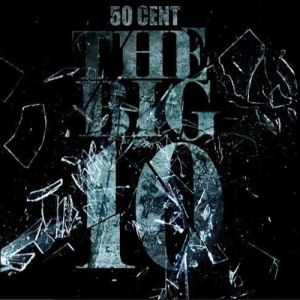 "It's The Big 10. It's been ten years since 50 Cent Is the Future. Shit, I'm tired as a muh'fucker man."
That's all the reason 50 Cent needs to drop "The Big 10" right now. Well that and the fact 50 feels the hip-hop community is taking him for granted right now. He doesn't waste any time getting his respect back on the album's opening track "Body On It." Over the menacing piano melody laid down by Jake 1, he marks "a decade of hot shit" with his spit, then uses the outro of said same song to REALLY make his feelings clear.
"If a nigga say I fell off, all I want you to do is ask him when. Fuck they gon' say, what, the Curtis album? Okay so #1's not good enough. I gave you Ayo Technology, that was #1. I Get Money, that wasn't hot? So tell me when I fell off? Yeah, when I gave you motherfuckers what you asked for, with Before I Self Destruct, you looked at me and was like 'We cool Fif'!'"
It's probably better if 50 Cent feels doubted and disrespected right now. Whether he "fell off" or not shouldn't even be the issue - the real issue should be whether or not 50 is MOTIVATED. For more than a few years there the hunger 50 Cent had was fading, which is a natural and hard to avoid consequence of coming up from having nothing. When you get a little success it's hard not to be living lavish, enjoying the fruits of all your gold and platinum plaques, the franchise of artists under your wing and the deals for movies and video games that follow. The problem is that it's hard to have that same fire and passion you did when you had to hustle for every last dollar. On "Queens" it sounds like he's getting it back:
"We on that gritty shitty city shit, New York, New York
You come through on some pretty shit, get outlined in chalk
I get busy, I get busy, I'm strapped now
I'm tryin to say I want you motherfuckers to act out
I'll have that ass sprintin towards the door when I back out
Don't do it, don't you do it, don't you do it - don't don't don't make me center you
Holy moley, the Roley icey, Oyster perpetual
Diamonds blinkin like hazards, take a look at it
I'm a regular bad man, they say I'm a mad man
Fuck a mask and gloves - I let it off barehand"
Of course it wouldn't be a 50 Cent album, even a free downloadable one, if some of his fellow G-Unit artists didn't get in on the action. Tony Yayo joins him on the D.R.U.G.S. produced "I Just Wanna," rapping over the legally or otherwise sampled "That's the Way (I Like It)" by KC and the Sunshine Band. Yayo also lends vocals to the greasy slick Ky Miller production of "Nah Nah Nah." Curiously though Lloyd Banks is nowhere to be found, but maybe he was busy recording "The Cold Corner 2" at the time.
"The Big 10" goes by pretty fast - even with skits and interludes included it's only 38 minutes and change long. It's also watered down slightly with artists who really aren't up to part with the level 50 Cent is on. Kidd Kidd's "condom on my heart, motherfuck your feelings" rap on "Niggas Be Schemin" just doesn't impress me, and Paris ought to know that (1.) her name is already taken by a fiery political rapper and (2.) she's a pretty bad clone of Queen Bee mixed with Foxy Brown, where either one would be preferable instead. Still it's hard to not like what's here if you're a 50 Cent fan, from the hard rocking DJ Khalil produced "Shootin' Guns" to the smooth soulful Scoop Deville sampling layered up under "Wait Until Tonight." There should be little doubt after listening about whether or not Curtis Jackson fell off - he just took a little TIME off.
Music Vibes: 7.5 of 10 Lyric Vibes: 7.5 of 10 TOTAL Vibes: 7.5 of 10
Originally posted: December 13th, 2011
source: www.RapReviews.com