9th Wonder :: The Wonder Years
:: It's A Wonderful World Music Group
as reviewed by Mike Baber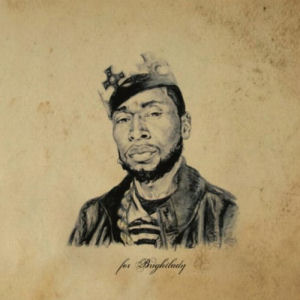 The old saying "better late than never" has already shown to hold true in hip-hop at least once this year, with the release of Saigon's long-anticipated debut album "The Greatest Story Never Told" back in February. For most fans, the album proved to be worth the wait, and it garnered significant praise from both hip-hop critics and fans alike. "The Wonder Years" wasn't delayed quite as long as Saigon's debut, but dedicated listeners who have followed 9th Wonder from his days producing for Little Brother know that the album has been a long time in the making. Originally slated for a 2008 release, "The Wonder Years" finally emerged three years later, seemingly at an appropriate time in the hip-hop game given the recent release of fellow North Carolina native J. Cole's first studio album.
The first thing that longtime followers of 9th Wonder's production discography will notice is that, although "The Wonder Years" still contains the vibrant and soulful feel that has become characteristic of his instrumentals, the album has more of an R&B feel than some of his previous work. While those looking for strictly rap may be slightly disappointed, most will find that this is by no means a bad thing, as the funk and soul-driven beats that 9th Wonder creates are often equally as suited for soft crooning vocals as they are for hip-hop rhymes. Marsha Ambrosius delivers an impressive solo performance on "Peanut Butter & Jelly," but more frequently 9th Wonder mixes singing and rapping on the same song, such as on "Your Smile" and "Now I'm Being Cool." The latter pits a fast-paced drum loop over upbeat grand piano keys and high-pitched strings, and the combination of Median's straightforward delivery and singer Mela Machinko's soothing voice makes for one of the better tracks on the album.
Despite the minor R&B influences, though, "The Wonder Years" is still a rap album at heart, and there are a number of big names in hip-hop to be found throughout the tracks. One of the main problems that often plagues compilation albums is that there is a decreased incentive for an artist to deliver his best verse, but every emcee seemingly puts their best foot forward for 9th Wonder. Over a jazzy trumpet sample and sweeping strings, Talib Kweli shows off his romantic side with two verses on "Never Stop Loving You," rapping:
"In all actuality, your mentality dwarfed your attributes
Personality, you're sweet as passion fruit
Conversation casual, but quickly turned to marital
I am hip-hop, but I'm not your average rapper dude
There's more to me, I never call you shorty because there's more to you
You're priceless, them other chicks affordable
I'm callin' you adorable every chance I get in the recording' booth"
Switching coasts, 9th Wonder manages to combine some of the best of both the old and the new from out West, as Warren G, Murs, and Kendrick Lamar each spit a verse on "Enjoy (West Coastin'). With a funky sample and a heavy drum loop that give the beat the same bounce as a low-rider, the track is dripping with West Coast flavor and offers a nice contrast to the plethora of East Coast artists found on "The Wonder Years." Arguably the best lyrical performance on the CD, though, comes from Raekwon on "No Pretending," a track that sounds like it could have been produced by RZA for "Cuban Linx, II." Over a deep bassline, soulful background vocals, and a heavy drum loop, the Chef serves up some of his best verses in recent memory with the steady presence of a veteran, as he spits "Back to blowin' holes in the microphone pole/ I do it easy, with 41 years in my soul."
Of course, while there are a few big name guest appearances that stand out among the rest, there are certainly a number of other artists throughout the album that hold their own on the mic. Phonte, who worked with 9th Wonder for 6 years as a member of Little Brother, contributes to two tracks, and it seems as if nothing has changed between the two as Phonte settles right in with the opening verse on the head-bobbing "Band Practice." Problem and GQ both bring the heat on "A Star U R," with its creeping horns, spacy synths, and gliding strings and trumpets playing off one another to create one of the smoothest tracks on the album. And on "Hearing the Melody," the trio of Skyzoo, Fashawn, and King Mez flow over the sample-driven track with lines such as "Properly medicated and probably the most sedated/ Obviously dedicated, discography underrated/And it's preposterous how I'm poppin' up on each station/ Used to be one of poverty's most popular faces."
Overall, it's hard to find much fault with "The Wonder Years," and it's remarkable how cohesive it feels given that it's a compilation album. This is due mainly to 9th Wonder's ability to vary his instrumentals to suit the delivery and style of each emcee while still maintaining a consistent sound, and is a true testament to his skill as a producer. Fans who have followed him from his early days with Little Brother will undoubtedly want to check out 9th Wonder's latest release, and while some may some may be slightly put off by the R&B vibes that resonate throughout the album, this slight change in style still makes for an enjoyable listen. Regardless of having heard his previous work, though, any fan of sample-based, soul-driven hip-hop should not hesitate to give "The Wonder Years" a listen, as most will find the album to be right up their alley.
Music Vibes: 8.5 of 10 Lyric Vibes: 8 of 10 TOTAL Vibes: 8 of 10
Originally posted: December 13th, 2011
source: www.RapReviews.com