Kristmas :: W2 Boy
:: Slow Motion Soundz
as reviewed by Matt Jost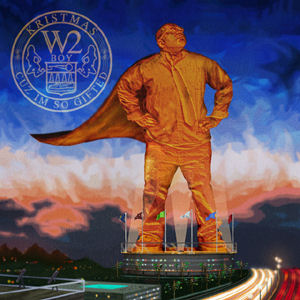 Ever noticed how rapping hustlers/hustling rappers manage to make it seem like drug dealing is the damn hardest work on the planet? If you let them tell it, they make one hell of a workforce. They flip ki[lo]'s and move or push weight, also referred to as work or bricks. Even in the summertime they're shoveling snow. They're on the grind and in the trap. They flood the streets and simultaneously hold down the block. Like farmers they handle beef, make cream, get cabbage and have to endure droughts. They pack steel, clap iron, cock hammers, pull triggers and tote heaters like true blue collar workers. They cook, cut, chop, whip, slice, bake and serve as if they were employed in the catering industry. They scale accurately with triple beam balances and expertedly convert ounces to grams. They're on a paper route like a paperboy and stack dough and cheese as if they delivered pizzas. As an extension of the work metaphors, they liken themselves to chefs, janitors, pharmacists or the ice cream man. In short, they got that work in a situation where many people are out of work.
Not to knock their hustle, but sometimes I'm under the impression that they have only a vague idea of actual work, physical or otherwise. After all, the same rappers justify the drug dealing by referring to high unemployment rates, low wages, employment discrimination, and poor education. According to them, it is a logical career choice given the dire circumstances. Still they at least recognize manual labor on a metaphorical level. On the other end of the spectrum we have those rappers who are more likely to talk about the real working world because they have the work experience, but denounce it since it's exactly the type of livelihood they hope to escape through their artistry. All this makes that traditional labor has few advocates in rap music. To us out there listening, ordinary people like you and me, rap can be a confusing medium, despite the fact that the majority of rappers will claim that they talk sense. An aspiring rapper himself, Kristmas from Huntsville, AL, puts it like this:
"Niggas been rappin' 'bout trappin' for so long
by havin' a job it felt like I was doin' somethin' wrong"
You see, Kristmas is on a mission. On a mission to put in work for the working man. "Somethin Wrong," the lead track off his digital debut, is his rallying cry against a system of cronyism in rap that favors very specific professions:
"If you can brag about bein' a hustler, a baller, a gangster, a crack dealer
- then can I brag about bein' a workin' rap nigga?
First you trap niggas made this shit look so cool
Kids droppin' out of school, growin' down to be like you
And niggas quittin' they jobs postin' up at the crack spot
Cause they ain't 'have a jump shot,' so they forced to sell crack rock
- Right?
[...]
The problem ain't the kids, it's these grown-ass men
cause they the ones responsible for settin' all the trends
A bunch of fuckin' 35-year-olds
throwin' up gang signs and dressin' like weirdos
I guess that's what the W2 Boys is here fo'
I made my own lane cause the game needed a hero
To show you that the corners not the limits of career goals
I only wish we coulda did the shit a few years ago
If the W2 woulda been bubblin'
maybe we coulda saved lil' buddy from discoverin'
And if the movement woulda been in existence
two years ago, maybe my words woulda saved Quinton's
But I can't dwell on the whatiffers
I just hope for the future it makes a difference
Cause all you rappers perpetuatin' this ignorance
and then passin' it off to the innocents
And you ain't even livin' what you sellin' 'em
You make a few bucks, in reality, though, you failin' 'em
Cause they tryina be everything that you tellin' 'em
We're tryina tell 'em right and they look at us like some aliens"
It's not only a classic concept for a rap song, it's also supremely executed, from the home-hitting hook to the vintage southern beat by fellow Huntsville resident and Strange Music collaborator David Sanders II. Kristmas is a rapper that tries to reason with you, and often successfully. Even when he's arguing from the perspective of an alcoholic - as he does on "I Need a Drink" -, he's instantly able to draw you into the mindframe of someone whose only way of "copin' with emotions / is gettin' shitfaced, poppin' liquor bottles open."
Kristmas is ready to take the torch of enlightening southern rap handed down from the Geto Boys to people like UGK, Eightball & MJG, Arrested Development, Dungeon Family, Crooked Lettaz, Nappy Roots, etc. On "Society Sayz" he channels the fervor of Killer Mike over Bossman's rock-tinged background. Following a stellar verse from female guest S.L.A.S.H., the self-described "freshest fat boy on the planet" adamantly refuses to conform to the norm:
"In this six-pack society, nigga, I rock the keg
Society says that I should be on the ledge
fifty stories high and starin' over the edge
contemplatin' suicide, that's what society says
Cause my belly hangs over my belt slightly
If I look like no one on TV no one will like me
But I get approached by beautiful women nightly
So I don't give a fuck how y'all stereotype me
If you don't like how I look, then fuck you
and that status quo bullshit that you look up to
Ye ain't gotta have the body of a model
or be shaped like a Coke, cause that ain't the only bottle
And don't be influenced by the media
The meaning of beauty's not in an encyclopedia
Beauty's in the eye of who be eyein' me
So put your middle finger up, fuck society"
After another jab at trap rappers ("Simple Economics") and the warning to stay out of his business ("My Bizness"), one might get the feeling that Kristmas is a little bit too occupied with nagging. Thankfully the ladies offer some distraction, and so we get "Feng Shui" and "Gangsta and Gentleman," which extol his many romantic virtues. But it's another David Sanders II production that lifts "W2 Boy" once more above the crowd. Turning down overtures from other women, "My Good Thang" is Kristmas' way of complimenting his lady:
"Look, I know you're fine, but what do you bring
to the table to make me fuck up my good thing?
She got the perfect combination of beauty and brains
So I ain't fuckin' up my good thing
And they say the grass is greener on the other side - I know that it ain't
So I ain't fuckin' up my good thing
Now wave your hands side to side if you got a good woman or man
And ye ain't fuckin' up yo good thing"
The hearty, hands-on rhetoric supported by a rapturous beat and subtle background singing, in a perfect world "My Good Thang" would be a sure-fire rap hit. Over the course of "W2 Boy" Kristmas does almost anything conceivable to convince us of his caliber. His well-timed humor recalls Ludacris, his down-to-earth demeanor various Dungeon Fam members, and the proud attitude just about any southern MC worth his salt. The production (largely provided by the Block Beattaz) is regularly on par with the best the South had to offer in the past ten plus years. Meanwhile tracks such as "Dont Get Left" and "My City" propose a depth rarely found in mainstream rap. And when he literally comes around on the brilliant closer "Slavin," realizing that dope boys and W2 Boys face the same reality, he brings to mind Goodie Mob's classic "Soul Food" album. Bottomline, if Big K.R.I.T. has been a part of your playlist the last couple of years, you owe it to yourself to check out big Kristmas.
Music Vibes: 8 of 10 Lyric Vibes: 8 of 10 TOTAL Vibes: 8 of 10
Originally posted: December 20th, 2011
source: www.RapReviews.com