Blueprint :: Adventures in Counter-Culture
:: Rhymesayers Entertainment
as reviewed by Matt Jost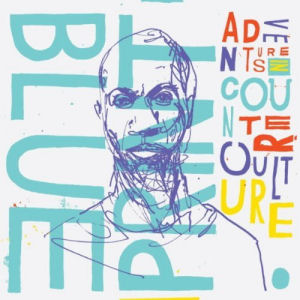 Minneapolis MC Prof drops a compelling line on his "Project Gampo" album: "Ain't nobody stoppin' me from what I gotta do to rap." Due to him being regionally confined, few people probably care what Prof does to rap, but by taking this very personal, almost egotistical stance towards his role in rap music he inadvertently brings up a crucial quality to becoming a successful and respected rapper. Many hip-hop icons at one point faced adversity not just from outside but also from within the artform itself. But they were determined about what they had to do to rap, following an inner impetus telling them that their way was right for them. Hip-Hop fans are often appalled by what certain rappers do to rap, me included. But when those rappers respond, "Ain't nobody stoppin' me from what I gotta do to rap," I have to yield and say that's the spirit.
I originally wrote the above introduction on the occasion of Ill Bill's "The Hour of Reprisal," making some argument about white rappers winding up in situations where they're forced to overcome the odds in typical hip-hop fashion. The truth of the matter is that the reasons to do things your way are manifold. Columbus rap artist Blueprint is black, but maybe the fact that like Prof he operates on the outskirts of the rap scene is what makes him all the more determined? Who knows.
Blueprint has been doing his thing for a long time, either for self or with a crew. To considerable critical acclaim. But he wants more. On his second Rhymesayers solo, released in April 2011, he tells you exactly what he wants. On "Go Hard or Go Home (Printnificence)" he portrays himself as that guy who "can't rest until the whole world hear him spit," adding, "You can hear he put blood, sweat and tears in this." 'Printnificence' is Blueprint's portmanteau for his very own combination of ambition and artistic excellence:
"My progression never ends, so I can never rest
Every rhyme is like climbin' Mount Everest
Every beat is like runnin' up stairsteps
except I don't celebrate when I reach the crest
My entire mindstate is to be the best
not the hot new trend that you think is fresh
I don't care which path is the friendliest
I'ma take the one that got no trace of human steps
I'ma tear rap down, then rebuild the shit
with total disregard of if the pieces even fit
Reintroduce it to you with an unfamiliar twist"
Bold words. To make sure you heard him, he follows up with "Automatic," which dares competition to keep up:
"Step up your work ethic - maybe we hang
When I'm bored again, just might take you under wing
The overlordian scores again, you still an underling
If you're lookin' for an image of what this all means:
It's a DeLorean - my music is the future, it seems"
During the album's opening minutes, Print vehemently establishes a point that he subsequently is forced to prove. Rather useless in that regard are the next couple of tracks. "Wanna Be Like You" is an irritatingly tame take on the collective celebrity obsession, Blueprint reminding us that we are "blinded by the stars" in a singing, slightly filtered voice set to synthesized '80s grooves, resulting in a track that really isn't all that far away from contemporary retro pop. The same can be said of "Keep Bouncing" in relation to modern electronica. It's slightly glitchy, somewhat bouncy, the hip-hop heads might even be lured in by the vague Tribe Called Quest reference, while Print's party-and-bullshit lamento might as well be the soundtrack to a night of Dancing With the Stars from "Wanna Be Like You" right before they check into Celebrity Rehab.
Then it's suddenly back to the hip-hop as a needle drops nostalgically on wax and the siren-like sounds of ESG's sampling staple "UFO" are mixed in. "My Culture" is both critical and protective, first touching on the unsolved murders of rap legends, then attacking shallow rappers. As an experienced rhyme writer, he knows how to keep a rap listener's attention with puns and punches, but that alone doesn't make it a conclusive statement. It is something that takes someone like Blueprint an hour to write and ultimately not worthy of a song titled "My Culture" on an album titled "Adventures in Counter-Culture."
Which brings us to the fact that Blueprint refuses to give an explicit definition of 'counter-culture' on the album itself. He made an attempt online prior to the release, but I'm sorry to say that "Adventures in Counter-Culture" doesn't meet its lofty goals ('To throw every rule out the window (...) to challenge the listener and the entire culture.'). It doesn't reinvent anything, neither within hip-hop nor outside of it. Others have already been there and done that, for themselves, for us. But that also brings me back to my initial point. Rap is a selfish medium. "Adventures in Counter-Culture" is what Blueprint felt he needed to do. And you feel it in turn, that's the important thing.
You feel it on the openhearted "Welcome Home" as Print croons over a breezy jam session with children playing in the background; you feel it when his whipping vocals match the busy, raw drums on "So Alive;" you feel it in the wistful hook of "Stole Our Yesterday." A sense of liberation permeates this release, from the relief of arriving at some point ("So Alive"), to the promise of the things that await when you leave ("Fly Away"). Although "Adventures" is far from happy-go-lucky, it is ultimatively an optimistic album. Five years in the making, some of the debates Blueprint has with himself and the listener may already be done, but it nevertheless captures that so essential mindstate of going against the grain. "Radio-Inactive," "Mind, Body & Soul" and "The Clouds" are prime examples of that. Rarely has a rapper summed up the significance of music as concisely as Print on "Mind, Body & Soul," a sentiment he's able to convey in a laconic flow over a sluggish electronica tune:
"Make you wanna sing, clap your hands to it
nod your head a little bit, maybe dance to it
and reminisce about the good times you had to it
Not sure what I'd do if I never had music
I get inspired when I see the next man do it
Cause rappers say they the truth, but they can't prove it
Little boys can't make grown man music
So I gotta show 'em and hold their hand through it
I never had a friend like the one I have in music
No matter how far I go, I come back to it
I do me, no matter what the track doin'
And put my whole heart into it if I'm rappin' to it
Cause this is soul music, I put my soul into it
This is what we lean on when we goin' through it
If it's what you love, then hold on to it
Everybody hold tight, so we don't lose it"
To be perfectly clear, just as there are some truly inspirational moments here, there are various annoying ones, even on the standouts mentioned. But on this occasion I choose to keep the nagging to a minimum, out of respect for the artist. Not necessarily this artist, but artists in general. Let them do their thing and let them do things that are different from those we perceive to be theirs. But let them also know that when it comes to the actual quality of their work, we won't just take their word for it, either.
Music Vibes: 6.5 of 10 Lyric Vibes: 6.5 of 10 TOTAL Vibes: 6.5 of 10
Originally posted: January 3rd, 2012
source: www.RapReviews.com