Audible Doctor :: 2011: Year of the Audible Doctor Remix :: AMD Music
as reviewed by Steve 'Flash' Juon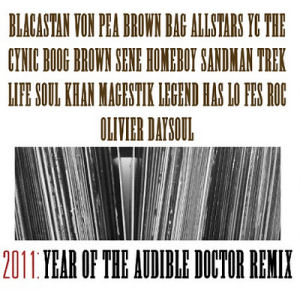 This is an interesting twist on how to sell your work as a producer. Since Audible Doctor did a lot of remixes for different rappers throughout 2011, he's put together a free compilation of his best work that you can download at no charge. That makes sense - if he were to charge for them the rappers involved might be a little upset at not being cut in, and if he DID try to cut them in it might get too complicated to split up a small pie amongst 9 people. On the other hand if he sells an instrumental version of the album
, all of the beats are his and he can collect 100% of the ducats. I like it. More producers should go that route.
The free version certainly shows that Audible Doctor had an amazing year in 2011. He worked with a who's who selection of the underground's best rappers throughout the year, including the highly underrated Homeboy Sandman, who gets a "Not Pop" remix. Since there are only 10 tracks on the entire download you could literally pick any three and have them be just as dope as any others but I'm partial to Soul Khan's "Shot Glass Magnified" remix featuring Sene, Von Pea's superbly slick "Pep Rally" remix and the well positioned and subtle R&B samples looped for Boog Brown on the "Understanding" remix.
Audible Doctor is a capable enough producer that he can't easily be summed up in a word or two, but if one were to make an attempt to describe what he does on the 33 minutes of this release, his first name would be a good start. Audible Doctor audibly enhances the beats to the rhymes on each of these songs, never detracting from the original performances, but instead adding a soulful spin and a subtle but detectable boom bap to their lyricism. Few people could go wrong getting an original Audible Doctor beat for a song on their next album, let alone letting him take one of the best tracks from said album and rearrange it to re-expose it to the world. If nothing else "2011: Year of the Audible Doctor" proves he's one of today's most formidable talents behind the boards, not to be taken lightly going into the year 2012.
Music Vibes: 7.5 of 10 Lyric Vibes: n/a of 10 TOTAL Vibes: 7.5 of 10
Originally posted: January 3rd, 2012
source: www.RapReviews.com