Lyriciss :: The Balance: Money EP :: Lyriciss/DJ Booth
as reviewed by Steve 'Flash' Juon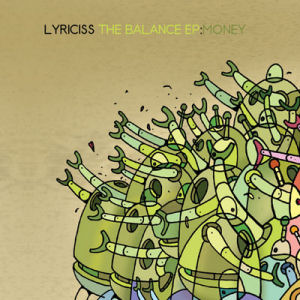 How 'bout that? A rapper's name which also describes his occupation for a living. Lyriciss is a Washington, D.C. born and Maryland raised rapper who has quickly risen from obscurity thanks to a series of free EP releases being put out through DJ Booth. If you want to check out the first installment "Respect" put out last November feel free, but here we'll be focusing on the "Money" chapter which came out exactly a week ago on January 24th.
"They said money make the world go 'round and I believe it
Cause you can turn your whole life 'round if you receive it
If your check is the nicest, and your savings the meanest
A chick'll drop out of school and onto your penis
The truth be told, the whole world watchin
If you got they see it and best believe that they plottin
Be first to tell 'em that nothin is how you rockin
And get the bullshit out, so you can bring the gwap in"
The funky fresh flute samples of "Get It and Go" remind me of The Beatnuts for some reason, but production is handled by the aptly named Soulful! (The exclamation point is part of his name.) Scratches are handled by DJ I-Dee, which is a pretty big hook-up for someone relatively new on the scene. I have the feeling that's the first of many such collaborations to come though.
There are eight songs on "The Balance: Money EP," but that's slightly deceptive given that it's actually four original songs with two different takes - a dirty and a radio clean version. Nevertheless Lyriciss is making the most of the opportunity and "killin niggaz like diabetes and cigarettes" on songs like "The Agena" produced by Grussle. It's hard to miss the Junior M.A.F.I.A. samples in the background here and there, but they are very secondary to the symphonic instruments and harmonized singers that Grussle sampled. It's so fly I have to imagine the clearance fee would be high if it wasn't probably so obscure he hopes it will fly under the radar - but if that was his agenda he wouldn't have used the M.A.F.I.A. samples. Go figure. The J-Scrilla produced tracks "Big Gold Chain" and "#TheMoney" are up to par too, although the latter is probably the weakest out of all four.
Overall it's more difficult to rate Lyriciss than I would have initially believed, given most free EP releases have at least six different songs to go on (or maybe five and some instrumental filler) but it's fair to say that nothing on "The Balance: Money EP" felt like a waste of my time to have downloaded or reviewed. Sometimes with free shit that's as good as you can ask for, and Lyriciss has a pleasant vocal tone, which reminds me of a young Joe Budden crossbred with a young Cormega. If he had dropped some generic thug/hustler/street entrepreneur raps I'd have written off this short album without a second thought, but by living up to his moniker he's got me looking forward to the next EP he drops.
Music Vibes: 7 of 10 Lyric Vibes: 7 of 10 TOTAL Vibes: 7 of 10
Originally posted: January 31st, 2012
source: www.RapReviews.com