Chuuwee :: Watching the Throne :: Amalgam Digital
as reviewed by Aaron Boyce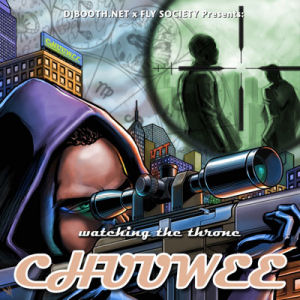 I'll begin by saying that this is my fourth attempt at writing this piece. The holiday period as well as internet issues all played their part but the biggest reason for the delayed submission would probably have to be the album itself. I just couldn't figure out if I liked it. It's not as if I didn't give the album a fair chance, I must have played it through a good six or seven times but that seemed to be the issue; my opinion changed after almost every spin. Whenever I have felt like this before it has just been down to listening to too much hip-hop; my brain goes into a musical shutdown while my ears reject any beats and rhymes that get thrown at me. Fortunately I have learnt to cure this by subjecting myself to brutal metal or filthy dubstep for a couple of days until I'm in a state where I can again appreciate every kick, snare and punchline that makes me love this music so much.
After a few days of the aforementioned treatment, I decided to once again revisit Chuuwee's album to see if I could make a little more sense out of my feelings for it. In hindsight, I think that maybe the album's title and artwork put me off a little to begin with. Although Jay-Z and Kanye are often thought of as 'kings' in the rap game, their collaboration album from last year was so disappointing that you really wouldn't need Chuuwee's sniper rifle shown on the cover art to remove them from the throne. You could probably just have them charged with trespassing. Either way, it just felt like a cheap and easy way for Chuuwee to get attention. Then again I AM talking about it now so I guess it's worked. 1-0 Chuuwee.
The album itself is twenty cuts deep and the vast majority of the production is handled by ENG who does a solid if unspectacular job. At times ENG sounds like a 9th Wonder-lite, which is not really a bad thing, and his carefully selected soul samples and crisp drums do keep the album moving along nicely. On the rhyme front I think I've accepted that I do actually really like Chuuwee as an MC. Don't get me wrong, he is far from the finished product but there is definitely something about him. The Sacramento MC sounds hungry and oozes confidence on every track and whenever he is paired with a guest MC on this album it becomes even more apparent just how dope Chuuwee really is. His brash verse on "Re-Siege the Thrown" is delivered with such assurance and, for want of a much better word, swagger that some of Chuuwee's crazy boasts almost seem believable.
"I stormtrooper the gates, I'm Luke Skywalker
Prize fighter, sly talker, we white line chalking
Spliff sparking, fight starting, niggas with the fly jargon
This hip-hopera, I pop at ya, you rhyme Carmen
You God's darling and I'm Darwin
I evolutionise rhythm with the way I kick the rhymes often
A nigga got a couple dimes on him
Gotta get 'em off me before the 5-0 gets the swines talking
I'm so appalled by these half-ass, wack ass
Niggas kicking this crap ass, taking a bubble bath
Soft as hot plastic, phoney faggoty bastard
Niggas getting the pass, pretending that he a rapper..."
The topic doesn't shift from that of the above song very often and as a result you spend a lot of the hour long listen being told just how good Chuuwee is and how he is ready to take over the rap game. My main issue with this album is the length, if this was 12-13 tracks long then it would probably be easier to stomach the unchanging topic as it does start to drag a little near the end of the LP. That being said though for a free album you can't really go wrong as there are some excellent tracks on here by a highly promising, confident and young MC. While "Watching the Throne" is hardly going to revolutionise the genre, it is a solid listen and a good introduction to both Chuuwee and his beatmaker, ENG. I know it has taken me a little while and a lot of listens but I have finally come to the conclusion that I do quite like this album and I'll check for more from this MC in the future.
Music Vibes: 6.5 of 10 Lyric Vibes: 7 of 10 TOTAL Vibes: 6.5 of 10
Originally posted: January 10th, 2012
source: www.RapReviews.com