Iron Solomon :: Monster
:: 3D Distribution
as reviewed by Steve 'Flash' Juon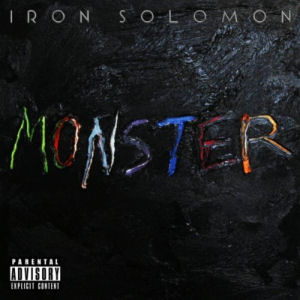 From the name you might think Iron Solomon was a member of the Wu-Tang Clan's extended fam; and in his bio Solomon does mention them as one of his artistic inspirations. He also credits N.W.A. and Nirvana as influences along with "New York City's multi-cultural patchwork." It probably goes without saying that he's got a diverse range of influences. It might also go without saying that he's caucasian, something you might not immediately pick up on while listening to "Monster," but if you Google his name looking for a Wiki page one of the first hits you get is "7 White Rappers Way Better than Eminem and Asher Roth." So instead of trying to pretend there's not an elephant in the room, let's just put him in the same category as Action Bronson and be done with it. Solomon is a serious emcee collaborating WITH serious emcees like Talib Kweli on songs like "The Empire":
Iron Solomon: "I'm from the home of the hustler, born with a mean mug
Talk fast and we walk fast, keep up
Step with a different rhythm; try to make the most
of what little we've been given by the city that we live in
where the Wall Street intellect and street smarts intersect
Dogs eat dogs, beef law, that's in effect
Try and make it even for the odds that we overcomin
so we can hear the sirens from the coppers - but no one's runnin
No matter what we facin we don't turn a cheek"
Now I don't know about "way better than Eminem" per se, but I'd be willing to put him at or above Asher Roth, who I find relatively enjoyable but occasionally lacking the competitive cojones his urban counterparts have. Iron Solomon might be a N.W.A. fan, but he sounds like the New York City that he comes from, both in accent and in his attitude. Even though he's diversified enough to include a cameo from Paul Wall on his "Follow Me (Remix)," most of the guests on "Monster" also reflect a New York vibe, including Cassidy on "Rule #4,081." The chorus sardonically suggests the following method to success:
"If you want to make it in hip-hop, you gotta start beef
Gotta be iced out, gotta hold heat
Follow the lifestyle, gotta get locked
To make it in hip-hop, you gotta get shot
Gotta be Big Pop', or gotta be 'Pac
Gotta make big hits, gotta go pop
If you a big shot, you gotta rap sheet
If you got it like that, then you ain't gotta ask me"
That suggests Iron Solomon is willing to buck convention, and even to mock other rappers who would follow it to be successful, but it doesn't mean that Solomon lacks respect for those who came before him. In fact he even does a tribute to Run-D.M.C. on "Sucker MC's," which actually features a contribution from Darryl McDaniels himself. He does the honors on the chorus, while Solomon carries the verses:
"Sucker MC's, all teeth and gums
And the fans ain't hearin it cause we ain't dumb
In the school of hip-hop my degree came from
Graduated with +Honors+ no +VH1+"
I also had to laugh when he promised to "send Diddy's ass on a cheesecake run." Iron Solomon definitely has the moxie for the rap industry, but as "Monster" is decidedly anti-pop it reminds me of another slept on artist with an album of the same name - that would be Killer Mike. After watching him be critically acclaimed for the last eight years yet still be in relatively the same spot he was then, I wonder if the future doesn't hold something similar for Solomon. It's not that he doesn't have the flow or the skill, but he spends so much time telling everybody to "Get On My Level" it might be a challenge for the listener to get on his. Even the more musically friendly whistling songs have titles like "Cold War," and I doubt it will get anything other than college radio spins even if it gets a radio edit.
In short I like Iron Solomon. I can see myself listening to "Monster" more than once, because he's got the personality and swag to carry an album. On the minus side though, the beats don't really reach out and grab me. He does a lot of his own production on this album, including two of the featured tracks leaked to the masses before release: the aforementioned "Empire" featuring Talib Kweli and the song "Breathe." It's not that either song is bad - in fact they were two of the best choices to put out to get people hyped up - it's just that over time you start to wonder if Iron Solomon could have diversified as much in production as he does in his influences. "Monster" starts to become background music - it all blends together in an inoffensive way. It's not bad, it's just not inspiring. I'd like to see him do a whole album with Statik Selektah or Primo next. I just hope for Solomon's sake he doesn't get typecast as the underground emcee who's the local favorite but not big nationally. It's clear from his lyrics he thinks his songs can make a difference for hip-hop, but the irony is they have to reach the masses to do it.
Music Vibes: 6.5 of 10 Lyric Vibes: 7.5 of 10 TOTAL Vibes: 7 of 10
Originally posted: March 20th, 2012
source: www.RapReviews.com