Dewey Binns X medafORACLE :: Hotel Nompton :: Bandcamp
as reviewed by Matt Jost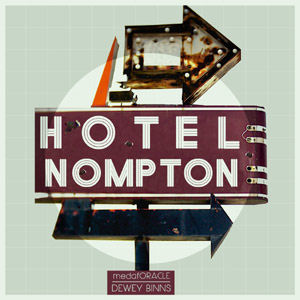 "Make room!" Tha Alkaholiks brazenly demanded on their 1993 debut single. medafORACLE and Dewey Binns need some room as well, but as the opener of their freEP "Hotel Nompton," "Room to Rock" indicates, they will absolutely settle for a hotel room. The five tracks were recorded in a hotel in Norman, OK over just a weekend. What business did they have there, you ask? Since Norman is the home of the University of Oklahoma, there's some probability they were there to entertain the college crowd. On "Room to Rock" we catch ORACLE right after the show pushing CDs and longing for "a room with a lotta room cause I need to stretch out / and it'll be a couple of days before I check out." Meanwhile Binns is still alert enough to take precautions for life on the road:
"We on award tour with imagination
Got a air mattress and my own lotion
Cause last time we was here, y'all, I ruined my skin
Had a itch for a couple weeks, but we still friends
It's time to unload the mic and the monitors
We in the building, so please hide your daughters
and your wives, and your pizza crust from last night
I start a hotel lobby fight
We'll be here all weekend, brother
posted on a makeshift studio, workin' on a freEP
Ain't this the life y'all envy?
Come get a taste of that room 112
where real MC's layin' raps"
Bad Boy legend has it that other things go down in room 112 as well, and so the two try to hook up with some honeys on "The Approach." "Do Not Disturb" vaguely follows up with some romantic overtones but mainly expresses the need for privacy after a hard day or a hard night - or sometimes both: "I'm tired as a night shift right after a day shift / right before a night tryina rock another playlist"...
After three tracks it seems that Dewey Binns and medafORACLE have worn the 'hotel' concept out. On "Robert Downey Jr." they seek inspiration from one of Hollywood's bad boys while "Street Conscious" looks at the urban hustle and bustle through the musical lens of soul. Touring, working, private life, sex life, social conditions - the subject matter covered on "Hotel Nompton" isn't groundbreaking but they go at it with fresh flows (while maintaining a relaxed vibe) and are backed by solid beats courtesy of Hexsagon and, in one case, Nabeyin Beats. If we'd get collabos like this every time two rappers book rooms at the same hotel, the web would be even more crowded with free music, but right now Dewey Binns and medafORACLE can insist on an early reservation.
Music Vibes: 6 of 10 Lyric Vibes: 6 of 10 TOTAL Vibes: 6 of 10
Originally posted: April 24th, 2012
source: www.RapReviews.com