E-Train :: On Solid Ground
:: Elevated Press Records
as reviewed by Patrick Taylor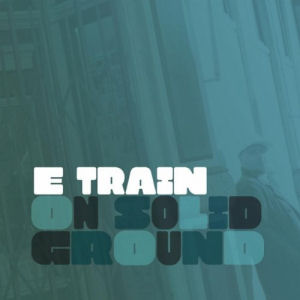 "On Solid Ground" is the first album by San Francisco producer E-Train. Over eighteen tracks, he works with a variety of MCs and singers to create soulful independent hip-hop. As a producer, E-Train offers a contemporary take on Golden Age boom-bap. He works with an MPC and there are cuts and scratches from classic hip-hop tracks spliced throughout the album.
E-Train works with MCs from both coasts, including some unknown rappers, some established underground rappers, and a few bonafide legends. In the latter category, Talib Kweli shares the mike with Phil The Agony on "Guess Again," and Keith Murray raps on "Talk Shit" with Burntmd. RapReview readers will also recognize Bay Area rapper Rasco calling out other rappers on "Endangered Species," and Akrobatik rapping about touring on "The Show. "3 Clicks" has organ stabs and funky drumming, with San Francisco rapper D. Mottola spitting rhymes worthy of the beat. Mottola shows up again on "Outrageous," accompanied by Pro and Virtu. The Aztext rap on "It's Goin' Down Gettin' Down," describing the grind of an indie rapper:
"Trouble is to most kids old school is '05
Though they vibe on our rhymes and the message inside
I work ten hours each week plus I'm honest
And try to find a minute to write about how my life is
Imagine when you're fighting
To stand up your eyelids
Painting something timeless on the canvass is silence
That's a daily challenge but it runs in the bloodstream
A whole world of rappers competing for one dream
To gather enough steam to gather enough green
To buy a bunch of shit that don't matter
It's ugly"
E-Train also goes in a more soulful direction on some tracks. "Fyah Burn" features Holly Saucy singing and rapping over a mid-tempo beat. Gyrl Ab'Strakt raps over an R&B on "The Love Epidemic." Rubydell offers her vocals on the hook of "As You Loud As You Want," one of the stronger tracks on the disc. She handles all the vocals on the R&B closer "There Was a Time."
Not all the MCs drop heat, but they have a high batting average, and there is a nice variety in the MCs. You have the aggressive shit-talkers, the wise elder statesmen, and the positive rappers. There's a fair amount of variety in the beats as well, although E-Train could have mixed it up even more. Those criticisms aside, "On Solid Ground" is a solid project that is worth checking out.
Music Vibes: 6.5 of 10 Lyric Vibes: 6.5 of 10 TOTAL Vibes: 6.5 of 10
Originally posted: April 3rd, 2012
source: www.RapReviews.com