Gangrene :: Vodka & Ayahuasca
:: Decon Records
as reviewed by Matt Jost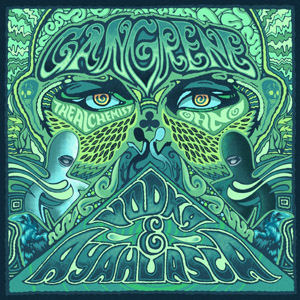 MCA mixed "the Bass Ale with the Guinness Stout." Method Man "the green with the chocolate." Young Jeezy "the Grey Goose with the cranberry juice." Andre the Giant "the hydro with the cocoa bud." MC Ren "the blunt with some motherfuckin' malt liquor." Twista "the sour diesel with the kush." Jayo Felony "the weed with the leak leak." Pimp C "the wine with the lean." Wiz Khalifa "the OG with the pizzurp." Paul Wall "the Sprite with this sizzurp." Snoop Dogg "that Moët White Star with them orange juices." Yukmouth "the hashis with the backyard boogie" and "the baking soda with the china white." Gucci Mane "the soda with the cola" and "the Cristal with the Powerade." That much is clear - rap is quite apt at mixing different substances.
Gangrene combine Russia's national drink with an Amazonian psychoactive and purgative fluid in the title of their 2012 album, but primarily "Vodka & Ayahuasca" stands for the cocktail that is Gangrene itself, the collaboration of West Coast beat fiends and sporadic rap spitters The Alchemist and Oh No. This is the second go-round for Gangrene, and while 2010's "Gutter Water" had the same set-up (including DJ Romes on the cut), "Vodka & Ayahuasca" is clearly superior. It's darker, dirtier, heavier, trippier.
Production is split, and although the Chemist flexes his crime soundtrack scoring skills he honed with Mobb Deep on "Dump Truck," "Drink Up" and "Due Work," "Vodka & Ayahuasca" is a completely cohesive affair. The lyrical focus on all things hazardous to one's health (such as drug abuse, diseases or ending up in dump trucks) certainly helps, but being the experienced rap producers that they are, they know that the details decide over such a project's artistic success. This is the type of album that needs an intro and an outro - plus the footage, testimonials etc. that tie the individual tracks together. Drug talk and gory scenes - or as Oh No's summary goes, "Slugged brain, clogged heart and drugged vein" - require kaleidoscopic and wide-screen sonic backgrounds, and each track delivers.
On "Gladiator Music" Oh No fires up the engine with searing '60s soundtrack samples that not only are the perfect welcome mat for guest Kool G Rap but also prove a fitting tapestry for Alchemist to splatter his blood-thirsty verse over:
"I'm a hell bringer, bell ringer, mud slinger
Rapid muscle spasm with gun finger
I run rings around under-the-wingers and bum singers
Hit 'em with dumb Stingers
Cavemen, club swingers and blood drinkers
[...]
(Scooby Doo y'all, Scooby Doo y'all)
Rappers are Ru Paul
I'm Kool-Aid Man comin' through your fuckin' wall
I use a bone saw
to cut your ears and your nose off
Arms, legs, fingers and toes off
Then drink promethazine and smoke a spliff over the body and doze off
Scene of the crime, yellow tape roped off
Burn doobies; my scalpel gets plenty usage
on the chopping block, while I'm canoein' through heavy sewage
Gladiator style, Roman candles
animals, and helmets and sandals
Poke holes through your panels and throw arrows"
Considered the more naturally inclined rapper, Oh No rhymes himself into a frenzy on the title track which behind the boards he makes sound like a '60s jam session with rumbling guitars and a staggering bass:
"This is a acid trip, rancid spit
Psychedelic capsules with some packs of shit
Vodka and ayahuasca; to capture a glimpse of ecstacy
you will need a tiny pill in this bitch
Now overdose over the doses prescribed for Doc Nova
The pot smoker, too high to be sober
I bleed smoke, my weed smoke is keef-soaked
Then re-broke, then re-rolled
Enough to make three choke
one pass out, two re-smoke
When all's gone we re-roachin' it, re-toast
We boast about that kush we roast, best gross
Top dollar, top of the chart, that's the West Coast"
Regardless of the fact that Gangrene have plenty of predecessors in rap, the demented, drug-induced demeanor comes natural to them. They are dedicated to the Double G brand and deliver boasts like "Liftin' up blunts like barbells / fuckin' up your new car smell" or "No crazier combination exists / only happen once in a blue like a solar eclipse" with conviction.
"Vodka & Ayahuasca" can't conceal the fact that in some cases the beat was first and Oh and Al struggled to make a full song out of it with their writing efforts. But that's not uncommon to rap and not really to the album's detriment. This is supposed to be a trip, one that also occasionally leads down dark roads, as is the case with "Auralac Bags" (Aurolac was a solvent infamously sniffed by street kids in Romania). But like every serious rap act should, Gangrene don't take themselves too seriously. The whole intoxication theme is a metaphor for what they're cooking up in the lab. However you look at it, "Vodka & Ayahuasca" is not only one of the strongest rap releases so far this year, in terms of 'crazy combinations' it stands up to "Madvillainy" and "Hell: The Sequel."
Music Vibes: 8 of 10 Lyric Vibes: 7 of 10 TOTAL Vibes: 7.5 of 10
Originally posted: May 8th, 2012
source: www.RapReviews.com