4two7 :: Internal Dialogue
:: 3sixty5 Records
as reviewed by Steve 'Flash' Juon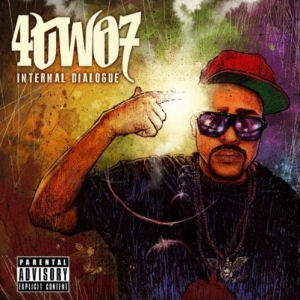 Every rapper with a record deal and an album to sell has a story to tell, but some stories are better than others. 4two7 has one of the more compelling ones I've read on a one-sheet in a while - he suffered multiple seizures while in the studio finishing his album. When he arrived at the hospital and doctors took X-rays, they found he had a tumor in his brain, and three days later he had a craniotomy to remove it. That certainly adds a layer of depth to his hand drawn cover art for "Internal Dialogue," in which he's got a finger pointed at his head like a gun. On one hand, the light coming from the "barrel" of the gun could represent the knowledge he shoots. On the other hand, you could say his body was his own worst enemy - nearly taking his own life without him ever having to catch a bullet to the head - stray or otherwise.
The good news is that 4two7 made a full recovery for major surgery, and was able to put the finishing touches on this album after he recovered - otherwise we'd be reviewing this posthumously and that'd be a damn shame. It's also clear it hasn't affected his joie de vivre, as colorful bass driven songs like the EAT Machine produced "Butta On Ya Muffintop" show that 4two7 can take something people usually think of as a fashion faux pas and celebrate it as something wonderful:
"I wanna spread it like EAGLE
Drop it on your head like a SEAGULL
You ain't wrong girl, you REGAL
I just wanna let you know a nigga SEE YOU
in your tight pants - tried a reject once and split 'em
I know you got a lightweight dunce, forget him!
Cause he ain't nothin; see
a nigga like me ready to eat that muffin
Heat it up, put it on the stovetop - call me P. Diddy
Cause you knowin that I +don't stop, won't stop+
Just need a little oil like a robot
Stuntin all sore, frontin like your button won't pop!"
"Muffintop" might be 2012's answer to "Baby Got Back" if the song goes viral, but regardless of whether it does it's easy to appreciate the playful way he turns a negative to a positive with the kind of charm that could bring any girl his way. Comedy is definitely an intentional part of his arsenal, as he uses the famous "funny how" speech from Joe Pesci to transition between this song and "Comedy Central" featuring Hieroglyphic legend Casual. There are more quality guest appearances to go though - Killa Ben, Planet Asia and Tristate all combine with 4two7 on the Veterano produced "Time to Bring it Back," and underground rap favorite Fashawn gets down on "The Stage." The majority of songs are solo joints though, and the majority of the tracks are produced by EAT Machine. "Stand Up" fits both requirements:
"Hands up, try to scrape the ceiling
I'ma let you know how greatness feels
Move your body - your heard he's the mayor but not probably
I got some homies that may as well have shot me
They left me in the streets bleeding
I'ma tell you some stories you won't even believe in
Just, take a ride with me, who can side with me?
Better alive, you won't get to die with me
I got it from a strong father
The greatest emcee since Afrika Bambaataa
Mind ain't on the latest rap dance or Prada
Gotta get it right now or I won't bother!"
We all know that hip-hop is horribly overcrowded in 2012, and that the glut of cheap albums and free mixtapes has lowered the value we place on music as a commodity. That's a shame because 4two7 stands out to me from all of that shit you can get for free, and his 12 song "Internal Dialogue" CD is tightly focused and smartly written - no filler and no bullshit. I hope that someone out there reading this will give this Californian some love and show him that after surviving a nearly fatal cancerous growth in his brain, he made the right choice to return to music even though the demons of what happened to him in the studio must have haunted him. Hopefully with annual physical check-ups and the right medicines to lessen any chance of a recurrence of tumorous growth, he'll be spreading butter on muffin tops for many more years to come.
Music Vibes: 7.5 of 10 Lyric Vibes: 7.5 of 10 TOTAL Vibes: 7.5 of 10
Originally posted: May 8th, 2012
source: www.RapReviews.com