Kosha Dillz :: The Jet Lag EP :: DJBooth.net
as reviewed by Mike Baber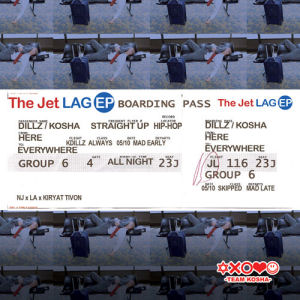 For casual hip-hop listeners, the name "Kosha Dillz" is unlikely to ring a bell. The Israeli-American emcee has remained an underground artist since breaking onto the New York freestyle battle scene as a teenager in 1999, and despite performing at South by Southwest in 2011, few outside the community of underground hip-hop fans are familiar with his body of work. Millions of Americans, though, myself being one of them, were unwittingly exposed to his music through the popular "Here We Go" Bud Light commercial, which features a portion of his song "Cellular Phone," after it aired during the 2012 Super Bowl. While the dog in the commercial steals the show, fetching beers for partygoers anytime someone shouts "Here We Go," I was nonetheless impressed that an underground artist was chosen for such a high-profile advertisement. I was even more intrigued after doing some background research and hearing RZA call him "one of the rawest Jewish kids I know" after the two collaborated on the track "Operator," with Kosha spitting alongside the legendary Kool G Rap. With my interest heightened, I dove into his latest release, "The Jet Lag EP," excited to hear what else he had in store.
At only six tracks in length, "The Jet Lag EP" doesn't leave any room for filler material from Kosha Dillz. He makes the most out of the short time he has, though, aided by production from Nate G., who samples from the Black Keys, Wavves, and Unknown Mortal Orchestra, among others. The opening track, "Hey Everyone," has an aggressive, in-your-face feel, with a driving guitar riff and a heavy snare drum laying the foundation, and Kosha's powerful delivery makes for a head-bobbing success. "Moses Wasteland" has a more hardcore feel, with a slower and grittier electric guitar loop than "Hey Everyone," and it becomes easy to see why Kosha lists artists such as Metallica alongside Biggie and Nas as his musical influences. The trend continues on "Friends," as Nate G. chops up another guitar riff, this time giving the instrumental a more upbeat feel. Then, there's "Residual Reunion," an alt-rock-influenced track that showcases Kosha's impressive ability to speed up his flow to match the fast-paced tempo.
Although the production is a well-suited complement, the focal point of the EP is clearly Kosha's lyricism. Those who take the time to engross themselves in his rhymes will find that, like many rappers, Kosha doesn't exactly have a clean slate. He doesn't shy away from discussing his previous struggles with substance abuse and his incarceration, though, as he alludes to his troubled past and his ability to overcome it on tracks such as "Moses Wasteland," where he raps "I don't do drugs, but my friends do/ Needle mark the inner arm, number two pencil." He takes a somewhat negative approach on the introspective "Sweater Weather Rap," rapping "life's too hard, try harder then/Why show love when we aren't friends," and it's clear that, while he's in a better situation today than he was before, Kosha hasn't overcome all of life's obstacles yet. Of course, Kosha does more than just rap about himself, and it's refreshing to hear tracks such as "My Favorite Rapper is a D#$K!," where he addresses the realization that some fans unfortunately come to after meeting their favorite artist:
"I wanna meet my favorite rapper, got his posters on my wall
I bought all his merchandise, didn't want to buy his alcohol
But I guess it's kinda cool that he meets his favorite fan
I'm not some big time Eminem guy, and at least I'm not a Stan
And now I understand he has the lack of
Life skills that means he is the worst after
A stage show for four kids with no child support and he has the
Liver disease of alcoholics falling to the crapper
He wants to be an actor, he's not even an extra
An abnormal guy that I'm just standing next to
The show's far from empty, he don't even respect me
Invites my girlfriend to a late night dinner backstage, check please
A tip for the moment when I come to see your show
Don't act like you own us, like we owe you something you actually owe us
I paid ten bucks to get in, enjoy your performance
You act like this way everywhere? I wish someone would warn us"
Despite an overall solid performance from Kosha Dillz, though, "The Jet Lag EP" isn't without its shortcomings. At times, Kosha seems to jump all over the place with his lyrics, focusing more on stringing together phrases that work well with his delivery and mesh with the beat rather than telling a story. In addition, while Nate G. does a commendable job handling the production, he relies heavily on sampled guitars and heavy drum loops, and a little more variety wouldn't hurt. That being said, though, given the length of the EP, this somewhat one-dimensional style actually works in its favor, as the beats still sounds fresh after just six songs and provide a consistent backdrop for Kosha's rhymes. "The Jet Lag EP" isn't for everyone, as those looking for more of a soulful or jazzy sound may be put off by the rock influences heard throughout the EP. Overall, though, in a mainstream hip-hop environment where many rap artists stick to more or the less the same blueprint, "The Jet Lag EP" is a refreshing change of pace from an emcee with a unique background and perspective on life and on rap.
Music Vibes: 7 of 10 Lyric Vibes: 7 of 10 TOTAL Vibes: 7 of 10
Originally posted: May 29th, 2012
source: www.RapReviews.com