Calez :: Kid With Raps :: 2008ighties
as reviewed by Zach 'Goose' Gase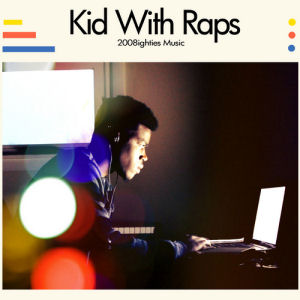 The absolute worst part of the "Internet age" is the vast amount of clutter that appears daily on rap blogs. There are so many rappers posting so many songs, it's nearly impossible to distinguish what's good and what's wack. This often leads me to just ignore almost everything, which in the past has led me to being a little late on some of hip hop's best up and comers, most notably Big K.R.I.T. and Kendrick Lamar. And yes, when I saw yet another rapper on 2DopeBoyz that I had never heard of outside of the blogger world, I kept it moving, but when I received the press release for Calez's "Kid With Raps" album, I was intrigued.
He addresses the same story on the album's intro track "Play First" when his 3rd grade teacher asked him what he wanted to be when he grew up he put "rapper." After mistakenly pronouncing it as "raper," she advised Calez to have a plan B, which he replied "fuck that." As a 19 year-old Calez released his aptly titled LP "Kid With Raps" with the same kind of mentality.
Calez's vocal delivery is very similar to Stalley, and his production style reminds me a lot of Tyler, the Creator's. Lyrically Calez is solid, despite his lack of range on subject matter. But his self-production (along with help from UG and Flosstradamus on a couple tracks) is Calez's top skill. He dabbles in the Neptunes/Odd Future style of synths and hard drums on tracks like "Play First" and "Middle Finger" and uses smooth samples on tracks like "Love Text" and "Plenty of Love." UG comes through with some of the album's best productions on his two beats including the trippy, Kid Cudi-esque "Hot Box Special" which serves as an interlude, but also one of the album's best cuts. The hilariously named Flosstradamus' "Intermissions" is another one of "Kid With Raps" stand out tracks. The song initially sounds like a Bangladesh rip-off, until a pretty awesome break down during the hook.
Calez takes a page from Kanye West's "My Beautiful Dark Twisted Fantasy" as a lot of the album's tracks have breakdowns or beat switch ups at the end. Sometimes this makes a fairly average song much more interesting like on "UltraSound," where the sample switches up slightly, and Calez channels his inner-Kid Cudi. But "Optimum" has the reverse effect, as he manages to spoil one of the album's best tracks with a pretty self-indulgent auto-tune rant to close out the song.
Like I had mentioned early, Calez holds his own on the mic, but he rarely brings anything all that innovative. He spends a majority of the album rapping about his crew ("Middle Finger"), trying to get more recognition as a rapper, and countless braggadocio. At 19, Calez certainly has a lot of potential, and a lot of room to develop more fully as a rapper. While he's not quite in the same league of Kendrick or K.R.I.T., Calez definitely is better than a majority of blogger rappers and deserves the space on your hard drive.
Music Vibes: 8 of 10 Lyric Vibes: 6.5 of 10 TOTAL Vibes: 7 of 10
Originally posted: May 1st, 2012
source: www.RapReviews.com