BURNTmd :: Not So Black & White :: GTD Entertainment/DM360
as reviewed by Steve 'Flash' Juon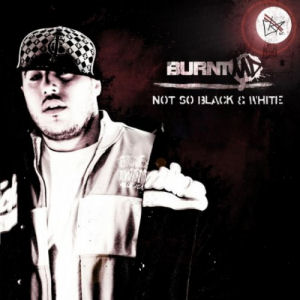 We last heard from BURNTmd back in 2010, when I wrote the following words about him: "The producers who work with BURNT need to learn how to use his unique vocal tone to maximum effect, and BURNT himself needs to pull his rhymes back a bit to make everything he wants to say fit. The ultimate conclusion is that BURNTmd has a lot of potential."
It appears as if the "Brooklyn made, Vermont raised" emcee has taken that advice to heart, but before we get to that let's discuss a few of the actual factuals relating to this new CD. First and foremost it's easily the longest release of BURNTmd's career to date - 19 tracks clocking in at 58:32 in length - nearly a whole hour of new tunes. Secondly his ability to pull in top name guests to appear on his release has also increased. Keith Murray jumps on the beat with him on the symphonic "Smugglers Notch,"Planet Asia and Copyright both appear on "Medicine Ball," Craig G appears on both the original and the second chapter of "Smooth Criminal" (nothing like Michael Jackson or Alien Ant Farm, trust) and Phil the Agony is on multiple tracks from start to finish. It's easiest to find out where an emcee is at in his career when he stands on his own though, so let's look at a track like "Takin' It Back":
"Present got me open like a gift or I (w)rap with one
Raising your brain, higher power than the fact of the sun
You feel me? Can't see or touch, givin me wings
No trace on the place mixed with cuts
Follow the leader, hittin a bong in the speaker
and +B-Real+, your +Muggs+ hit my sneaker
You wanna throw down? I'll turn you to +Bobo the Clown+
I'm a +Soul Assassin+"
BURNTmd is definitely clever with the wordplay, but the key to his improvement over "Let's Get Ill" is that he slowed down his pace just a little bit, which makes it easier to understand his gruff phlegmy delivery. It's a little bit Vinnie Paz, a little bit El-Producto, and unquestionably East coast. Understated instrumentals make the best match for his vocals, which may at times make the production seem underwhelming, but make songs like "BuddhaFingah" featuring DJ Grazzhoppa that much easier to appreciate. Other standouts (besides the aforementioned songs with guest artists) include the crispy beats and melodies of "Mandrill Sunchild," the mellow and oriental "Take My Breath Away" and the funky funk of the opener "Show Stoppa."
I appreciate BURNTmd stepping up his game to the next level for this release, but neither this album's title or this review is clearly "Black & White" - there are shades of gray to my praise. BURNT still needs to work on his diction - some of the clever things he says get lost in the flow just because words tend to mush together. It's partially his vocal tone, but it's mostly that the voice needs more practice. The production is decent, and again helps his flow in most cases, but at times it feels like the best stuff was saved for the track with guests and BURNT got the leftovers - not good. It's a step up, and should be recognized as such, but there's still time and room for improvement.
Music Vibes: 6.5 of 10 Lyric Vibes: 6.5 of 10 TOTAL Vibes: 6.5 of 10
Originally posted: June 26th, 2012
source: www.RapReviews.com