Harn Solo :: Shooting Star :: Reaching Higher Records
as reviewed by Patrick Taylor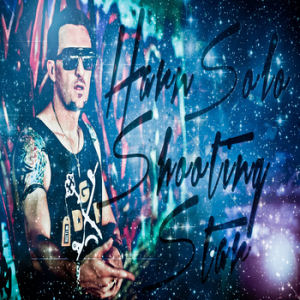 In an interview on the public radio show Bullseye recently, Ice-T described how in the 1980s, you could buy every hip-hop album that came out, since only a handful were released each month. That meant that hip-hop fans from that time period almost all knew the same albums and had the same points of reference. Fast forward 25 years and the situation is drastically different. For one thing, you can't BUY most hip-hop albums. They are released as free albums or mixtapes or net tapes or whatever you want to call them. DatPiff, Hulkshare and Bandcamp have become the biggest distributors of rap music in 2012.
As a result, not only can you not get every hip-hop album released each month, you can't get every hip-hop album released each WEEK. There isn't physically enough time to listen to them all. The market is so oversaturated that even trying to keep up is fruitless. Into this deluge of hip-hop music come New Orleans MC Harn Solo. He's teamed up with producer Prospek to offer up twelve tracks of hip-hop. The album available for free on Bandcamp, so there is no financial investment, but is it worth your time?
Let's start with the positives: Prospek makes pretty dope beats. Though he's from New Orleans, the heavily synthesized beats typical of that region are absent. Prospek hasn't been taking lessons from Mannie Fresh. Instead, he goes for a more organic sound, often working with live drums. Many of these tracks have a soulful, jazzy feel. There is nothing here completely game-changing, but he gets the job done.
Contrary to stereotypes of Southern rappers, Harn Solo is fairly lyrical. He deals with issues as mundane as his love of shoes, love of money, and as deep as his belief in God and his love of New Orleans. He's also a decent technical rapper, spitting his lines lightening fast without tripping over his words.
It's in the delivery where things fall apart. Solo accents the last syllable of each line and goes up a few octaves higher. Combine this with rhymes that lean towards simple, and he sounds like someone doing parody rap. It gets old within thirty seconds. As a result, "Shooting Star," while a noble effort, isn't good enough to carve out space in the already crowded field of free hip-hop released every month.
Music Vibes: 6 of 10 Lyric Vibes: 3 of 10 TOTAL Vibes: 4.5 of 10
Originally posted: June 19th, 2012
source: www.RapReviews.com