A-Wax :: Everybody Loves Me Chapter 1
:: Illburn Records
as reviewed by Steve 'Flash' Juon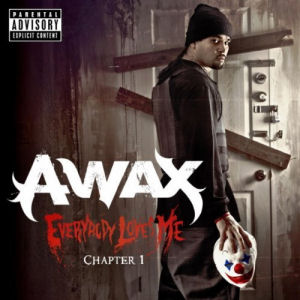 A-Wax has the California hard knock bio you've probably heard before, save for the fact he came from a neighborhood called Pittsburg that's nowhere near Pennsylvania. He did a few years bid in jail, spent his free time writing rhymes, and got out determined to hustle in the rap game legal. He sold albums hand to hand, out the trunk or at shows, and his role models were fellow Bay Area entrepeneurs like JT the Bigga Figga. After grinding for long enough, he graduated to the next level - getting signed to a distribution deal and getting "Everybody Loves Me Chapter 1" available at Amazon.com
. He's even got a catchy and colorful crossover song called "Willy Wonka."
"100 Grand, for some Reese's Pieces
Drove to Mexico, needed to speak with Jesus
People be askin how's it feel blood?
If she don't cum, call me a Milk Dud
Payday, that's how I feel today
Busted in her face, called it Milky Way
Jawbreakers, Mike & Ikes
Take 'em out of state and you'll get twice the price"
A-Wax obviously has good connects, because besides getting the sample from "Charlie and the Chocolate Factory" cleared, he gets some candy sweet cameos on the album. French Montana and Styles P make appearances on "Fly Pelican," and Mistah FAB drops bars on one of the album's best songs - "Been Thru Everything." Other stand out songs on this 12 track release include the electro-futuristic "The Way I Hustle" featuring Luke Bingham (like a Future song, but good) and the Gotye sampling song (another hefty clearance I'm sure) of the same name "Somebody That I Used to Know."
At 40 minutes long, A-Wax certainly doesn't have enough time or breadth to create anything offensively awful, but he also doesn't have a lot of room to make anything incredibly memorable other than the songs already listed. A lot of his album fails to make an impression, because despite saying "Everybody Loves Me" nothing really shows why. He's got good connects, can afford to clear a few good samples, and for one whole song he works a candy metaphor as hard as any rapper has - but he's far from the first to do so. "Everybody Loves" seems inaccurate by the end of these 40 minutes - to this reviewer it should be "Nobody Out There Hatin' Chapter 1." Nobody's going to hate this, but love is far too strong.
Music Vibes: 6 of 10 Lyric Vibes: 6 of 10 TOTAL Vibes: 6 of 10
Originally posted: July 31st, 2012
source: www.RapReviews.com