Alterbeats :: The French Revolution
:: Alterprod
as reviewed by Steve 'Flash' Juon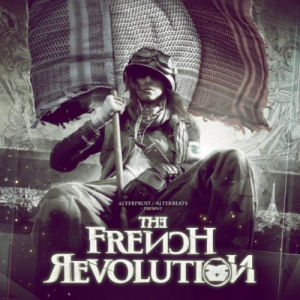 I'd call them "France's best kept secret" but the Alterbeats collective has been visible for a while now. They've made their name providing beats for some of the most grimy artists on the East coast, ranging from M.O.P. to Termanology, and having made their bones working for everybody else it's time to get a little of the spotlight for themselves. "The French Revolution" is a bit of a misnomer though, since France has had a vibrant hip-hop scene for decades. At first it might have simply followed in the cutting edge footsteps of its New York counterparts, but as the music became a global commodity French artists stepped up and made hip-hop their own in all of its various arts. The only "Revolution" would be in giving these talented individuals their long overdue credit.
An easy route to Alterbeats getting that acclaim would have been to seek out the best known names of American hip-hop for their major label debut - doing tracks with Lil Wayne, Nas, Jay-Z and Tyler the Creator among others. Instead Alterbeats took the more daring route of linking up with underground rappers and providing them with a healthy dose of boom bap that could turn the heads of Primo and Alchemist. Don't get it twisted - French artists like Lion of Bordeaux still get in the mix on songs like "Alter Ego," but they do so linking up with A.G. of D.I.T.C. and famed Brand Nubian emcee Sadat X. Most tracks are the underground's underground though. Lord Lhus & Sicknature blow up on the beautiful meets dirty tinkling melody of "The Take Over." Freestyle and Reef the Lost Cauze take lovely strings and talk "negative shit" on the aptly named "Revolution on My Brain." And when you unintentionally create a supergroup by putting Block McCloud, Chief Kamachi and Kromeatose on "TV Screen," all one can ask for is MORE of this triumvirate. "NYC Evils" is one of the best among many here, featuring a stellar turn by the underrated Shabaam Sahdeeq.
"Bars is cold like a winter in Moscow
I pop off now, turn your smile to a bloody frown
You don't really want it, want to sit yo' ass down
Wanna get yourself a pen and paper, put some thoughts down
Work, put some beer down, put a couple of wings down
Wanna fall back, bump your head, and stop bein a clown
Pound for pound I'm more profound, highly developed sound
You a fool, shut up now before my niggaz put you down
Underground and I ain't talkin 'bout the sound"
If one can call it a criticism, "The French Revolution" may almost be TOO grimy and obscure for some. While hardcore heads are no doubt going to appreciate names like Carnage45, Main Flow and Bekay, there's literally nothing and I mean NOTHING on this album that could cross over mainstream. Since that's clearly what Alterbeats wanted though, I can't fuck with it and say that's the wrong choice. They're aiming for a niche they're already popular in and hitting it hard, so if you like that rugged underground East coast rap, this compilation's for you.
Music Vibes: 7.5 of 10 Lyric Vibes: 7 of 10 TOTAL Vibes: 7.5 of 10
Originally posted: July 24th, 2012
source: www.RapReviews.com