Gensu Dean :: Lo-Fi Fingahz Instrumentals :: Mello Music Group
as reviewed by Steve 'Flash' Juon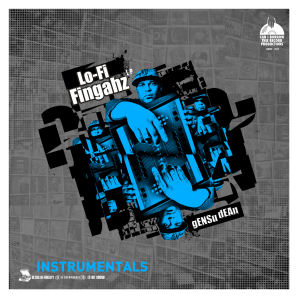 If you're searching through the review archives for our write up of the companion Gensu Dean's "Lo-Fi Fingahz"
album, you're going to be mystified as to where it is. The answer quite simply is that it isn't there - the original slipped through the cracks amongst the dozens of albums we review each month. I'd be more upset by this faux pas were it not for the fact "Lo-Fi Fingahz" only came out five months ago. I'm not saying we still shouldn't cover it, or that we don't plan to do so, but at least it's not a classic from five years ago we totally overlooked.
I need to qualify the use of the word "classic" though, because it's a word thrown around by the label when sending us this instrumental album, though in fairness other reviewers have lauded the album as being quite good. Having not heard the entirety of the rhymes on the original, it would not be fair for me to call it a "classic" myself. Listening to these instrumentals though, one can surmise that even a mediocre emcee would do alright to the boom bap found within, and a halfway good one would be lauded as superb.
The response I had listening "Instrumentals" was much like that of listening to Bumpy Knuckles' "KoleXXXion" for the first time - instant head nodding to the stellar beats even before the first vocals of the track hit. Sans vocals here I'm able to appreciate that Gensu Dean is working on a very high level not many of his contemporaries can match. "Fraction" is some Samurai Champloo type dopeness, making you picture an epic martial arts anime set to a hip-hop beat. The soul riffs and background harmonies of "Forever" are spine-tingling and hair-raising in the best way. The minimalistic "Block Prenup" is like Gensu took Alchemist and Pete Rock and mixed them in a blender, while the aptly named "Alice In Wonderland" is indeed a journey down a drug induced rabbit hole to a world of unbelievable things.
It's easy to cite individual track, but to be honest it's just as easy to recommend the entire album, simply because Gensu Dean touches on so many different hip-hop styles and does not falter in his approach to any of them. He can flip a futuristic funk on "4408 Meadowlane" then come right back on "City Limits" and make a gritty hip-hop beat with crispy hi-hats and plenty of "wah wah" backdrop. The scratched in samples of Jeru the Damaja and Common on the chorus only make the latter even better, and quite honestly make me ache to hear the rap version to see if the rhymes heightened it or unintentionally ruined it. For the sake of whoever reviews the regular album for "Lo-Fi Fingahz," whether it's me or another staffer, I hope the rap is on par with the beats, because even though it's a word used far too often I can indeed argue that the beats found here are "classics."
Music Vibes: 8.5 of 10 Lyric Vibes: n/a of 10 TOTAL Vibes: 8.5 of 10
Originally posted: July 17th, 2012
source: www.RapReviews.com