Meyhem Lauren :: Respect the Fly S--t :: L.R.G./Greedhead
as reviewed by Patrick Taylor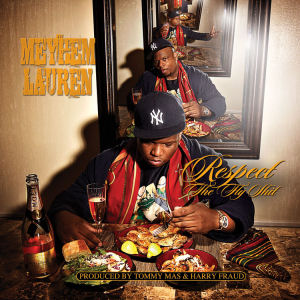 Queens rapper Meyhem Lauren has been around since 2004. He's done a lot of work with J-Love, including a 2007 album "Acknowledge Greatness." He's part of the Outdoorsmen with Action Bronson and Jay Steele. A solo album is allegedly in the works, as well as several other mixtapes. In between working on those projects, he found time to record this album in a hotel room in Austin in two days during this year's South By Southwest festival.
Meyhem Lauren is part of the new breed of underground New York rappers who are revitalizing hip-hop in the city where rap was born. He draws from classic 90s rappers like Ghostface Killah, but with a modern sensibility. He's accompanied on the mic by many of the other rappers helping to put NYC back on the map: Action Bronson, Heems, Sean Price, Smoke DZA, AG Da Coroner and Roc Marciano.
He gets it started off right with "Fingerless Gloves. Over a menacing beat, he spits nonstop for two minutes. He starts off with "I ain't bringing shit back New York we never left/My flow is dangerous/Spit a banger that could sever flesh," and doesn't slow down until the 90 second mark. He gets romantic on "Let's Hold Hands," his first love song:
"Yo what's the deal ma?
Mr. Thanksgiving is back
Shit is real you can tell how I act
I'm really feeling you
Fuck them other bitches
Shorty you the one
Real talk you should carry my son
You want a baby?
Let's take a walk and reflect on things
You my wife
Fuck shopping for rings
Already did that
Once in a while I'm a cheat and get dome
But best believe that I'm a always come home"
In an interview with Memphis rapper Lil Wyte, RapReviews writer Adam Bernard asked if Wyte, who has two little girls, had ever given the father speech to any of the scantily clad women he encountered in his professional life. " It'll probably be coming soon," he replied. "I'll have to call you and be like 'it happened. I gave my first father speech to a stripper.'" I'm not a father, but there were moments on Queens rapper Meyhem Lauren's latest mixtape "Respect the Fly S--t" that made me feel like giving him the father speech about not cursing, a little like Bill Cosby calling Eddie Murphy to tell him not to say filth flarn filth. Meyhem is a talented rapper, but the the man can be crude.
To be more precise, Meyhem Lauren is a big fan of sex, particularly receiving oral sex. He also likes to rap about how much he likes sex, describing his act in such loving and graphic detail that it would make Jenna Jameson blush. It makes 2 Live Crew's work seem like family-friendly entertainment.
Not all of his raps are raunchy, but it was what stuck out the most to me. I appreciate Meyhem's enthusiasm for getting naked, but I've never been to into listening to a guy talk about having sex, so I was put off by the several tracks here that get into the down-and-dirty details of Meyhem's many sexual adventures.
Luckily, the dude can rap and he's backed by killer production. Tommy Mas and Harry Fraud produce the entire album, laying out track after track of soulful, sample-based beats. The end result is "Supreme Clientele" era Ghostface, nasty storytelling over music your parents used to listen to. Even an old man like me has to admit that dude has skills, and I've had this on repeat since downloading it, nasty rhymes and all.
Music Vibes: 8 of 10 Lyric Vibes: 7 of 10 TOTAL Vibes: 8.5 of 10
Originally posted: July 24th, 2012
source: www.RapReviews.com