DJ Vadim :: Don't Be Scared
:: BBE Music
as reviewed by Patrick Taylor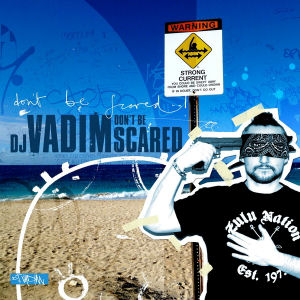 British DJ/producer DJ Vadim has been around the world. He was born in Leningrad in the USSR, raised in London, and now splits his time between Berlin and New York. His music is equally diverse, combining elements of soul, electronica, reggae, and hip-hop. His latest record, "Don't Be Scared," was just released on his own BBE Music label, and sees Vadim incorporating dubstep and dancehall into his array of sounds.
Things start off slow, with the mellow instrumental "Hide N' Seek." It's not the best hook to get a listener excited about the album, but perhaps Vadim is setting up his album like a DJ set, starting off slow and building up. Things pick up on the second track, "Lemon Haze." The album really kicks in on track three, "I'm Feeling U." Gregory Blackman's soulful voice is a nice compliment to Vadim's stuttering dubstep beat.
Jazz Baily sings on "Lost My Love," and his voice is processed in a way that recalls Burial's work. Vadim uses a "less is more" philosophy on the track, limiting himself to a stuttering dubstep beat, some ambient noise, and a little bass. The empty spaces are filled with Baily's voice, and the end result is a beautifully sad song.
Vadim switches things up on the boisterous "This DJ," sampling KRS-One. The song features booming dubstep bass and J-Man's hyperactive dancehall chatting. Unlike some of his younger counterparts, Vadim manages to make a banger without having all of the dials set to eleven, showing how subtlety and restraint can actually make a song better. Dubstep has gotten a deservedly bad rap in recent times due to the DJs who think that all you need to do is crank up the speakers and drop the bass. Vadim proves that, in the hands of a skilled craftsman, good things can still be done with the genre.
Sabira Jade updates Marvin Gaye's "What's Going On?" to the present day on the dancehall-inflected "Set Them Free." Yarah Bravo lends her sass to "Leader." The song is another banger, but Bravo's rhymes ("On a plane from Sweden/To Britain I just came/To see my man Vadim/Who's big up in the game") fall flat. Gregory Blackman and Jazz Bailey show up again on "Akura Uprock," "Take My Time," and "Closed Eyes." Vadim is at his strongest when he's working with these singers. His carefully constructed beats give them a lot of space to work with, and their voices lend a nice organic feel to the cold mechanical beats Vadim lays down.
"Don't Be Scared" is full of contradictions. It's a mix of sweet and sour, hard and soft, sad and happy, heavy beats and sweet singing. Vadim manages to mix hip-hop, dancehall, dubstep, soul, and electronic dance music into a concoction that works. If you want to hear dubstep done right, "Don't Be Scared" is the album to get.
Music Vibes: 7.5 of 10 Lyric Vibes: 6.5 of 10 TOTAL Vibes: 7 of 10
Originally posted: September 18th, 2012
source: www.RapReviews.com