Iron Lyon :: From the Ground Up
:: Iron Dubz Music
as reviewed by Patrick Taylor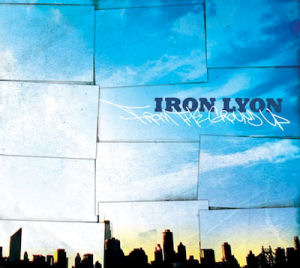 Iron Lyon has been DJing since he was 14 years old. He spent some time in New York before relocating to Miami last year, keeping busy by spinning everything from classic hip-hop to reggae and dancehall. In between his DJ sets he's found time to record some raps of his own. His 2009 album "Time Capsule" was well-received by this publication, and he's released two EPs since then. "From the Ground Up" is his latest album, released this fall.
As a hip-hop DJ who came up in New York, Iron Lyon has a soft spot in his heart for classic 90s New York hip-hop. The title of "Time Capsule" was a reference to the nostalgic sound of the album, and he had a song on it called "Boom Bap," further driving home where he was coming from. He hasn't abandoned the sampler for "From the Ground Up," but he is expanding his palette beyond hard-hitting beats over sample flips.
He starts off with "Come Back," an upbeat song that sets the mood for the album. Judging from the lyrics and the vibe of the album, it seems like Iron Lyon is feeling reborn and revitalized after losing his way. "Was going the wrong road but I turned it around" he raps, and it's a theme that is repeated throughout the album. He deals with it most explicitly on "Way I Feel." The song is written like a love song, but you soon realize that the "she" he is rapping about is alcohol. "No escaping these demons, they already had me/It runs in the family." It's an incredibly moving and honest description of how partying can catch up with you, and how sometimes you don't even realize how sick you've become. That song is built around a loop from the Red Hot Chili Pepper's song "I Could Have Lied," one of several ballads they recorded for their 1991 album "Blood Sugar Sex Magik."
"White Girl Lost" sees Iron Lyon on some Atmosphere ish, describing a girl who has been subsumed by the streets. Like Slug, Iron Lyon manages to get sentimental without being overly cheesy or cliched, which is not an easy task. He is not as successful on "So Called Problems," which not only leans hard on platitudes, but samples a John Mayer song. I'm pretty sure that is a prosecutable offense in some counties. He has better results when he looks to reggae for inspiration. "Walk Away" samples a dusty reggae track, which Iron Lyon uses to share stories of heartache. The reggae sample on "Got Love" perfectly matches the positive lyrics of the track.
Although his efforts to branch out to more uplifting and introspective beats and rhymes are noble and appreciated, it's his grimy, dusty breaks that hit hardest. "Step Into the Night" sounds like a straight up Detroit track, and Sean P. and Monster X add a healthy dose of gutter to balance out all the positivity.
Iron Lyon is decent on the mic, if not a total monster. You can tell that while he's a DJ first, he has put time and effort into honing his skills as a rapper. His flow is a little stilted at times, but he compensates for any shortcomings in his delivery by having lyrics that are so sincere and positive that you can't help but root for the guy. How you going to hate on someone rapping about being a recovering alcoholic?
In the end, "From the Ground Up" is a solid effort that sees Iron Lyon developing as an artist. It may not be all boom-bap, but it is still worth listening to.
Music Vibes: 7 of 10 Lyric Vibes: 6.5 of 10 TOTAL Vibes: 6.5 of 10
Originally posted: December 18th, 2012
source: www.RapReviews.com