Beneficence :: Concrete Soul
:: Ill Adrenaline Records
as reviewed by Grant Jones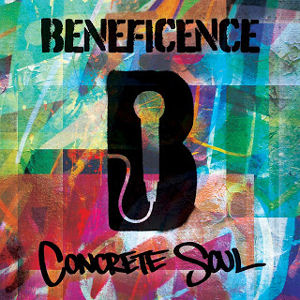 As an affiliate of the 90s rap group Artifacts, Beneficence hasn't made too many records of note other than the excellent "Sidewalk Science" released in 2011, an album fully immersed in Brooklyn boom bap. Beneficence continues his infatuation with road formation on the follow-up: "Concrete Soul". It is as apt a name for a hip hop album as there has ever been. Combining the hard, cold image of cracked pavements and damaged city blocks with the essence of humanity is essentially what hip hop music stands for. And the hip hop community has come out in force to support Beneficence, as proven by the whopping 21 guest features.
This many features raises the question over whether Beneficence can hold the listener's attention enough not to be lost amongst his colleagues, but this isn't the type of hip hop where the MC in question opens up and drops poignant reflections on life or showcases his knowledge of the dictionary. This is good old fashioned pass-the-mic hip hop, mixing veterans who never quite became household names (Rampage, Nature, Masta Ace) and underground mainstays (D-Flow, El Da Sensei, A.G.) with some hard hitting head-nod production.
The first track is a strange decision as it only features Doo Wop introducing himself as if it is his album. He does mention Beneficence towards the end but it's a random verse. Once "Y.W.E." starts with a beat hornier than Pete Rock on Viagra, the soundscapes don't let up. Beneficence holds his own with a gruff delivery that's a mesh of Neek The Exotic and Cam'ron, but the three tracks that feature him on his own show why it was a good decision to call in the troops. That's not to say that Beneficence is a poor rapper, he is lyrically very strong, but his performances tend to move up a level when there's somebody else competing for mic time.
"Put It On The Wire" offers an energised Beneficence:
"Menace from the badlands, mystique of the Son of Sam
Earth, Wind & Fire, fatalities in the wonderland
Can't snipe me, so the goons don't excite me
Dance With The Wolves, the rules I step lightly
sharp to a fraction, plot to assassin
Surround you like a caption, the bounty I cash in"
If you're a sucker for scratched hooks you'll love "Hood Early Years (H.E.Y)" and "Rules To The Game Remix" which begs the question why more DJs don't use MC Lyte vocals on their tracks. Herb McGruff even shouts out his fallen comrade Big L on the latter, before he is brought back to life on the record with some effortless scratches. Rashad weaves his flawless flow around the soulful "Straight Out The Gate" where Beneficence gives the DJs a break in order to drop a worthwhile chorus. Underground favourite El Da Sensei throws down a brilliant syllable heavy verse on "Way We Rockin'" which sounds like a track off Sensei's "Global Takeover" series of records. The beat is predictably awesome (produced by the underrated Confidence) with perfect bass, vocal and hard drums, along with an intensely scratched hook involving The Game proclaiming "You're now rocking with the best". Roc Marciano reunites on "Hood Cartel" to drop yet another stunning tale akin to street literature. Think of Raekwon at his storytelling best with Kool G Rap's bombardment of multis and you get the idea:
"Tussling with pigs, hustling as kids
It was nothing big, just another gig
Juggling for ends, stepping up from Timbs
to the bubble pants, fuck being humble when
you gotta rumble wit'
The brothers and the colourless..."
Before the album peters out, Billy Danze punches the listener in the face with his aggressive presence over the catchy "Art of War" which combines Common with Inspectah Deck to brilliant effect. Beneficence has a stop-start flow which doesn't quite come off whilst Danze does his usual, allowing the hook to prosper.
There's a few forgettable songs towards the end of the album, including a nice Nature verse on "Metal Cuff Links" that was disappointingly quiet. The legendary Masta Ace appears on the best produced track on the record (and the single) "Reality Vs. Fiction (Rock On!)" which is surprisingly located at track 18. Unsurprisingly however, Masta Ace dominates with his brilliant verse talking about times in his life he could have took his career in a different direction, but ultimately didn't need to:
"I could have smoked a bunch of weed and wrote a song about it
But I realised that I can get along without it
Maybe I'm wrong about it, maybe I would have won
Sometimes I think about all the things that I could have done
But then that doubt gets alleviated
When I shake hands with all the fans that appreciate it"
As far as classic boom bap beats go, "Real Life We Livin'" is as good as it gets, produced by Panik from The Molemen who rarely disappoint. Unfortunately the verses aren't quite up to mark and if any beat would suit the scratched sounds from a bygone era, this is it. Alas, an overly complicated chorus was used instead. It's not a bad track, but feels like a missed opportunity after hearing the brilliant DJ work beforehand. Luckily the closing track "Somethin' Y'all Can Roll Wit'" won't disappoint (unless you're an English teacher) as it flips a sweet KRS-One vocal with an instrumental reminiscent of early Gang Starr, and Beneficence complements the track well.
There's a gritty yet innocent charm to "Concrete Soul". It's hard without being angry, intelligent without being patronising, and the largely absent use of profanity is refreshing. A record reminiscent of early A Tribe Called Quest and Gang Starr, the presence of Grap Luva on "Cold Train" reminds me most of the golden era Beneficence represents. Yet despite the odd misstep and the fact it should really be billed as Beneficence & Friends, there aren't many better hip hop releases from 2012 that deserve your attention.
Music Vibes: 9 of 10 Lyric Vibes: 8.5 of 10 TOTAL Vibes: 8.5 of 10
Originally posted: January 8th, 2013
source: www.RapReviews.com