Ciryl Da Great :: Adolescence
:: Reformatory Records
as reviewed by Grant Jones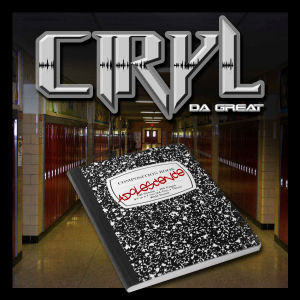 The press release for Ciryl Da Great's "Adolescence" highlights Ciryl's ability to make a punchline of just about anything including current events, and song writing based on his life experiences combined with his lyrical styling truly showcase the diversity of this artist". There's little evidence of diverse lyrics on "Adolescence", as topics don't stray far from the standard rapping about rapping, rapping about grinding and numerous other clichés. What "Adolescence" does benefit from is haunting, lo-fi production you'd expect to find on Soundclick. "But hang on, surely that implies an amateurish approach and sounds technically garbage?" There are examples of this sure, but if you can appreciate underground hip hop at its purest, most raw, and don't mind occasional generics of this genre we love so much, this "Adolescence" is worth visiting. What I will say is, Ciryl Da Great has created a surprisingly well produced record that you'll find listening to more than you'd expect. That's no disrespect to the artists involved, but looking at the artwork reminds me of a 90s wrestling pay-per-view font combined with all the aesthetic inventiveness of a Master P record. "All We Do Is Grind" is a decent introduction to Ciryl, with a gloomy backdrop and husky chant helping hold together the pretty forgettable verses.
Unfortunately there is some trash to sift through on "Adolescence" to find the good stuff. "Uncle Sam" is Pete Rock's nightmare, with more misplaced horns than a unicorn fuckfest. It's a perfect example of how not to copy successful Dirty South records. The annoying horns and a leisurely approach to the rhymes combine to create a truly awful song. A similar example of cheap production can be found on "The Atmosphere", a poorly produced amalgamation of industrious snares and ambient pianos. The only atmosphere generated here is that of a bedroom setup, but that criticism falls on VTZ Beats as Ciryl demonstrates his ability to spit flowing rhymes that you'd expect from a so-called ten year veteran. "Chi-Town Horror Flick" is Ciryl's attempt at horrorcore yet instantly fails when the first verse is based around his success with the ladies, and the second mentions diamonds in his wristwatch. Unless the constant recital of "I'M A MONSTER" is a remark relating to Ciryl's manhood, the execution itself is horrific. "Help is Coming" is probably my favourite example of the nostalgic production, with its delightful throwback sounds reminiscent of a forgotten adolescence, and Ciryl complements the beat with dare I say it, a decent performance.
"Reformatory" continues the MIDI-infused atmosphere but is unfortunately let down by self-indulgent, nonsensical content. It's a problem that underlies much of what does work on "Adolescence", as Ciryl certainly has a knack for rhyming, it's just he doesn't bring anything new or clever to the table. He does have a knack for crafting incredibly catchy hooks atop low-budget production, but this release is incredibly hit-and-miss. In terms of longevity, the lyrics lack a genuine substance and the beats just aren't slick enough to warrant critical acclaim. Ultimately, "Adolescence" is a fairly straight forward lo-budget experience full of clichéd, catchy hip hop that will grab you initially, but it's unlikely any of these tracks will have you proclaiming Ciryl's greatness.
Music Vibes: 5 of 10 Lyric Vibes: 4 of 10 TOTAL Vibes: 4.5 of 10
Originally posted: March 26th, 2013
source: www.RapReviews.com