DJ Mustard :: Ketchup :: DatPiff
as reviewed by Patrick Taylor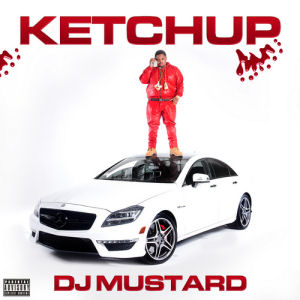 Even if you haven't heard of Compton producer DJ Mustard, you most likely have heard him. He produced 2 Chainz "I'm Different," Tyga's "Rack City," and Young Jeezy's "R.I.P." He's YG's producer and DJ, and toured as Tyga's DJ. He's the go-to producer of the new West Coast resurgence and the ambassador of West Coast ratchet music. "Ketchup" is a compilation of some of his tracks in anticipation of his album with TeeFlii that is dropping in July.
Ratchet is basically this year's version of crunk or hyphy. It's party music that skews young, with uptempo beats and lyrics about getting drunk and high and having sex. The only intellectual decisions being made on the songs here is what substance to ingest and which girl to take home. Mustard's sound shares some of the DNA of crunk and hyphy, but it is less aggressive than the former and less busy than the latter. Mustard likes his beats stripped down, often with little more than handclaps, some 808s, and some icy synths. More often than not it's the MCs that carry the melody.
The skeletal frame of Mustard's beats prove that less is more. He provides plenty of space for the MCs to do their thing, and the result is a song that has the energy of club rap without all the noise and jibber-jabber. His beats would almost be avant-garde if Mustard weren't more focused on keeping the party going than on artistic expression. With trap music becoming the latest African-American art form to be co-opted by white hipsters, it's nice to hear a young urban kid showing the ironic mustache crowd how it is done.  
This 21-track mixtape (which contains 17 actual songs and shoutouts from Lil Jon, DJ Drama, Timbo, and Funk Master Flex) features tracks from Lil Snupe, Joe Moses, YG, Ty Dolla $ign, C. Hood, Clyde Carson, RJ, Royce the Choice, Skeme, Cocc Pistol Cree, Bounce, Dorrough, Kay Ess, Nipsey Hussle, Dom Kennedy, and Killa Kam among others. Every single song is about partying and having sex. It's fine for a track or two, but it gets old long before the last song ends. TC4800's verse on "Bounce That" sums up the lyrical content of this mixtape:
"I got hoes in my catalog
Town nigga bang to the yankee call
'Cash out' them my favorite words
Pull up on a bitch I don't say a word
I hit the mall then my niggas splurge
Ride up on your bitch
She got a lot of curves
Hit the purp, hit the purp nigga
She got big doors
She go to work nigga"
The R&B singers that Mustard works with are more interesting, if only because their delivery makes up for the empty content of their lyrics. Ty the Dolla $ign, TeeFlii and Candice all lend their voices to some of the strongest tracks on the album. E-40 shows up on "4G's" showing what a Mustard beat could be like with a more skilled rapper on deck.
Ultimately my criticisms of the shallowness of the rappers on "Ketchup" is more generational than anything else. If I was twenty-one who still used "party" as a verb, I'm sure the rappers' stories of threesomes and fast cars would be more entertaining. On a positive note, one thing no one is really rapping about on "Ketchup" is gangbanging. Mustard's whole thing is to keep it fun. While the rappers on this mixtape may glorify drug use, materialism, and casual sex, they do not glorify gun violence. The only violence going on here is what they are doing to their livers.
However disappointed I was with some of the MCs on this mixtape, I have to admit that DJ Mustard has a good sound. He makes club rap that is interesting and not annoying, which is no small feat. If you are in the mood for something fun and brainless, you could do worse than track "Ketchup" down.
Music Vibes: 7.5 of 10 Lyric Vibes: 5.5 of 10 TOTAL Vibes: 6.5 of 10
Originally posted: June 18th, 2013
source: www.RapReviews.com