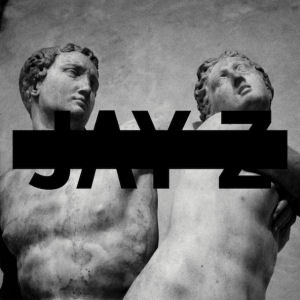 Jay-Z :: Magna Carta... Holy Grail

Samsung/Roc Nation
Author: Grant Jones
Give me a CD any day. Smart phones and digital downloads are brilliant and incredibly convenient, but it took me hours to get this Jay-Z app working on my Samsung Galaxy phone. For those of you sleeping under a Roc, Jay has partnered with Samsung to offer his latest album FREE to the first million consumers that manage to download a certain app. Other than the technological problems (perhaps a victim of his own success) and the fact you're asked to link up your Facebook so Shawn and Beyonce can laugh in to their platinum-plated Galaxy S4s at our mundane status updates, it's an admirable idea. Twelve studio albums in seventeen years is incredible for any emcee, never mind one that has numerous business ventures on the go and the world's sexiest pop star to satisfy. Jay-Z is undeniably the biggest "star" that hip hop has produced and despite the inevitable naysayers any successful musician has to deal with, he still has a lyrical quality that other rap superstars dream of.
Illuminati allegations, biting Biggie, mishandling Def Jam, none of it matters when you're selling stakes in NBA teams and introducing the world to artists like Rihanna. Hell, I'm one of those "heads" who still insists "Reasonable Doubt" is his best record, and through seventeen years he has barely put a foot wrong (other than co-signing Memphis Bleek, and wasting MOP's time). At 43 years of age, Jay-Z is also somehow still fashionable, continues to be hugely popular and goes against everything hip hop traditionally does with anybody over 40 – kicks them to the curb. To include the words 'Magna Carta' in his latest album not only implies that Jigga is making a statement of intent, but it keeps in line nicely with his monarchical status; "Blueprint", "Dynasty", "Kingdom Come", "Watch the Throne". Notice a pattern?
"Magna Carta... Holy Grail" (let's call it MCHG, as the Samsung app does) is anything but the esoteric bullshit it may sound like. Jigga ain't no Killah Priest, so don't expect mystical references and history lessons here. The title of the album is in fact, pointless. Most of the record sees Mr Carter share his insanely exuberant lifestyle, adding the odd dash of real life here and there. "Picasso Baby" is produced by Timbaland and Adrian Younge, and it's unclear whether they co-produced or each provided a beat. Much like "A Milion And One Questions" suddenly flips into "Rhyme No More" on Jigga's sophomore release "In My Lifetime Vol. 1", "Picasso Baby" is full of wordplay and the "is he freestyling?" presence, but is so bogged down in talk about excess and "wanting a wife to fuck like a prostitute" that it doesn't come in to fruition until the second beat hits. A thumping, post-millennium, Just Blaze-style banger plays out and although the track is as ignorant as any Master P record, there are still excellent lines such as "I'm sleeping next to the modern-day version of Mona Lisa, with better features".
"Nickels and Dimes"
Johnny Cash, I'm a real G
I cut myself today to see if I still bleed
Success is so sublime
Gotta do that time to time so I don't lose my mind
Something 'bout the struggle so divine
This sort of love is hard to define
When you scratching for every nickel and dime
Got me itching to do this shit for my mom
Do this shit for my town
Leave the door open hoping they kick it down"
"Nickels and Dimes" is classic Jay-Z, and the emcee puts all his assets aside to share some genuinely dope rhymes. I would love to hear more of this style from Jay, despite recently receiving it in the form of J. Cole; mellow beats and sincere lyrics. It ends up being a relief rather than the expected listen it should be, and that's a damn shame. There's too much Rick Ross ("La Familia" is essentially a Rick Ross song performed by Jay-Z), too much influence from the success of artists such as Drake and not enough Jay-Z. "Daddy Dearest" is another example of Jigga talking about his daughter, but this time includes a rapid-fire third verse showcasing he can still hang with the elite rhymers. There is even a follow-up to the ten year old (!) "Bonnie & Clyde" track that got Jayonce together in the first place – "Part II (On The Run)" is distinctly R&B despite the drums sounding like they came out of Eric B's basement. It suffers from the same problem as the Justin Timberlake collaboration in that it feels like a Beyonce track featuring Jay-Z, but considering how talented Beyonce is (and JT for that matter) it doesn't detract from the song one bit. The piercing "Heaven" starts off well, with an intrguing defence of Illuminati rumours from Jay, but shortly falls back on his lavish lifestyle, using Maybachs and Lamborghinis as metaphors for angels. "FUTW" stands for Fuck Up This World, and despite the anarchic message features some of "MCHG"'s best rhymes, with a luscious production that feels like it was tailor-made for Raekwon.
It's a shame then that the good tracks are negated by some disappointing ones. "Tom Ford" is cringeworthy stuff, as Shawn inexplicably leaves some terrible singing scattered throughout the electro-vaganza. It ain't a word, fuck it – it summed up Kanye's latest record perfectly though and unfortunately, Jigga has felt it necessary to include some of his own experimental material. Some rappers can sing, your J Coles and Drakes, fine. But a Jay-Z shouldn't be resorting to this. Leave the wacky shit to Kanye. Rick Ross himself features on "FuckwithmeyouknowIgotit". It's bad enough the spacebar broke, but hearing Rick Ross stumble through a verse using "nigga" to rhyme EVERY bar undermines the thousands of talented emcees out there struggling to rub two cents together. Seriously, you could have got Amil on this joint and it would... OK maybe not, but you get the idea.
The problem with "MCHG" is the excessive examples of plain old brag-rap. There is very little humour and some of the production is flat out boring. At times it feels as if Jay-Z has created a new genre of rap by constantly talking about Bugattis and high-end fashion labels. Hip hop is littered with rappers talking about materialistic things, but nobody can compete with Jay-Z financially – he could actually live out this record. Whereas your Three 6 Mafias were bragging about tacky platinum grills and rented sports cars, Jigga is ACTUALLY making multi-million dollar business deals. He may not be buying castles, but his wife is hotter than yours and he wants to ensure you know that. That's not to say this is Jigga's worst record, and a lack of hype plus free downloads have ensured people aren't going to be too disappointed. If you happen to want to buy this, just remember that Jay-Z lives in another world to 99.9% of us mere mortals. As great a career as he has had, it's hard to enjoy whole songs about elite fashion labels and spending money like it is nothing. With the world in recession, many enjoy escaping to the fantasy worlds that Jay-Z shares, but it is the more emotive, relatable songs about parenthood and building success (rather than revelling in it) that you'll be listening to in years to come.
Music Vibes: 6 of 10 Lyric Vibes: 6 of 10 TOTAL Vibes: 6 of 10
Originally posted: July 9th, 2013
source: www.RapReviews.com