JJ DOOM :: Key to the Kuffs (Butter Edition)
:: Lex Records
as reviewed by Steve 'Flash' Juon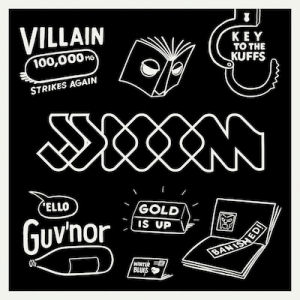 Patrick Taylor was fairly clear when he reviewed "Keys to the Kuffs" back in January of this year that he was underwhelmed. That's not to say he hated the collaborative effort of MF DOOM and Jneiro Jarel - it's just that with DOOM collaborations in vogue again the bar has now been set a little bit higher. It's not an easy task given the Metal Faced one has a raspy, off-beat flow and freely admits to his love of inebriation on dozens of tracks. The right producer with a deft touch can create a banging boom bap rap that sounds like demented genius - others "inspire apathy" as Patrick wrote. "Keys to the Kuffs" still garnered a 6 out of 10 overall, but it was clear DOOM and Jarel could have done more.
Coincidentally or otherwise it appears the artists agreed with Patrick, as they've gone back to the lab and retooled "Keys to the Kuffs" with a brand new BUTTER EDITION. The press release accompanying the album outright states this is the "new and improved" version, as though we're discussing the latest version of Colgate toothpaste or dishwasher detergent. The key to improvement appears to be outside collaborators as Thom Yorke, Dave Sitek, Clams Casino and Beck ("soy un perdedor") among others adding their remixes to the album. There are also some brand new songs in the mix as well, including "Viberian Son" featuring Del the Funky Homosapien. Curiously "Part II" was one of Patrick's favorites on the original version, but that was an instrumental only track, and that's clearly been usurped by this rap song.
Del: "Young diesel, I'm nasty watch
How black people flip and bounce anythang and smash on y'all
For the milk biscuits, this test is clear
Y'all already know DOOM one of the best there is
I confess I did
The best made me speak crazy out the side of my neck"
Del brags he'll "move mountains and chew diamonds like rude pirates" on this tag team endeavor. I'm a huge supporter of both emcees but it's a challenging listen. The background melody is abrasive and nearly drowns out the most charming feature of the song - DOOM's off-key warbling at the end. The other additions to "Keys to the Kuffs" are easier to digest. DOOM's rapid-fire flow is well met by the minimalist Beck remix of "Banished." The short but thumping "The Signs" featuring Mr. Gone the Hero is devoid of Dumile but gets the job done. Dave Sitek's take on "Rhymin Slang" sounds like something DOOM would have produced himself, which I intend as high praise. The heavy buzzing bass is well met by lyrics like "Let's be very clear, emcees is derriere - as well as unaware."
The key question here (pardon the pun) is whether or not the nine new tracks are enough reason to purchase the "Butter Edition." If you didn't already have the album I'd say so, and if you did I'd say no. There are some fun songs here and there, like the English accent imitating "Guv'nor" and the watery musical flow of "Wash Your Hands," but Patrick's assessment seems fair here even with the added or replaced material. Jarel doesn't quite capture the unique Dumile personality and flow the way he can over his own beats or working with an equally demented head like Madlib. Part of the charm is that he jumps off the page like a comic book character come to life, boisterous and dangerous, and here he sounds like The Joker on anti-psychotics. I don't want Dumile dialed down. A special edition EP with only the new material will be made available eventually so let's at least give everybody involved credit where it's due for providing that option. I can give the "Butter Edition" only a slight nod, but I do appreciate the effort they made all the same.

Music Vibes: 6.5 of 10 Lyric Vibes: 6.5 of 10 TOTAL Vibes: 6.5 of 10

Originally posted: August 13th, 2013
source: www.RapReviews.com