Chanel West Coast :: Now You Know :: DatPiff
as reviewed by Matt Jost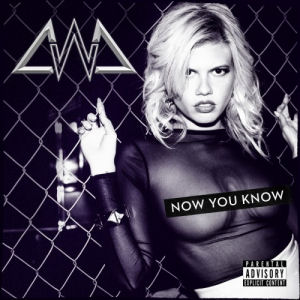 No, Chanel West Coast is not an ill-fated dyslexic competitor to DubCNN.com, the renowned West Coast rap news portal. The name's not Channel but Chanel - like the fragrance and fashion brand. Chelsea Dudley, middle name Chanel, is listed as a 'rapper, singer-songwriter, actress, model and television personality.' She fits these job descriptions rather vaguely, but she's still young, so let's say she's currently working on having a significant career in any of these fields. One detail in her resumé actually tells me she already accumulated job-specific work experience as her bio mentions that 'at 17 years old, she launched her first MySpace Music page under the name Chanel West Coast.' Her social networking led to a gig on skateboard celebrity Rob Dyrdek's 'Fantasy Factory' show on MTV, where she became known as 'the rapping receptionist.' Seeing as how the entrance into the music industry via MySpace is already a thing of the past, you could say she came up perhaps not the old fashioned way but in a way that is closed to today's newcomers.
In the broader terms Chanel West Coast fits in with a generation of young creative women who use rap as a form of expression at their convenience whenever they want to add a certain edge to their performance. In contemporary pop music alone a number of female vocalists from Ke$ha to Lana Del Rey utilize rap to varying degrees. Hardcore rap fans rarely take those advances seriously, optionally considering them cute or annoying. It's different when we feel someone really wants to be a rapper, and considering the high rap ratio on Chanel West Coast's debut mixtape "Now You Know," she's definitely out to be recognized as a rapper.
The tape's most mentioned song, "Karl," named after designer Karl Lagerfeld, is an obvious attempt to link her to the fashion world, apparently an indispensable connection for today's trending rappers. Chanel considers the song somewhat of an antipode to Kreayshawn's "Gucci Gucci" smash as it embraces fashion brands. Ironically musically "Karl" is rather plain-Jane with its baby-like vocals over a bleepy backing and had Mr. Lagerfeld, who isn't exactly known to keep his opinions to himself, any knowledge in the field of rap, he'd probably pick this track to pieces. Still there are hints at a certain - pardon the expression - swag to CC's rapping:
"I'm never gon' be too Hollywood, so you can effin' save it
I paid my dues in Hollywood, my road I effin' paved it
Now I'm on the red carpet in red 'Boutins, eff what they say
I'm livin' the dream, make my own bread
Dressed to kill, leavin' 'em dead"
"Now You Now" has more swag in store. "Mazel Tov" sees her spitting to a machine gun barrage of drum claps, vocal stabs and bass grinds. The voice sounds instantly less cutesy and she actually paces her flow in an ambitious way. A rapper taking different flows for a test drive is a quality attribute already, and Ms. West Coast finishes most of her courses successfully, even if they tend to rest on the simplistic side, such as on the booming Timbo-meets-Diplo stomper "Bigger Than," or on the stuttering "Explosions":
"Pullin' up, I'm swaggin'
Matte black G-Wagen
We hot like dragon
Them not, they lackin'
All night, no nappin'
Gettin dirty, no napkin
Feelin' us like they grabbin'
On point like we stabbin'
I been on game since the first grade
I learned a lot like a first date
Never jocked, never thirsty
I wear 'em out like jerseys
Some love me, some hate me
At least it ain't no maybe
I'm from the West, Kim's baby
Cali girl like Katy"
The second to last line may refer to Kayne West and Kim Kardashian's parenthood, but it's also possible that "Kim's baby" is a double entendre paying homage to the Big Momma herself, Lil' Kim. That much is clear - Chanel West Coast is neither out of tune with the music of the present nor that of the past. She cites "All Eyez on Me" as her "favorite record." She samples Royskopp and Hot Chip vocals. She duets with French Montana and Honey Cocaine. She rhymes, "You got that fire, baby, like a Hendrix song / Never kill yo vibe, baby, like a Kendrick song." She raps over tracks that sound like early '90s Bay Area slaps ("Nada"), then goes all high profile enlisting Snoop Dogg and Diana Ross' son for the "Love Hangover"-sampling "Put in Work." Another dash of the REAL West Coast can be heard on "Alcoholic" with its lean bonce reminiscent of a Jelly Roll beat while Chanel reminds us how rap and pop are an equal influence on today's youth: "My attitude is 'Fuck it', motherfuckers gon' love it / Like Pac was still alive, West Coast, they love it / I never gave a shit like Britney Spears in public."
All the while "Now You Know" isn't extremely disjointed, yet she is able to split her duties, dedicating a number of songs to matters of the heart, who naturally feature more of her singing - while concluding with a guest part from none other than Robin Thicke. Production is completely handled by Rich Skillz, who meets the artist's relative versatility with sometimes spheric, hypnotic but always solidly low-ended beats.
It's tempting to dismiss Chanel West Coast. She seems like the type of 'rapper' who had more photo shootings than recording sessions. The timid opener "Pursuit of Happiness" casts the 25-year old as a daydreamer rather than someone who is willing to truly put in work, West Coast style and otherwise. Her overall appearance and approach seem awfully convenient to gain attention these days, her career trajectory from "skater girl" to "rappin' Audrey Hepburn" calculated. Her recent signing with YMCMB only reinforces the notion of her as an investment.
As Iggy Azalea gears up for a debut of extravagant proportions and even Miley Cyrus wants a piece of that crazy party girl music, it could get difficult for Chanel West Coast to stake her claim. The fact that she hasn't been around that much might just be an advantage in carving out an identity. As such "Now You Know" is a solid first entry but doesn't deliver the definite statement that the title promises. Still, as someone who only knew her as the giggling extra on 'Ridiculousness,' I must say that I'm pleasantly surprised.
Music Vibes: 6.5 of 10 Lyric Vibes: 5.5 of 10 TOTAL Vibes: 6 of 10
Originally posted: August 6th, 2013
source: www.RapReviews.com