Hyperaptive :: SykoTherapy
:: Syko Recordz
as reviewed by Jesal 'Jay Soul' Padania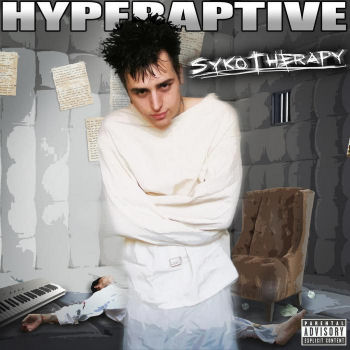 "Just when I thought I was out... They pull me back in!" Oh hip hop. You leave us disillusioned, but the supporters, DJs, artists and sites like this keep dragging us back for more. In UK hip hop month, I put out a clarion call on Twitter, and received some superb suggestions – shout out to @Chiraag_G for this one – and that unflinching passion of fans, willing to back their artists, has been overwhelming. Here, we take a look at "SykoTherapy" by South London rapper Hyperaptive, and it's one you'll almost certainly want to check out for yourself (the artist himself has kindly made the ENTIRE album available to listen to on YouTube so really you have no excuse not to). It's just a few years old, and if we were to assign one of those corny tagline stickers for the physical release, it would probably read: "What 'Relapse' should have been!"
Yes, Hyperaptive is white. No, that's not why the Eminem similarities are present. It's more to do with the concepts, flows, vocals, choruses and (occasionally) production. "Relapse" was an album I liked but have previously admitted to overrating at the time. Imagine if Marshall Mathers had been more lucid, confident, and had refined it to a lean 45 minute selection. Well, "SykoTherapy" would still be significantly better. It's one of the most fantastically written hip hop albums from the UK. Note: there is no timeframe assigned. It's THAT good, certainly from the perspective of lyrics and themes. Eleven songs, a couple of skits and you'll be itching to start over again. The wordplay is incredibly dense, yet with very few flaws or lines that don't connect, meaning that the replay value is astronomical as you'll keep discovering clever little lines here and there.
It kicks off with the patient being visited by his psychotherapist, who subsequently gives him a keyboard for an hour to observe the effects. Although it's not the actual case (clearly this was produced on Logic or Reason), it still somewhat explains the relatively stripped back production which is, for the most part, intelligently paced and melodic (certainly not orchestral with hundreds of layers, EQ'ed to within an inch of its life). Occasionally, it misfires (especially near the end of the album) but while it may not be equal to the lyrics, it provides a suitable foundation for the MC to shine on. The choruses are generally pretty special too, whether delivered by Hyperaptive himself or by the occasional guest ("Memory" featuring Alice Olivia on the hook is a standout moment). It's also a particularly well-balanced set, possessing a wind range of subject matter that refuses to get bogged down. That kind of self-editing is vital and very much helps to keep things moving in a brisk manner. In fact, the only tracks that were simply liked, not loved, were "Household Hip Hop" (it's the law that every underground MC must make this sub-genre of song at least once) and "Believe" which doesn't quite match up to the rest of the album musically. But those are minor nit-picks, as the rest of "SykoTherapy" is simply stellar.
There are so many moments throughout that should invigorate you. Whether it's the sole grime moment of "SYKO" that closes the album out in thrilling style, or "Medication" that opens it up brilliantly; perhaps the unity that "Black & White" teaches, not preaches, or the cheekiness of "Bachelor Baby"... There is something for everyone, and Hyperaptive has crafted a wonderful piece of hip hop that may be deceptively packaged as 'horrorcore' but is, in fact, absolutely nothing of the sort. It's the kind of universal rap album that underground acts worldwide could stand to learn a lot from: how to pen a wide variety of themes; how to self-edit; how to spit with venom or care when appropriate, and so on. Put simply, "SykoTherapy" is an essential listen, and it is stuff like this that keeps us hooked to this beloved genre of ours, even when it drives us insane.
Music Vibes: 7 of 10 Lyric Vibes: 9.5 of 10 TOTAL Vibes: 8 of 10
Originally posted: October 15th, 2013
source: www.RapReviews.com