Earl Sweatshirt :: Doris
:: Columbia Records
as reviewed by Patrick Taylor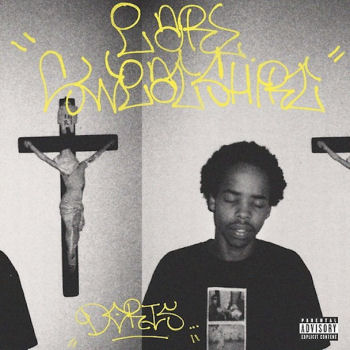 Odd Future came out in 2010 with a series of releases designed to offend. Their raps were full of rape and murder, and everyone was either a bitch, faggot, or nigger. I'm ashamed to say that I fell for their bait, panning Tyler the Creator's "Bastard" for it's rape talk. What I didn't realize at the time is that Tyler is basically an internet troll who gets off on baiting people into a reaction, sort of a hip-hop version of conservative pundit/ professional asshole Ann Coulter. I've since learned to ignore both Tyler and Ann Coulter; neither have anything interesting or useful to say, and they both seem like terrible people who have a sick need for negative attention.
I wrote off the entire Odd Future crew as a bunch of nihilistic immature assholes, which was a mistake. There's more to the crew than their jackass antics and button-pushing lyrics. Underneath all the slurs and adolescent aggression are a bunch of misfits trying to deal with being outsiders. Frank Ocean's "Channel Orange" proved that there was a depth to the crew that "Yonkers" barely hinted at. Earl Sweatshirt's "Doris" drops all the rape and murder from his debut and replaces it with thoughtful and intimate raps.
For those not familiar with Earl, he was born 19 years ago as Thebe Neruda Kgositsile. His mom teaches law at UCLA and his dad is a South African poet and activist who left the family when Earl was six. The pain of his father leaving is all over "Doris." Earl disappeared after dropping 2010's "Earl," and it eventually came out that he had been sent to a school for at-risk boys in Samoa. He eventually came back to the states and uses "Doris" as a way to work through some of his demons. He raps about his dad on "Chum":
"It's probably been twelve years since my father left, left me fatherless
And I just used to say I hate him in dishonest jest
When honestly I miss this nigga, like when I was six
And every time I got the chance to say it I would swallow it
Sixteen, I'm hollow, intolerant, skip shots
I storm that whole bottle, I'll show you a role model
I'm drunk, pissy, pissing on somebody front lawn
Trying to figure out how and when the fuck I missed moderate
Momma often was offering peace offerings
Think, wheeze cough, scoffing and he's off again
Searching for a big brother, Tyler was that
And plus he liked how I rap, the blunted mice in the trap
Too black for the white kids, and too white for the blacks
From honor roll to cracking locks up off them bicycle racks
I'm indecisive, I'm scatterbrained, and I'm frightened, it's evident
And them eyes where he hiding all them icicles at"
"Burgundy" starts off with Vince Staples asking Earl "Why you so depressed and sad all the time like a little bitch? What's the problem, man? Niggas want to hear you rap. Don't nobody care about how you feel, we want raps, nigga."
"Grandma's passing
But I'm too busy trying to get this fucking album cracking to see her
So I apologize in advance if anything should happen
And my priorities fucked up, I know it
I'm afraid I'm going to blow it
And when them expectations raising
Because daddy was a poet, right?
Talk all you want
I'm taking no advice
Nigga, I'm 'bout to relish in this anguish
And I'm stressing over payment
So don't tell me that I made it
Only relatively famous
In the midst of a tornado
Misfitted, I'm Clark Gable
I'm not stable
Abrasive as fuck and they all
Pay me, I'm chuckling
Cross-faded in public
Heart racing 'til blunt is lit
"Like, he don't give a fuck again, right?"
Earl raps like a young, articulate DOOM. His rhymes are full of complicated wordplay and obscure references (like to "The Misfits," Clark Gable's last movie). He can sound simple and childish at first until you realize that there are layers of meaning underneath his lyrics. He gives a shout out "to the fathers that didn't raise us," and calls himself "young, black and jaded." His rhymes are often nakedly emotional, addressing his insecurities and hangups with rare honesty. He's also a 19-year-old guy, so he has raps about groupies and getting high. Tyler, the Creator shows up on "Sasquatch" and "Whoa" to lend his trademark misanthropic verses, although thankfully he's dropped the rape talk and homophobia.
Other guests include Mac Miller, who offers a decent verse, the RZA, who also provides a beat, and Odd Future members Domo Genesis, Frank Ocean, and Vince Staples. The guests help offset Earl's biggest weakness as a rapper: his monotone delivery. Earl raps like he's bedridden with depression, peeling off his raps with very little emotion. That's ironic given how emotional his lyrics are, and unfortunate because his rhymes deserve more passion. His laconic delivery paired with the downer beats on the record make "Doris" more of a slog that it should be at 43 minutes. Most of the beats are slow and somber, sounding like sixties horror music. Even the Neptunes-produced "Burgundy" is a mess of clattering drums and strings.The best beats are "Chum," with its booming drums and piano, RZAs dusty loop on "Molasses," and BadBadNotGood's reverbed guitar on "Hoarse."
Despite being a downer, "Doris" is a good album that showcases one of the more promising lyricists around. Earl isn't trying to be offensive or impress anyone. He uses his music to work through the pain of his father leaving, his grandmother dying, his strained relationship with his mother, his failed romantic relationships, and the pressures of being a young kid that a lot of critics are salivating over. "Doris" may not get the party started, but it's still an inspiring album.
Music Vibes: 7 of 10 Lyric Vibes: 7 of 10 TOTAL Vibes: 7 of 10
Originally posted: November 26th, 2013
source: www.RapReviews.com