Ka :: Night's Gambit
:: Ironworks
as reviewed by Patrick Taylor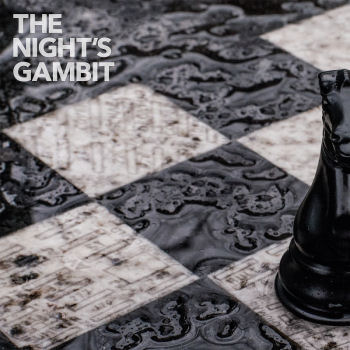 Brooklyn rapper Kaseem Ryan, aka Ka, first got his start in the early 90s rapping with Natural Elements. After he quit that group, he became a New York firefighter, and stayed quiet until 2008 when he appeared GZA's album "Protools." Ka also released his debut solo album that year, "Ironworks," followed by 2012's "Grief Pedigree." "Night's Gambit" perfects the formula he's developed during his solo career: complicated rhymes over ice cold beats.
On his website, Ka states "I already know my songs are not for everyone. They're not for the radio, the club or the masses...I've always tried to remain true to what I believe is the real spirit of hip hop. If you're going to rhyme, you should have something relevant and unique to say. I decided a long time ago that I would make music for the love of it. If you can make money from art, that's a beautiful thing. But money shouldn't be the reason you make art. You make art because you can't help it."
Ka has a good day job and doesn't need his album to hit the radio, the club, or appeal to casual hip-hop fans. His music is razor-focused on being as real and intricate as possible. There are zero hooks or bangers, and the only guest spot is from fellow spirit Roc Marciano. Instead, Ka offers eleven tracks of uncompromising music that takes hardcore hip-hop to another level.
You've heard of stripped-down beats? Ka's are skeletal. He reduces his beats to the bare minimum. There might be some congos and bass, or Asian strings, or an organ and subdued drums. "Peace Akhi" is nothing but some quiet drums and the vibrations from a piano that's been pounded. A few songs channel seventies soul, but even those are very understated. In the hands of Ka, however, even the most subtle beat has major impact.
The album starts with "You Know It's About," which has congos and bass playing the riff from "Black Sabbath." Ka raps in a quiet, unhurried tone, peeling off rhymes like thinly veiled threats. He is the epitome of lyrical: his rhymes are dense, intricate, and full of metaphors and symbolism. You have to listen to his songs hundreds of times to fully understand everything he's laying down, and you still might miss many of the references. He has a poet's eye, capturing the little details that paint a vivid picture. Even when he's bragging about his rhymes, like on "You Know It's About," he does it with an artfulness you hardly ever see:
"None rival, my catalog's a slum bible
Not the right course but with white horse, unbridled
In the 'Ville pumping steel, hunt until we feel full
Home cold as Poconos fill rodent holes with steel wool
You capture your stature firing a full clip
We line the street beefing, trying to eat dying for bullshit
With the toaster racked, it roast your fabric
And friends if conflict ever ends we post traumatic
Quote for better, wrote the letter, 'Sincerely yours'
To heal the sores, where the real is forged
Pen fire, from empire to golden state
I write it loud, incite a crowd, then motivate
Couple infactions, scratching prose admitting it
On quiet track rewrite that for those illiterate"
In some ways Ka is a throwback. His style owes a lot to 90s New York hip-hop, when being hyper lyrical was prized, and when going pop was an insult not a business plan. This album doesn't feel like a dated nostalgia trip, though. Ka is building on the tradition of hardcore rap, but pushing it forward. His rhymes are flawless, confident, and totally uninterested in what other rappers are doing. Ka's beats have echoes of the sinister sound that Mobb Deep and the Wu-Tang perfected, but add this element of stark minimalism that is unlike anything else going today. There are other producers making minimalist beats, but none that I know of that working with samples rather than glitchy electronic sounds.
"Night's Gambit" is an excellent album, and one of the best manifestations of grimey New York hip-hop. Ka exhibits a remarkable sense of vision, mastery and control. There is not a piece out of place on this record. Everything from the beats to the voice samples to Ka's complicated rhymes has been carefully constructed and expertly executed. If you like your hip-hop dark and lyrical, it doesn't get much better than this.
Music Vibes: 9 of 10 Lyric Vibes: 9 of 10 TOTAL Vibes: 9 of 10
Originally posted: December 17th, 2013
source: www.RapReviews.com