Imperial & K.I.N.E.T.I.K. :: Pencils Not Pistols :: Illect Recordings
as reviewed by Zach 'Goose' Gase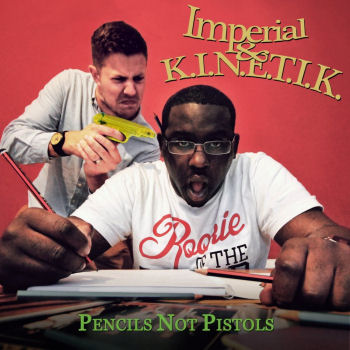 We here at RapReviews.com like to support UK hip hop; we even have an entire month where we highlight releases from rappers who reside across the Atlantic. This has helped me discover a lot of British emcees that I would have probably missed out on if we didn't have a UK month. One of my favorite UK emcees over the past year or so has been the London-based, K.I.N.E.T.I.K. Back in June, K.I.N.E.T.I.K. released a project with LA producer, Kuroisoul titled "Hip Hop is Forever" and five months later, he has returned with another producer and another top notch record. This time around, K.I.N.E.T.I.K. has linked up with Cambridge-based beatsmith Imperial for a 7-track EP titled, "Pencils Not Pistols."
"Pencils Not Pistols" is a brief, but satisfying listen backed by Imperial's heavily jazz influenced production. Whereas a lot of contemporary jazzy hip hop sounds derivative of 1990s staples like Pete Rock and A Tribe Called Quest, Imperial manages to find a style that has that jazz influence without sounding outdated. "Go Hard" is high energy cut that features horn heavy samples and "Just The Way I Feel" features trickling pianos, which is a nice backdrop for K.I.N.E.T.I.K. to write about his romantic affairs.
"Pencils Not Pistols" is filled with positive and uplifting tracks like "Zone Out" and the EP's best cut "Count Your Blessings." On the "Zone Out" K.I.N.E.T.I.K. raps about how technology and social media has affected modern life: "It's gone from bad to worse, because once upon a time we used to pray before we ate, but now we take a picture first." Most rappers would not be able to effectively pull off lines/subject matter like that, without sounding preachy, but K.I.N.E.T.I.K.'s sense of humor helps keep things lighthearted even when he's touching on subjects like relationships and spirituality.
K.I.N.E.T.I.K. is simply a fun rapper to listen to. On the EP's intro, he jokingly bickers with Imperial to stop messing with the drums. It's a goofy way to start a record, just like the album cover's goofy nod to Biz Markie and water guns. But "Pencils Not Pistols" is one of the more concise and amusing projects you will hear this year.
Music Vibes: 8 of 10 Lyric Vibes: 8 of 10 TOTAL Vibes: 8 of 10
Originally posted: December 3rd, 2013
source: www.RapReviews.com