Boyfriend :: Love Your Boyfriend EP :: Boyfriend69
as reviewed by Steve 'Flash' Juon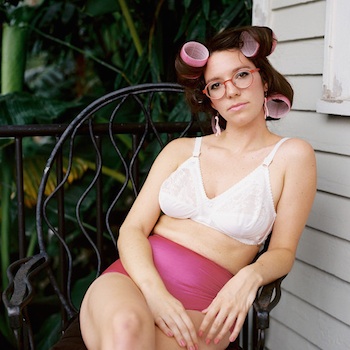 Boyfriend is described as a "rap cabaret instigator." I'm only sharing that gem with you because I really don't have a better description for her - unless that description is Princess Superstar clone. As far as I'm concerned, one Princess Superstar in hip-hop is all that we need.
PR: "Is she serious with tracks like the taboo-slashing 'White Chicks and Black Dudes' or the sex-smashing 'Like My Hand Did'?"
Yes - the press kit that accompanies the "Love Your Boyfriend" EP is intentionally trying to market her as the next white sex kitten of hip-hop. If you thought that Superstar was pushing the envelope with her raunchy talk, Boyfriend is shamelessly (and one could argue desperately) trying to one up her with songs like "Triangle." It feels like the kind of D-level lesbian porn you used to have to walk behind the beaded curtain at the video store to rent - only after showing your ID first of course.
"I like herrr, and, she likes meeeee, well
You like us, and, we can be three, we can do we
I like herrr, and she LIKES meeeee, well
You like us, and, we can be we, we can do three baby"
Production is "by New Orleans' own SexParty," which implies that I should know who SexParty is whether or not I'm from N'Awlins. I suspect you'd probably only have heard of SexParty if you're familiar with Boyfriend, because I wasn't before this EP, and I'm sure that goes for New Orleans too. He (or she?) is actually the best part of this album. There's a decent boom clap and bass growl to "Triangle." I could actually see "Lean" as a decent vehicle to push Boyfriend - it takes her from a Princess Superstar wannabe to a Kreayshawn wannabe.
PR: "Boyfriend broke onto the scene with nods from PaperMag, Dazed, Bullett, Earmilk and PerezHilton for her explicit and prolific music videos and songs."
The funny thing is the press kit doesn't actually include any of those infamous videos, and if you search for "Boyfriend" on YouTube it's such a generic name that you get parodies of the movie "Frozen" instead. I tried "Boyfriend rap cabaret instigator" and that didn't work any better. I honestly don't expect I could embed any videos if I found them without marking this whole review #NSFW so it's for the best. I really don't see much about Boyfriend to recommend other than if you want a cheap vicarious thrill.
Music Vibes: 5 of 10 Lyric Vibes: 3 of 10 TOTAL Vibes: 4 of 10
Originally posted: October 7, 2014
source: www.RapReviews.com