Loose Logic :: Perception
:: Passion Play Productions
as reviewed by Steve 'Flash' Juon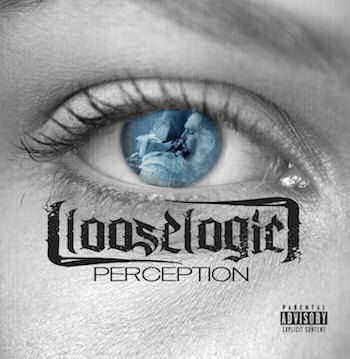 Loose Logic is straight outta Southland, which is both very specific and very generic all at once. It means he hails from the greater Los Angeles metropolitan area, without specifically designating any one city or neighborhood of said same. Even his Wikipedia page refuses to offer any details for Logic (real name Ian Westbrook) other than "Origin: California."
Despite that Loose Logic is not entirely a mystery - we've already reviewed his "Logistics" album, and noted the distinct possibility he could be confused for Louis Logic by anybody not paying close attention to the spelling. The differences between the two have widened since then though, as the East coast Logic has gotten into experimental hip-hop featuring both singing and rapping, while the West coast Logic has doubled down on traditional bars and heavy beats. In an interesting bi-coastal twist he's even brought Jadakiss in for a cameo on the song "Dumb It Down." The featured song of the album keeps it Southland though - Logic is "Cali Dreamin'."
"Stay cruisin in the summer night's warm air
Southern Cali got me covered, I was born there
... California dreamin, livin the beach life
Dreamin of California under the street lights"
Guest vocalist Cali Buss adds an acceptable verse to vary up the mix in the middle, although when I watch the video I can't help but think he's an extra from "Entourage." Would it be fair to say Logic is on some "Party & Bulls#%t" in his raps? Sometimes. "Shake That" featuring Black Dyamond is a track I can't imagine being played anywhere other than a club, particularly with Dyamond's frank "pu#%y in his grill" lyrics bragging about stealing men from undeserving women - "got 'em screaming out hootie hoo for the cootie coo." Okay then. "Red Wine" sounds nothing like the UB40 track, but it definitely advocates being inebriated before Ben Melius comes in to sing the hook.
Reality creeps in during the hour's length of "Perception" though - it's not all a party. "Happier Dream" implies this in the title, and Logic's second verse is all about the struggle to make a living so he can raise his daughter. "I'll never get an Oscar - I can't even act surprised" is a pretty dope punchline too showing Logic's got hidden depths of skill. "Good Drugs" opens up "You can find me at the bar/whiskey on the rocks" although it's less about partying than trying to erase the memory of an ex lover who left a stain on his heart. "Don't Talk About Me" is a hard-edge cypher song, and though I don't know all of the members it's carried off the strength of a heavy beat and aggressive bars by everyone who spits on it.
The conclusion one draws by the end of "Perception" is that Loose Logic would LIKE to party and live the California lifestyle, but real world responsibilities creep in and make his life a "Beautiful Nightmare." It's that balance between wanting to have fun but having to make ends meet that gives Loose Logic the storytelling depth he needs to stay consistently interesting, even if the production occasionally fails to deliver. "It Goes Up" sounds like a bad parody of a Pharrell beat, at a point in Pharrell's career where even he is starting to sound like a parody of himself. "Cross the Line" has a pleasant enough loop, but it varies too little to make an impact. "Cold November" feels like a throwaway Eminem track. Logic succeeds more often than he fails on "Perception," so hopefully he'll use that sharp ocular acuity to see that he could be even better than he already is.
Music Vibes: 6.5 of 10 Lyric Vibes: 6.5 of 10 TOTAL Vibes: 6.5 of 10
Originally posted: December 2, 2014
source: www.RapReviews.com