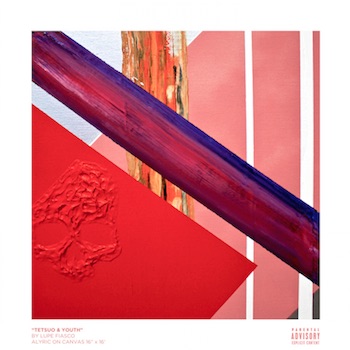 Lupe Fiasco :: Tetsuo & Youth

1st & 15th/Atlantic Records
Author: Steve 'Flash' Juon
Lupe Fiasco says that "Tetsuo & Youth" was not directly named after Tetsuo Shima from "Akira
," either the manga series or the anime movie based upon it. At the same time Mr. Jaco admits to "inspiration" from the character, adding that "Tetsuo sounds cool." Yes - it does - especially if you're the kind of person who has been watching anime for 20 years. The film version of Tetsuo's story is a little over 25 years old now, and frequently replays late at night on Cartoon Network. Even if you think anime is "that nerdy shit" you should give it a try. Nuclear war, biker gangs, psychic powers, and political intrigue make for a compelling tale.
"I like my pancakes cut in swirls
Moroccan moles and undercover squirrels
I like cartoons, Southern cities with large moons
Faith healers, ex-female drug dealers and art booms
Apologize for my weird mix..." - "Mural"
Lupe has always aspired to be a rapper with more than just a rap. He's the touchstone for a millennial generation that is inspired by the artists that came before them while simultaneously being disappointed by the lack of artistic progression that came after them. Even though his ambition at times exceeds his reach, it is that very ambition that makes him a darling of both the critics and the disaffected. The latter group even threatened to crash Atlantic Records' website when "Tetsuo & Youth" missed its initial release date. Songs like the MoeZ'art produced "Prisoner 1 & 2" prove it was worth the wait.
"Looking in the library, looking at the law
10 years deep, now I'm looking at the bar
Claim sovereignty, because I'm bunkin with the morons
They degenerate, they ain't looking at the game
They just looking at the scores, they be putting on my books
Cause I'm looking at the stars, trade a shank for some crank
Now I'm looking at a war, BGF got the yard
AV got the kitchen snitches on PC
Eminem on a mission, but CO's got the prison
God got us all, God set us free
God is the key, but the guards got the doors"
Not every album can be or SHOULD be called an epic, but much like the critically acclaimed "Akira" it would be a disservice to call "Tetsuo & Youth" anything less. It's practically a movie itself at 80 minutes in length, and if Atlantic seemed reluctant to release it, that's probably because obvious singles are not forthcoming. That's not surprising given Lupe has been at the forefront of knocking rap artists who "Dumb It Down" to get radio and video play, so he's not going to drop a club song with a ton of bounce or rap about life in the trap. It's not as though he doesn't have the life experience on the mean streets of Chicago to rap authentically about struggling in an environment of guns and violence, but he sees the music he creates as an opportunity to lift himself and his listeners above it. Perhaps that makes "Deliver" as fitting a choice for a single as any other track on the CD. Pizza becomes a metaphor for inequality, lack of opportunity, institutionalized and systemized racism, and why the word "trap" has any real meaning at all for rap - it's something you can't get out of.
"Little Caesar's never sendin' pizza out y'all way
Papa Johns never get delivered where y'all stayed
The ghetto was a physical manifestation
of hate in a place where ethnicity determines your placement
A place that defines your station
Remind you niggas your place is the basement
White people in the attic
Niggas sellin' dope, white people is the addicts
White folks act like they ain't show us how to traffic
All that dope to China, you don't call that trappin'?
+Breaking Bad+, learned that from a TV
So don't say it's politics when you see me
When you gon' apologize for your CD
Nigga, that don't match red and black to a GD"
If you're the type of person who declares that "racism doesn't exist" or thinks of yourself as "color blind" then it's likely that "Tetsuo & Youth" will make you uncomfortable - and it should. There are two realities out there, and no amount of high-minded liberal rhetoric can change that stark truth, the same one that the world saw in 2014 when #Ferguson went global. Fiasco proves to be as capable a singer as rapper on tracks like the DJ Simonsayz produced "No Scratches," in which he pulls yet another metaphor out of his seemingly endless arsenal - racing like James Dean until "your wreck and my wreck look like the same scene."
"(See first they had patience)
But niggas start sick, niggas start gettin ill
Niggas got cold feet, niggas start gettin chills
Niggas start stayin home cause niggas start gettin bills
Buildin up an immunity
Niggas stopped gettin hurt
Niggas relied on faith
Hopin niggas get healed is hopeless nigga, get real
But ah, get back on the pill
We in it for the feel"
Lupe Fiasco encourages the protagonist and the listener to "walk away" "before we hit a wall" but that's always easier said than done when life is 101 MPH - and you can hear the cars race by your head in the song's quieter moments. That's a key point to "Tetsuo & Youth" really - it's that none of the songs are JUST songs. Lupe Fiasco doesn't present tracks that are just a hot beat and some memorable bars - he's aiming for cinematic moments and drawing you into the atmosphere he seeks to create. Even though the fluidity of his tongue is almost unparalleled among modern rappers (as seen in the third verse of "Adoration of the Magi") it would mean nothing if he didn't have something to say. Fiasco is the ultimate conundrum for a music industry that seeks to profit from his work - he's got legions of fans that they don't know how to reach because they don't understand him OR them. It wouldn't be that hard to understand though if they took the time to LISTEN instead of looking for that next big hit. There may not be a "big hit" on "Tetsuo & Youth" but this is a "big album." Like the paintings of Vincent Van Gogh it's likely to be better appreciated by future generations than it will be in its own time.
Music Vibes: 10 of 10 Lyric Vibes: 10 of 10 TOTAL Vibes: 10 of 10
Originally posted: January 20, 2015
source: www.RapReviews.com