Alien Army :: The Difference
:: ThisPlay Music
as reviewed by Matt Jost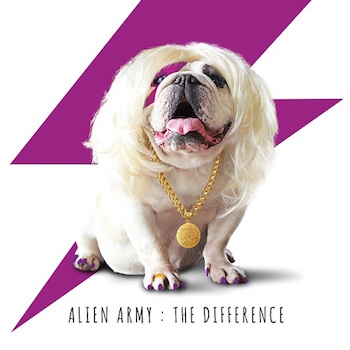 Shout-outs are the 113th element of hip-hop. No seriously, I've always perceived artists shouting out their peers and colleagues as not just a form of respect but a symbol of the community spirit that reigns within hip-hop. That's why for the longest I studied longplayer liner notes almost religiously and have developed a high tolerance for audio shout-outs, down to last year's intolerably long "2014 Forest Hills Drive" closer "Note to Self." That's why I got to give it up to Alien Army, who use the physical edition of their January release "The Difference" for a detailed list of 'all the pioneers in DJ'ing and turntablism'. They reveal their nerd knowledge (were you, dear reader, aware of a female old school DJ named Pambaataa?), but also consider those who found their calling in another department (Dr. Dre, anyone?), or the many DJ's who were part of classic rap groups when deejaying still had a place in the rap business (including oft-cited West Coast icon DJ Aladdin). Focusing on the foundation of hip-hop deejaying, the list is far from complete, but it's the nature of a shout-out to be selective. Alien Army deserve props for recognizing the roots of their craft.
They themselves have been long enough part of the Italian and even international turntablism scene. Founded in 1996 by veteran DJ's Skizo and Gruff, the crew, originally based in Milan but including representatives from other cities, debuted the same year with the tape "Il Contatto" ('The Contact') and continued to gain notoriety as the popularity of turntablism grew, particularly with the internationally distributed "The End" from 2003. They were also present on the battle circuit, entering and winning (mainly individually) various competitions (ca. 15 mostly national titles). Busy with numerous personal projects in the intervening time, Alien Army reformed/reunited in 2011 and today spans essentially three generations of Italian DJ's.
"The Difference," their first release in over ten years, is an eclectic mix of tracks that have one thing in common - cutting and scratching. Sometimes more dominant, sometimes more discreet, the Alien Army DJ's use these essential techniques in the established fashion - like an instrument, to manipulate instruments, and to dissect vocals. But they don't perform against basic backgrounds these days, they involve a number of musicians that lay down tracks that range from electronic to clubby to funky to jazzy. The turntable work often matches the mood, see the flexible wrist-flexing that accompanies the slapping French house of "Funkdrake," or the reserved tampering with wind instruments and vocals on the late '90s mood piece "Intonati." It can play the back, like for the chill-out vibes of "Calling You," it can cut movie sequences into a trailer of its own (often with that E.T. touch - the dubby "Biological Entity," the abstract "Autostrada 3D," the electrified "The Answer"). But even a tribute to Grand Wizard Theodore and his discovery of the scratch sound is embedded in the context of a musical piece ("Song For Theodore").
So while turntablism once, particularly at the end of the '90s, served as a stronghold for hip-hop's rawness, it comes as no surprise that by now the aim has shifted to collaborating with more conventional forms of music. The heydays of turntablism full-lengths being over, "The Difference" isn't the ironclad monolith that "The End" was. It doesn't merge into one giant flow of crashing waves atop dark undercurrents. Instead it is deliberately episodical and eclectic. Isolated, a number of tracks are fully accomplished pieces of music. The jazzy, wonderfully optimistic "New World." The breezy summer tune "Calling You." Occasionally, the combinations are slightly arbitrary, like when battle cries meet serene guitar strumming on "Samurai Challenge." Also live drums could have been an option, considering Skizo and Gruff (who is absent on this album) recorded an entire live album with their group Radical Stuff and a funk outfit as early as 1992.
But at the end of the day Alien Army proudly fly the flag for hip-hop deejaying, as a roundtable of turntablists (with international support on two tracks) that is never stumped for a scratch. "The Difference" is a nice blend of the 'alien' techniques of turntablism and traditional music structures - who in this case are regularly fetching, although largely orthodox. Hip-Hop itself is still present, for example in "Moody," a lean composition with contributions from DJ's Ask und Rasp, in "Turntable Drama," featuring an early Geto Boys sample and guest production from a man who goes back to the 1980s L.A. scene (Juan 'Tha Swami' Gibson), or in the deceptively titled "Summer Rain" and the unambiguous "Bring it On," which both use the aggressive rhetoric of DJ battle tracks. "What U Gonna Do," triggered by Eazy-E samples, points all the way to early '80s L.A. electro and "Sucker Music" with its hard electronic shell might meet Hank Shocklee's approval, since the legendary Bomb Squad producer has professed his admiration of dubstep and Mr. Magic's infamous "No more music by the suckers" comment had initially been leveled at his group Public Enemy (which they in turn sampled on "It Takes a Nation of Millions to Hold Us Back").
On the commercial end there are a couple of contenters that only would need a video to achieve greater recognition - "Oh Yeah" with its cut-up flute, the sleek dancefloor slider "Funkdrake," or, considering successful dance acts seem to require guest singers again, the album's single "Big Party" with its sultry vocals courtesy of Kemar. Heck, even "Bruce" (as in Bruce Willis) has some potential when thinking back to A-Trak and Armand van Helden's "Barbra Streisand." Also "Bond" (- James Bond) coasts on a solid global groove.
For some "The Difference" sums up to 29 tracks that force turntablism onto vaguely contemporary music. They will point to the myriad of artists who continue to take club music to the most adventurous corners of the acoustic universe. But that point of view fails to neglect that on all those instrumental pieces the groundwork of mixing styles, sounds and songs, at least as far as the work of the disc jockey is concerned, is barely recognizable. A scratch, however, is a moment of honesty and a human element in the field of uninterrupted mixing, broadcasting, streaming, etc., and hip-hop has elevated that honesty and human element to an artform that eventually peaked in turntablism. In that sense Skizo, Mandrayq, Zak, Tayone, John Type 10, 2P and Simo G remind us of an important input hip-hop has had on the world of modern music. That is THE DIFFERENCE.
Music Vibes: 7 of 10 Scratch Vibes: 8 of 10 TOTAL Vibes: 7.5 of 10
Originally posted: August 11, 2015
source: www.RapReviews.com