Funky DL :: Autonomy - The Bonus Remixes :: Washington Classics
as reviewed by Steve 'Flash' Juon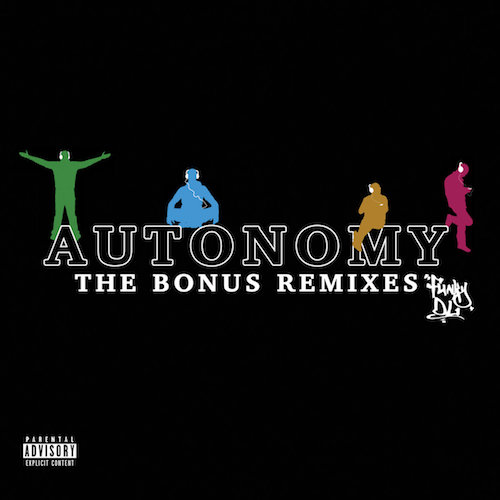 Last year's review of "The Jazz Lounge" was a necessity given that Funky DL has a career spanning 17 years, much like the website you are reading right now, but aside from his appearances on compilations we had yet to tackle his catalog. That's a shame given that DL has a uniquely interesting vocal tone that is instantly reminiscent of New York legends like AZ and Tragedy Khadafi, yet if you pay careful attention to how his vowels come out he's also got a bit of Slick Rick to his flow. Still if you weren't explicitly told that DL hails from London, it's something you could miss easily.
What you can't miss on "The Bonus Remixes" is how this release very purposefully and directly loops familiar beats to flip songs from his "Autonomy: The 4th Quarter 2
" album. The street remix of "Judas" will have you rapping "I stay hard like an..." within five seconds if you grew up a fan of Edo.G. That's a VERY familiar loop of Hamilton Bohannon's "Singing a Song for My Mother," which was also lifted by the late Heavy D for "Love Sexy" and more recently by Roc Marciano on the aptly titled "Momma's Song." If you don't get chills down your spin hearing it the good news is that Funky DL's usage of it is fly in its own right.

Obvious samples are a theme here, which is fine when you're offering something up as "bonus remixes" and not as a fully developed album in and of itself. In fact the remix of "Autonomic" makes the James Brown "Funky Drummer" sample even more obvious than the original version. Nothing bad about that, nor the opening bars which seem to pay homage to Nas in both style and tone:

"I'm sad thinkin of an open line, best way to start this album
that's endin like a falcon, bring in the courage of Malcolm
The dream of Martin, the grace of Mandela
The greatness of Muhammad Ali lookin back in the mirror
Who am I? A man waitin for the world to tell me..."

Perhaps it goes without saying for DL to use obvious breaks given that he did an album called "Maurading at Midnight" paying tribute to A Tribe Called Quest. Still I'm not 100 that you can even call what's on "Kimberly" sampling - it's more like he's just rapping straight over "I Really Love You" by Harold Melvin & the Blue Notes. At this point to say I'm not criticizing it would be incorrect - you should try to flip it up JUST a little bit before you put it out there as a song. To be fair though it's one of the few Blue Notes songs that hasn't been sampled to death and probably should get used more.

In short Funky DL's "Bonus Remixes" is exactly what it proclaims itself to be - something extra for the people who bought "Autonomy" that isn't strictly necessary on its own. It's good enough though that the name your price option shouldn't just be an exercise in free music. If you've got a few bucks please throw them DL's way because I'm sure he needs it for the sample clearances just to be able to offer this to the public.

Music Vibes: 7 of 10 Lyric Vibes: 7 of 10 TOTAL Vibes: 7 of 10

Originally posted: March 14, 2017
source: www.RapReviews.com